Expedition | Members resumes
Goal of the expedition:
To climb Mt. Shisha Pangma (8012 m) by the normal route from Tibet.
The expedition was organized by Werner de Jong, Holland
and Andrey Ershov, Russia
Russian team:

Marina Ershova - Russian team leader
Oleg Nasedkin
Vladimir Belous
Victor Bobok
Vladimir Oleynik
Dmitry Moskalev
Iouri Soifer
Serguei Bogomolov

Dutch team:

Werner de Jong - Dutch team leader
Jaco Liefers
Peter van de Haar
Marc Streefkerk
Paul van den Dungen
Trudy van den Dungen
BRIEF EXPEDITION PROGRAMME (10 April, 2002):
04.20.02 - arrival in Kathmandu
04.21.02 - Kathmandu
04.22-27 - Kathmandu - Zangmu (2300 m) -Nyalam (3750 m) - Shisha Pangma Base Camp (5000 m)
04.28.02 - BC
04.29-30 - BC - Advanced Base Camp (5600 m)
05.01-03 - ABC, rest and acclimatization
05.04-05 - ABC - Camp 1 (6300 m) - ABC
05.06-07 - ABC, rest
05.08-10 - ABC - Camp 2 (6900 m) - ABC
05.11-13 - ABC, rest
05.14-17 - ABC - Camp 3 (7400 m) - ABC
05.18-20 - ABC, rest
05.21-25 - ABC - summit of Shisha Pangma (8012 m) - ABC
05.26-27 - ABC, reserve days
05.28 - ABC - BC - Nyalam
05.29 - Nyalam - Kathmandu
05.30 - Kathmandu
05.31 - departure from Kathmandu

Photo: Paul van den Dungen
30 May, Marina Ershova:
We are OK and expedition is over. Yesterday the last members returned to Kathmandu. Yuri Soifer, Dmitry Moskaljov and Victor Bobok summited Shisha Pangma 26 May in 12-30! Congratulations!
All 8 Russiam members summited Shisha Pfngma. We'll stay in KTM couple of days, and will return to Moscow 01 May
May 24, Marina Ershova:
This morning Sergey Bogomolov and Vladimir Oleynik summited Shisha Pangma. Bogomolov did the second ascent of Shisha Pangma during one expedition. Vladimir Oleynik climbed with oxygen. Now they are in Camp 3 and they will come down to ABC tomorrow. Moskalev, Soyfer and Bobok are near Camp 2. Tomorrow they plan to reach Camp 3 and then they will try to summit Shisha Pangma.

May 23, Marina Ershova:
The weather is better today, but for how many days? Today Sergey Bogomolov and Vladimir Oleynik have reached Camp 3, they are going to do the ascent tomorrow. If all is OK, they will return to ABC the day after tomorrow. Three Russians - Moskalev, Soyfer and Bobok - plan to reach Camp 2 tomorrow. And then they will try to repeat their attempt to climb Shisha Pangma.
May 22, Marina Ershova:
Today all Dutch members came down to ABC. Their Sherpas have brought all their things, but one tent was left in Camp 2. The Dutch team decided to cancel their attempts to climb Shisha Pangma, they will have a rest for two days and with yaks they will go downwards on May 25. We have booked yaks for the Russian members for May 28 because they want to repeat the attempt of the ascent. Vladimir Oleynik and Sergey Bogomolov have already left ABC. Viktor Bobok and Dmitry Moskalev have intention to leave ABC after tomorrow. Today the weather is a little better.
May 21, Marina Ershova:
The weather is very bad now - strong wind, blizzard and cold. Moskalev, Soyfer and Bobok spent four days in Camp 3 and now they are going down to ABC. Vladimir Oleynik came to ABC earlier. The Dutch team is going down too. I don't know if they will have enough power and desire for the next attempt. And will the weather allow that?
May 17, Marina Ershova:
Yesterday, on May 16 the first Russian team reached the summit of Shisha Pangma. The first were Sergey Bogomolov and Vladimir Belous, who summited the most remoted top of Shisha Pangma at 10 o'clock. After 2 hours Marina Ershova and Oleg Nasedkin reached the summit. Congratulations!
3 hours later they all were at 3rd camp and later - at base camp. All are feeling themselves good, the weather is good, no wind. Tomorrow the second russian team is going up, and after tomorrow the Dutch team is going up to summit.

May 12, Marina Ershova:
All is OK and tomorrow on May 13 Bogomolov, Nasedkin, Belous and me will go up to install Camp 3 on 7200 m -
7400 m. Maybe, we will try to summit Shisha Pangma. The second Russian group will go one day later. And the Dutch team plans to leave ABC one-two days later than the second Russian group. Today the Dutch team came back from Camp 2. Marc, Paul and Jaco reached Camp 2 and spent a night there, the two others were not very well and they were in Camp 1 only.
May 10, Marina Ershova:
Today and several next days our Russian team will have a rest in ABC. On May 8 Bogomolov, Nasedkin, Belous and me reached the place of Camp 2 on 6900 m and installed our tent there. Yesterday we came back to ABC. Bobok, Oleynik, Moskalev and Soyfer reached Camp 2 on May 9 and today they have returned to ABC. Vladimir Oleynik decided
to spend the second night in Camp 2 for the better acclimatization. The Dutch team is in Camp 1 now and they plan to reach Camp 2 tomorrow. So, all is OK. The other expeditions tried to summit Shisha Pangma but they could not do that. They says that it is a very strong wind and very cold there.
May 07, Andrey Ershov:
Today Sergey Bogomolov, Oleg Nasedkin, Marina Ershova and Vladimir Belous have left ABC and plan to install the second high-altitude camp. Tomorrow they should be on 6900 m - 7000 m, and they will come down to ABC on May 09. The second Russian group - Bobok, Oleynik, Moskalev and Soyfer plan to leave for Camp 2 tomorrow. The Dutch team came down to ABC yesterday and now they will have several rest days.

May 05, Marina Ershova:
Today all Russians are in ABC. And Trudy. The Dutch team has gone to Camp 1. They have a problem with one of their Sherpas - today he has gone to BC and wants to drive to Lhasa. During our approach to ABC his legs were frostbitten and he can not work. The weather is very good and a mass bathing was here. Our state and mood is good.

May 04, Marina Ershova:
Yesterday Sergey Bogomolov, Oleg Nasedkin, Vladimir Belous and me reached 6300 m and installed our tent on the place of Camp 1. Our ascent took 5 - 5.5 hours. It looks nice. Two Dutch Sherpas, who brought a tent and other things for the Dutch climbers, ascended 7 hours. Today after sleeping in Camp 1 we came down to ABC and on the way we met our second group - Bobok, Oleynik, Moskalev and Soyfer who were going to Camp 1. The Dutch group is going to leave for Camp 1 tomorrow.

The weather is fine. The bright sun melted the snow in ABC and all our tents were in water. We have been forced to dry them and to install them on the other place.
May 02, Marina Ershova:
Today we have transported our climbing tents, gas cartridges and some other things to Intermediate Camp on 5800 m. It is about 2 - 2.5 hours from ABC. Tomorrow Sergey Bogomolov, Oleg Nasedkin, Vladimir Belous and me will go to Camp 1 on 6300 m. The other Russians will go there after tomorrow, the Dutch members plan to start two days later. The weather is very unstable, a strong wind blows and a lot of snow is on the slopes of Shisha Pangma. The other expeditions have pitched Camp 1 and Camp 2 only.


May 01, Werner de Jong:
...we had a hard day in going to ABC. We had to fight trough a terrible snowstorm. Even 4 sherpas went back to BC and actually came the next day.
We found the camp in the storm and had no dinner before sleeping. The next day we reached ABC. Everybody was
exhausted.
Now we have to take a good rest before starting our climbing programm. Trudy came in BC and was sick. Paul did vomete after his dinner. I and the others feel ok. Reaching ABC was a big adventure on his own.
Marina Ershova:
Our Tibetan adventures were continued. It was a very strong snowstorm with a storm wind on April 29. And it was very cold. But we began our march from BC (5000 m) to ABC (5600 m). Our decision, certainly, was not very reasonable, but neither we, nor Dutch members wanted to do an additional payment for yaks. The Chinese liaison officer offered to wait with our march, but required to pay for the "idle time" of yaks - 11 US dollars for a yak for each additional day. We had about 45 yaks and the total amount was high enough. And according to our programme we decided to go upwards.
The weather was awful, practically without any visibility, but our yak teamsters quickly went upwards - they, maybe, wanted to reach ABC in one day. And our members began to lose their way in such terrible blizzard. With great difficulties we stopped our yak caravan and stayed for a night stop. As a result Werner, Trudy and two other Dutch members were lost in the blizzard. Also, two our kitchen-boys and two Dutch Sherpas disappeared somewhere. Sergey Bogomolov, Oleg Nasedkin and Vladimir Belous went to look for our members and brought them to the camp. Our kitchen-boys and Sherpas could not find a way in the blizzard, came down to BC and then came to ABC themselves. But one Sherpa was frostbitten.
We were unable to dine in the intermediate camp - all our things and food were covered by snow very quickly. And our cook was not in power to prepare meals for us. So, we used our thermoses and just had a snack.

On May 30 we had a sunny day but with strong wind. It took 3 hours for us to reach ABC from our night stop. There are about 8 expeditions here. We had a short rest after our hard walk and pitched our camp.
Today on May 1 we have continued our "camp" works. The weather is good enough and general state of our expedition members is satisfactory: our Russian members feel themselves a little better, our Dutch members - a little worse. I think that our cook feels himself not very well - he vomited straight in the tent. Moskalev is busy with his satellite phone and computer - he is trying to adjust e-mail. In general, all is OK and usual mountaineering workdays have been started.
April 28, Marina Ershova:
Dmitry Moskalev has turned on his satellite telephone and this call is by the satellite phone. On April 25 we continued the acclimatization near Nyalam and on April 26 six Russian members were transported to the Chinese Base Camp on 5000 m. This place is named as BC very conditionally - expeditions don't stop here for a long time. Simply, the Chinese liaison officer is here and trucks with expedition members and cargoes arrive here too. This place is just a transfer point and from here with yaks we will go to ABC(Advanced Base Camp) on 5600 m. And there we will live, continue our acclimatization and from ABC we will try to climb Shisha Pangma. Chinese BCis located in a broad valley with a river. You can see Shisha Pangma and surrounding mountains from here. And Shisha Pangma looks steep enough from here.
| | |
| --- | --- |
| Now about our adventures. On April 26, when we arrived in BC, the awful storm was begun - with a terrible wind and a very strong snowfall. Very soon all was covered by snow of 20 cm. It was very difficult to install a big dining-tent and tents for the members. It was very cold and disgusting. But our cook prepared very tasty meals and we were happy | |
Our Dutch members that were in Nyalam had a lot of problems on April 26. The storm caught them during the acclimatization walk. And in the conditions of hurricane and practically zero visibility they were lost. Two Dutch members were forced to use a GPS receiver for returning in Nyalam, the rest came later.
Yesterday, on April 27 the Dutch members arrived at BC from Nyalam and Moskalev with Soyfer - from Lhasa. Now we are all together and we plan to go to ABC tomorrow. Today we continue our acclimatization near Chinese BC.
April 24, Marina Ershova:
Today we got up at 8:00, had breakfast at 9:00 and about 10:00 we went for a walk for acclimatization. We hiked and climbed local hills until 15:00 - the Dutch members were on 3800 - 3900 m, Bobok and Oleynik reached the altitude about 5000 m, Oleg Nasedkin, Vladimir Belous, Sergey Bogomolov and me summited a small local mountain about 4100 - 4200 m with a lot of varicoloured small flags
| | |
| --- | --- |
| Our mood and general state are good, the weather is good too - with the sun and without rain. But the air is cool enough and not very strong wind is blowing. Probably that tomorrow we will continue our acclimatization walks and then we will drive to BC. | |
April 23, Marina Ershova:
We are in Nyalam (3750 m) now and all is OK. Today we have drived out of Zangmu at 10:00 and along steep valley with several serpentines reached Nyalam for 2.5 hours. This time we have no Chinese jeeps and all our members have been carried by bus.
Usual Tibetan "charmings" began - they accommodated us in the single hotel with a toilet through the road (with the door on a nail) and gave us hot-water thermoses - drink tea if you want or take shower if you want. But meals are good enough, probably, better than in the last expedition.
The terrain around us looks as a hilly and stony desert, practically without verdure. It is warm enough but all our members are in jackets and warm trousers. Only Bobok and Oleynik all time go in shorts, but they have arrived in Nepal a week earlier and already are quite well acclimatized.
Our and Dutch members behave wholly sensibly and have no extremism to start the climb without good acclimatization. I think we will spend here a couple of days for acclimatization and then will drive to BC.
April 22, Marina Ershova:
Today after very early breakfast at 04:00 in the morning we left Kathmandu and started our trip to the Tibet border. All our documents were in order and we crossed the Nepal-China border without any problems. About 12:00 we were on the Chinese territory. Our hotel is in the small town of Zangmu on the altitude about 2300 m but really nothing to do here and we are waiting for the drive to Nyalam tomorrow morning.

Moskalev and Soyfer are in Kathmandu now and they will fly to Lhasa tomorrow. Our Nepalese cook and two kitchen-boys are travelling with us. The weather is good enough but sometimes it rains in the evenings.
April 21, Marina Ershova:
Yesterday we arrived in Kathmandu. As usual, affable faces of local people, dirt and smog met us in the capital of Nepal. We were accommodated at the Royal Singi Hotel and after that we started our excursions and shopping. We bought rope for possible fixed roping and several snow anchors.
Today we have visited the office of Asian Trekking and solved all necessary questions, checked our equipment and food. A solar panel looks not very good and Asian Trekking has given us an electrical generator in addition. It seems that all is ready and tomorrow we will drive to Tibet. To have no possible problems with traditional spring demonstrations in Kathmandu we decided to start very early - at 05:00.
Our Dutch members look as very nice and pleasant people. Two our members, Moskalev and Soyfer, have plan to visit Lhasa and its monasteries. They will fly to Lhasa on April 23 and will join us at BC on April 27.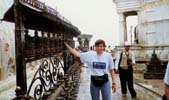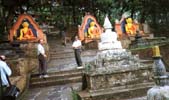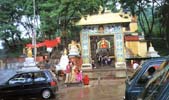 At the Swayambhunath (Kathmandu)
April 19, Andrey Ershov:
The expedition is ready and today Marina Ershova, Oleg Nasedkin, Vladimir Belous, Dmitry Moskalev, Yury Soyfer and Sergey Bogomolov have flown from Moscow to Kathmandu via Delhi. Viktor Bobok and Vladimir Oleynik is already in Kathmandu, they have arrived there one week earlier. Six Dutch members have started their travel today too.
---