Presto on line 3 Agosto 2001 Yes, we snowboarded the Kyrgyz powder trought the north face at Pik Lenin!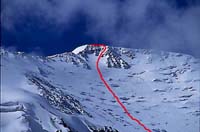 On 3 August the Italian Emilio Previtali snowboarded off the summit of Pik Lenin 7134 m, via a new line directly down the North Face. Just a day previously, team member Luca Dalla Palma (who, together with Elena Spalenza formed this three-man expedition) descended via the Normal route from 6500m using telemark skies
The line snowboarded trought the north face. (foto Simone Moro) The trio had left Italy on 17 July for Kyrgyzstan and reached Base Camp at Achik-Tash, 3700 m on 19 July. They established their "true home", Camp 1 at 4200m one day later, before pushing up to Camp 2 at 5200m on 23 July and Camp 3 at 6100m at Pik Razdelnaya. From here the Normal route continues via the western crest to the summit of Pik Lenin.
Bad weather forced the trio to postpone their summit bid, but on 1 August Luca Dalla Palma and Elena Spalenza left directly for Camp 3. The next day Luca reached the summit and teklemarked from 6500m.
Elena's attempt stopped at 6500m, where she too descended. On 3 August Emilo Previtali's dream came true as he reached the summit and snowboarded down the immense 8km wide North Face to Camp 1 - a height difference of 2900m!
Emilio had the following to say about his extraordinary (and demanding) 35°- 50° descent "Can you imagine my joy when I finally reached the bottom of the face and turned around to see my tiny traces in that immense sea of white? It's a great and rare privilege, the mountain let me pass and I slid down its slopes, feeling her cold breath. I'm sure that she noticed me, but she let me go. Like an elephant and an ant."
Emilio Previtali emilio@freeridespirit.com (italian version)
---