28 December 2007 Makalu (8463 m), Winter climb. The team of the Central Sport Club of Kazakhstan Army is going to Makalu via normal route. Members: Denis Urubko, Serguey Samoilov, Eugeny Shutov and Gennady Durov. Expedition sponsor: Astana Motors.
Three days ago Denis won the traditional Annual Amangeldy speed climb competition near Almaty - the race in Boukreev's memory. The second was Sayat Satybaldiev, The third - Andrew Puchinin. Ekaterina Chervonenko was the Winner among women, the second - Svetlana Sharipova, the third - Maria Popova (Bishkek).
25 December 2007 10 years ago Anatoly Boukreev and Dmitry Sobolev died in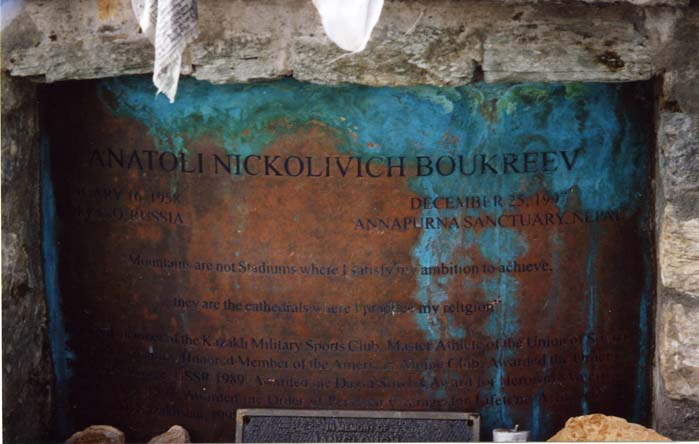 avalanche on Annapurna (8091) slope. This's a photo of memorial under the route. Today the other memorial - the bell - was set on the top of Katyrbulak peak near Almaty - Anatoly trained there every day, when lived in Kazakhstan. Photo by Alexander Chechulin: Katyrbulak peak and the memorial bell.
25 November 2007 K2 West Face climb was awarded by the first Russian Piolet
D'Or yesterday. The ceremony was held in Moscow. The Winner has been chosen in "Hamburg score" by the leaders of all 13 nominee teams, without any special juri. The second place has Jannu climb, the third - Shingu Charpa. Pictures by Serguey Shibaev.
Piolet D'Or
Nickolay Totmjanin, the team leader of K2 West Face team
The legend of "Hamburg score" is described by Russian writer Victor Shklovsky in the novel about "the original system of values, free from momentary circumstances and mercenary interests " about circus fighters of the end XIX - the beginning of XX centuries - they usually defined the winner of fight in advance arrangement, but once a year met in Hamburg tavern, far from public and employers for the fair battle to find out who from them is the strongest true". They locked doors, curtained windows and struggled fairly, " without fools ". Further, under spotlights, on public, the elegant handsome man effectively threw through a hip other huge athlete, or " Mr. X " won fight against the known champion... But in Hamburg, for themselves, fighters understood, what they cost, who is truly the first, and who is only ninety ninth. "..
Not so many Russian climbers like the name "Piolet D'Or" for the National Award. Pavel Shabalin has offered, that the following year competition would named "Titans battle ", with the titanic ice-axe as a prize (Russian manufacture (Kirov) - original, beautiful and especially Russian thing...- and no gold...
25 November 2007 In addition to published statistics of 8000+ climbs records : Vladimir Bashkirov (Russia) climbed in 12 months and 3 days Makalu (May, 23 , 1996), Cho Oyu (September, 23, 1996), Shisha Pangma Cetral (Oct, 10, 1996), Everest, South normal route (April, 24, 1997), Lhotse (May, 26, 1997), where he died during the descent. (his other 8000+ climbs are Annapurna in 1991, Everest in 1993, Dhaulagiri in 1995)
Anatoly Boukreev (Kazakhstan) accoplished 17 8000+ climbs in 7 years and 2 months, among them are: Everest, Dhaulagiri, Manaslu in 1995, Everest, Kangchenjunga, Lhotse and Cho Oyu in 1996, Everest, Lhotse, Broad peak, Gasherbrum II in 1997. He died on Annapurna in 1997. He also climbed Everest in 1991, K2 in 1993, Makalu in 1995 (twice in 15 days), Dhaulagiri in 1991. (info Russian mountaineering Encyclopedia)
18 November 2007 First Russian Piolet D'Or for 2007 best Russian climb will be awarded Nov, 24 in Moscow.
Mountaineering
World's news
2 December 2007 Francoise Gendarme was elected this week-end in l'Argentiere La Bessee (South of France) as the first woman president of the SNGM (French Mountain Guides Union).
The SNGM counts only 15 women for 1500 guides. The first woman guide in France has been Martine Rolland in 1983. (www.kairn.com)
26 November 2007 Simone La Terra (Italy) is in Pakistan already - he's planning the winer climb of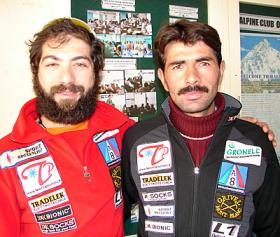 Diamir Face of Nanga Parbat - with the strong partner Hunza climber Mehrban Karim, who had already climbed Nanga in 2005. "I'll start the climb on 21st December," said Simone (www.mounteverest.net)
18 November 2007 Tomas Humar: New Alpine Solo Route on the South Face of Annapurna. Route line, pictures.