First Russian Piolet D'Or for 2007 best Russian climb will be awarded Nov, 24 in Moscow.
Under the patronage of Russian Mountaineering Federation
Nominies are:
1. K2 West Face direct, first climb, 6B Russian grade June - August 2007. 16-members team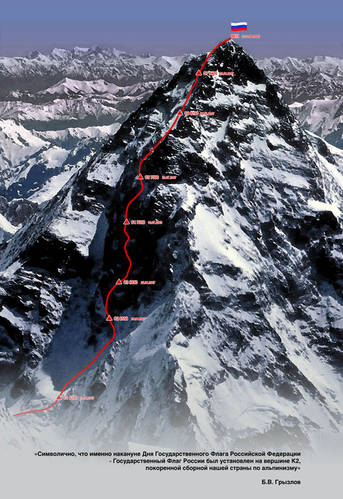 2.áJannu 7710 m "Magic Pillar" at West Ridge. Alpine style. Height diff.3 000 m. VI, WI 4+, av. steep.80 grad, M5. 8 days, 2 days descent, 6B Russian grade. Babanov and Kofanov.
3. Great Trango Tower (6237 m), South tower (6150 m), right part of the West Face, 6B Russian grade. First climb. Mikhalicyn, Beljaev, Komissarov, Loginov. (Krasnoyarsk region team) 7-12 July,
4. Shingu Charpa, "Never more", the center of East Face, first climb (Davy, Klenov, Shabunin) August, 4-24. 6B Russian grade, height diff 1600
5. Haina Brakk 5 852 m, right part of SE Face, first climb (Saveljev, Korol, Muryshev, Nilov) July, 18-23
6. Engels peak (6510 m), centr. pillar NE Face (Chunovkin route) 6B Russian grafe (Nagaev, Ivanov, Kirichenko, Kolunov, Krasnov) July 30 - Aug, 8
7. Great Trango Tower (6237m), NW Face bastion, 2nd climb. 6B Russian Grade, (Khvostenko, Arkhipov, Glazyrin, Litvinov, Cherezov, Yanushevich), 4-16 July
8. Ak Su (5217ý), center of North Face, Ruchkin route, in winter (Khvostenko, Beljaev, Gunko, Loginov, Prokofjev, Rodikov) Jan, 21 - Feb, 4, 6B Russian grade
9. Peak Blok. Centr pillar of North FAce first climb, 6A Russian Grade (Korobkov, Bobrov, Dashkevich, Litvinov, Ravilov, Timofeev) March, 5-18
10. Peak 4810 (Kochetkov, Soshnikov, Kozlov) 6B Russian Grade
11. Torres del Paine (2800 m), Center of Easr Face, 6A Russian Grade (Seregin, Akhmedhanov, Kovalev, Pehterev) Jan, 14 - Feb, 2
12. Kyzyl Asker (5600 m) SE Face, first climb (Ruchkin, Mikhailov, Odintsov)
13. Torres del Paine, Britain route 1963, climb+ base (Rozov, Ruchkin, Odintsov, Provalov, Kachkov, Krasko) 5B Russian grade