8000ers - Kazakhstan routes: three years - three aims.
Denis Urubko & Serguey Samoilov project
July, 10 2007. Denis Urubko: The letter to the sponsors (NEWTECH DISTRIBUTION and RAD Data communications, SIVERA )
Dear Sir,


As we have signed in our agreement, I am looking forward to climbing K2's (Chogori) North Face. This Mount, which has a height 8611 m, is still the most difficult mountaineering goal in the world and can be considered as a challenge to human limits. It's also my dream too. I always keep in mind K2's danger during my trainings. The famous Hollywood movie "Vertical limit" had been filmed about this peak. As you remember few people could reach the summit.

I like to make it as Unlimited access and to get pleasure on this pages of nature. This month will be the very important step for me and my partner in the preparation for this expedition project. I will leave for the Central Tien Shan in July in order to climb Khan Tengri (7010 m) - the highest point of Kazakhstan, and I want to acclimatize on its slopes. On July, 27 I'll be back to Almaty. Over the next two weeks it'll be necessary to get fit at medium altitudes. The green zone between 2000 and 4000 meters is the best place to prepare the muscles and mind for the future extreme conditions.

My partner Serguey Samoilov will get the same acclimatization on Lenin Peak (7134 m) in Pamir. We'll meet in Almaty before our departure to K2 on August, 10.

In 2003 during the winter attempt on K2, where I was a member of Polish expedition, it took us 12 days to reach the bottom of K2. Now we'll approach the mountain from its Chineese side through Kashgar pass from Kyrgyzstan and further by cars and camels.

After the Himalaya spring season 2007, where I climbed Dhaulagiri (8167 m) on May, 02, I feel nice. Now I've rested enough and am ready for the next important step in my mountaineering carrier. I hope that this K2 climb should become the strongest achievement in my life. Perhaps my horizons will
never be so wide after this extreme expedition.

So I hope this year will become an unforgettable story in my life, and this project will be our magic action at high altitude.


Hope to work together.
Good luck!
Denis
----------------------------------------------------------------------------------
Unlimited access
It was a cloudy day and I sat in front of the computer, watching a piece of paper. The light could hardly penetrate the dirty window of my home; a narrow room in an Army barrack. This was spring 1998, and I was thumbing a black-and-white picture; a simple print copied on a plain sheet of paper. Frankly speaking, that's when everything started.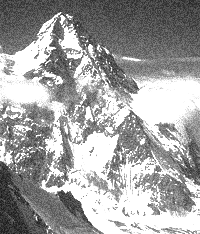 In the dim light, I drew the line with my finger from the summit down along the North-West ridge. This was the Japanese route opened in 1982. Let's see...so what about the line on the left side?... I moved my finger again, but in the opposite direction... to the top. What about this one?"
I held the paper up to the window, and studied it. M-m: K2 North Face. No information... No routes: but one can guess. The route seemed long from 5300 m to 8611 m, and what about the ice falls? I would be crazy; everything falls down on both sides. Are you sure? No. But one can believe.
I picked up a pen, and drew a bold line. From the bottom, up to the summit.
Five years later, in 2003, came the winter Polish expedition. I did my job struggling through snow and wind to realize Krzysztof Wielicki's plan. The intrigues, misunderstandings and lack of support didn't bother me. I wanted to become the first to climb K2 in winter.

But at times I would remember about the North face, now covered by snow on the upper ridges. I mulled it, dreamt it and believed it. Even on 7800 meters, when I could hardly stand on my legs to hold up Marcin who was ill, could I stop thinking about it.

I looked up at the ridges and then on my two ice picks. I didn't want to take them down. I still hoped for another summit attempt...who knew? I hammered the ice-axes into the mountain side, and that's where they still remain:
Four years have passed since that day. 9 years have passed since I first saw the North Face in the picture. 9 years already: or is it 9 years yet? Another spring is arriving, and with it a strange feeling that I have chosen the right path. It's a weird sensation; everything seems clear and I have identified my priorities.

Throughout my athletic career I longed to be free. To be free for real - not just seemingly so. So for the last three years I have done only what I dreamed off - exploring new routes in Himalaya. Unlimited access!
First there was Kali-Himal. Then an attempt on Annapurna, where my friend Simone felt sick. And finally - the South Face of Broad Peak which showed me the two sides of triumph - joy and pain. I will never have the same feeling again.

After Broad Peak I formed my own principles for ultimate High-altitude mountaineering:

1. Summit above 8000 meter
2. New route
3. Alpine style on-sight
4. Small team

The 2006 Manaslu expedition followed these concrete rules. There was success, and there was a Piolet D'or Asia award, but there were also conflicting feelings. Combined, this all rooted an idea inside my head, an idea which began to grow. It was 'Alpinism as Art'.
And then there was Serguey Samoilov, who climbed mountains in the same style. We worked in the Central Sport Club of Kazakhstan Army together, we undertook expeditions together, and we both tried to live through the city days of our home-comings in Almaty as fast as possible.

Since our climb of Khan Tengri north face in 2000, Serguey and I had climbed the same routes. To me, Serguey's power of mind and endurance are bordering to ridiculous. Always cheerful, he never doubts decisions which have already been made. Contrary to me, who does...
So now, what?

In my mind, I return to that spring day of 1998 and the grainy picture. I have collected a lot of information about K2's North Face since then and yet, that black-and-white photo remains most important to me. My first view of the North Face, and the line that I drew:

I feel the time has come. This summer we'll arrive at the foot of the Mountain Queen. And reach the summit via its North Face.
As for Serguey, he says that he is ready to climb anywhere with a mad gun like me; "My kids are grown and I have a job. But I have no savings and my everyday life is not so exciting. It's time to come up with something big and fun! There is no classification for such routes yet.

Yeah! We'll have so much fun! In fact, if everything goes to plan, we'll laugh our way though 3 kilometers of difference in altitude! And on the way back I'll have a chance to pick up my ice-axes, waiting for me in the last camp ever since February 2003. They should be there, right? Or where else could they go?
Route details:
Mount Chogori (K2) - 8611 meters
The North Face (from China)
Alpine style by Denis Urubko and Serguey Samoilov

Route begins at 5300 meters
The Face is 3300 meters high
Mixed climbing difficulty - approximately M6
Rock climbing difficulty - up to 6b by French system
The most complex part - almost vertical rock face at 6600-7000
The most difficult part - the summit ridge above 8000

There haven't been any previous attempts on this route.
That's all.
February, 23, 2007
Denis Urubko
Central Sport's Club of Kazakhstan Army
(Translation by Adilet Imambekov, RussianClimb.com and ExplorersWeb.)