Broad peak

SouthWest Face first climb

Denis Urubko and Serguey Samoilov
(Italian-Kazakh expedition)

Italian members: Roberto Piantoni (leader), Mario Merelli, Domenico Belingheri, Stefano Magri, Marco Astori, and Matteo Piantoni - climb normal route

July 2005
| | |
| --- | --- |
| Serguey and the new Kazakhstan climbing star - Svetlana Sharipova | Denis |
Expedition chronicle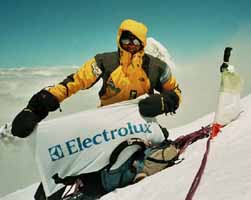 Summit!
9 August , 2005 The press conference took place in Almaty August, 9.
| | | |
| --- | --- | --- |
| After the climb | | View to the North Face |
| Press conference | | |
I want to add, that it's the first absolutely own Denis's Himalaya project. And the first 8000-er for Serguey. This's an excellent present by Den to his own Birthday, which'll be on July, 29. Congratulations to Pavel Novikov (The head of Central Sport Club of Kazakhstan Army), Rinat Khaibullin and all CSKA climbers! And to everyone who helped the expedition and worried for this tremendous duo! - Е.L.
26 July, 2005 SMS (6-30 p.m., Moscow time) We arrived to the base camp. Tomorrow the expedition will start go home. We are tired but safe and sound.
25 July, 2005 SMS (6-40 p.m., Moscow time) We have set the tent at 7200. Tomorrow we plan to descend to the base camp.
SMS (12-40, Moscow time) We're going down by normal route, at 7700. We reached the top at 11-30 a.m. All's OK Denis, Serguey.
Congratulations! The new route to Broad SouthWest Face in Alpine style has been climbed!
24 July, 2005 SMS (4-30 p.m. , Moscow time) : The strong wind and extremely deep snow with avalanches and dangerous rocks - we spent there too much time and forces. There're no visibility now. We stopped for the night here, at about 7800. All's OK.
23 July, 2005 SMS (11-30 p.m., Moscow time): We couldn't climb upper than 7500 because of very deep snow and difficult rocks. And the weather exams us in our capability to stay alive. We're extremely tired and wet. We need our friend's support.
22 July, 2005 SMS (19-30) We're slowly climbing up to stratosphere. After the last part of the yellow bastion and very difficult mixt we are under the rock triangles. The altitude is about 6950 m.
21 July, 2005 SMS (22-30) Very difficult rocks at this belt. We climbed 3 pitches/ Spend night again sitting at the small shelf at the altitude about 6700. All's OK and according our plan. Greetings to all. Going to work further. Dan, SS.
Inshallah...
20 July, 2005 SMS (6-00 p.m.): We stopped for the night at 6500 m under the yellow rock belt. Climbed 10 pitches (55 m each). We have to spend night sitting at icy shelf half-a meter wide. We managed to pitch our tiny tent with a lot of difficulties and will try to think about something warm... All's OK, greetings for all.
19 July, 2005 SMS (3-00 p.m.): Wonderful views from 6150! It's very-very hot! There are precipices 800 m deep to the left and right.
SMS (11-05 a.m.): we've climbed all icefalls, reached the pillar. Set out tent at 6100. We're very tired but in good shape. Tomorrow - black belt of rocks. Wish us luck!
18 July, 2005 SMS (4-30 p.m.): we've set our tent at 5100 m at the foot of the South-West Face. Today night we're going to start to our new route.
15 July, 2005 SMS (12-30): Greetings to the readers of a site! It's snow in Karakorum, and Broad looks impressively and terribly in the breaks of clouds . According to the forecast on Sunday good weather will begin - after the rest we count on it. If all will be under the plan, 18-22 we shall make an attempt of the SouthWest Face climb. Mood is working. Wish good luck for us! Sergey and Denis
13 July, 2005 SMS (11-35): There's a lot of fresh snow, it's snowing now too. Out tent at 7200 was about burried. e decided to go back, nobody is at the route now. Serduey is very sad that we haven't summited - our shape is good enough.
12 July, 2005 SMS (5-27 a.m.): Serguey Samoilov and me reached 7200 at normal route - first in this season. We set the tent, sitting and having tea. We have found five gas cylinders. The weather's worsened (wind, black clouds, snow) and probably, we 'll have to spend the hight here.
11 July, 2005 SMS (July, 10): Today's the first day of good weather. We went back from the circus under the South Face (5500). The route is too dangerous, many avalanches... We decided to climb via normal route till 7200, and we'll see further...
6 July, 2005 We have found the way through the first icefall. All feel fine. There is hard snow in Karakorum - the snow falls like a thick wall...
5 July, 2005 SMS from Denis Urubko: our Italian/Kazakh team reached Broad peak base camp today. It's at 4620 m opposite to the Mount. It's huge! All's OK exept the weather and snow amount - I've never seen such Karakorum!
24 June, 2005 Denis Urubko called: all the team is Islamabad. We'll have the brifing in Tourism Ministry tomorrow and leave for Skardu the day after.
22 June, 2005 Denis Urubko and Serguey Samoilov arrived Islamabad. Italian members have some visa problems and will be later. (Denis's SMS)
19 June 2005 Denis Urubko and Serguey Samoilov left Almaty yesterday and arrived Pakistan.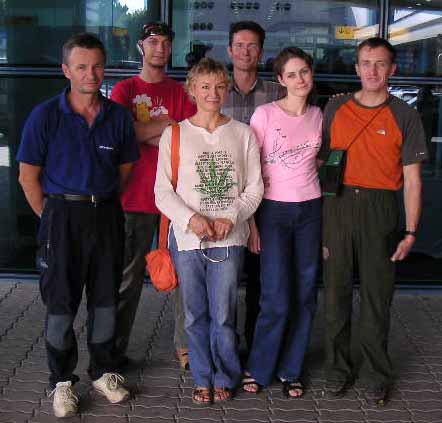 16 June 2005 The press-conference devoted the project "Broad peak South Face new route" took place in Almaty today. Members of the project are: Roberto Piantoni (leader), Mario Merelly, Domenico Belingheri, Stefano Magri, Marco Astori, and Matteo Piantoni (Italy). Denis Urubko and Serguey Samoilov (Kazakhstan) .