Colin Haley, Rolando Garibotti. Photos R.Garibotti
THE TORRE TRAVERSE

Argentine Patagonia
Chalten Massif
January 2008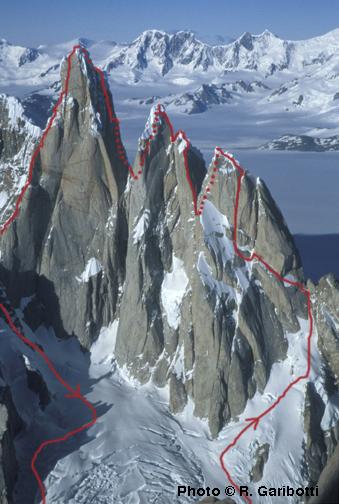 the line we followed on the Torre Traverse, starting up on Cerro Standhardt via Exocet, descending to the Col dei Sogni, climbing up Spigolo dei Bimbi on Punta Herron, descending to the Col de Lux, climbing up Torre Egger via the Huber-Schnarf 2005 route, descending to the Col of Conquest via Torre Egger's south face, up Cerro Torre via the upper portion of El Arca de los Vientos to join the "Ferrari" West Face route, to finally descend via the Compressor route.
The Torre Traverse climbs from north to south the skyline comprised by Aguja Standhardt, Punta Herron, Torre Egger and Cerro Torre, with approximately 2200 meters of vertical gain.
This traverse is the brainchild of Italians Andrea Sarchi, Maurizio Giarolli, Elio Orlandi and Ermanno Salvaterra, who tried it on several occasions in the late 80s and early 1990s. In 1991 Salvaterra, together with Adriano Cavallaro and Ferruccio Vidi managed to climb to Punta Herron, completing what is likely the first ascent of the peak. Salvaterra climbed Herron via a new route on the north ridge, the aesthetic Spigolo dei Bimbi.
In early 2005, German Thomas Huber, together with the Swiss Andi Schnarf completed the Standhardt to Egger traverse. Having only intended to climb Standhardt via "Festerville," they decided on the summit to continue on toward Egger, and moving light and fast completed this section of the traverse in 38 hours round trip, and descended via Egger's "Titanic" route on the east ridge.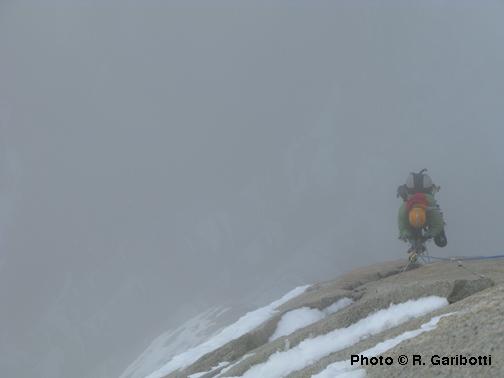 Colin Haley following Spigolo dei Bimbi on Punta Herron's north ridge in less than ideal climbing conditions during our first day on the traverse. In this section we were forced to climb several variations due to the severely iced up rock.
In late 2005, Salvaterra, together with Alessandro Beltrami and Rolando Garibotti, solved the last remaining puzzle of the traverse when they climbed Cerro Torre from the north via a new route, "Arca de los Vientos." With a route finally completed from the Col of Conquest to Cerro Torre's summit, Salvaterra returned in 2006 with Beltrami and Garibotti to try the traverse yet again, but bad weather prevented him from getting further than Standhardt. Unfazed, Salvaterra returned in late 2007 with Beltrami, Mirko Masse and Fabio Salvodei. On this attempt they climbed Standhardt via Salvaterra's own "Otra vez" and continued on to climb Herron and Egger. They descended to the south, to the Col of Conquest, and climbed one pitch on Cerro Torre before retreating. During that same period of good weather, Garibotti, together with Hans Johnstone, began the traverse on Standhardt's "Festerville." They climbed Herron and Egger, and continued past the Col of Conquest, completing half of the upper portion of Cerro Torre's "el Arca" before being turned back by a rime mushroom.
Garibotti, having now done all the pieces of the traverse decided to stay in Chalten for the reminder of the season to give the traverse another try. He teamed up with a number of other partners including Bruce Miller and Bean Bowers, but it was not until he teamed up with Colin Haley that another good weather window provided opportunity for another attempt.
Haley, who put off a semester of university studies to stay in Patagonia longer, had the year before completed the much tried first link up of Cerro Torre's "A la Recherché du Temps Perdu" with the upper "West face" route, with Kelly Cordes.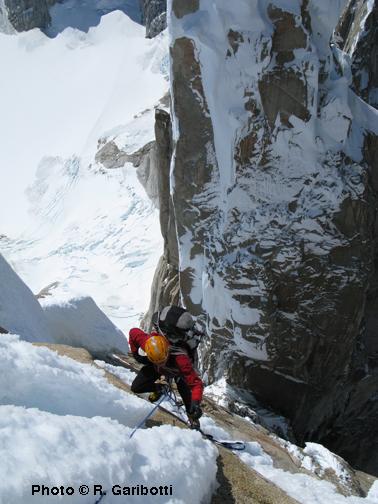 Colin Haley following more severely iced up rock high up on El Arca de los Vientos, Cerro Torre north face.
Around mid January 2008 Alex and Thomas Huber, together with Swiss Stephan Siegrist arrived in Chalten, also with hopes of trying the traverse.
On January 21st, in less than ideal weather and conditions, Haley and Garibotti began the traverse while the Hubers and Siegrist decided that conditions and weather were not suitable.
Haley and Garibotti climbed Standhardt via "Exocet,"
reaching the summit slightly past midday, then rappelled to the Col dei Sogni between Standhardt and Herron. Climbing up "Spigolo dei Bimbi" they found rime covered rock and were forced to climb variations to pitches 2, 3 and 4. Slowed down by the snowy conditions and windy weather they bivied below the Herron mushrooms. On January 22nd, in perfect weather but feeling unusually tired, likely due to carbon monoxide poisoning inside their bivy sack, they continued on over Herron and Egger to reach Cerro Torre. On Egger's north ridge they were also forced to climb some variations to avoid rime covered rock.
The good weather brought unusually high temperatures, so upon reaching the Col of Conquest they were forced to find a place to hide from the falling ice, and stopped to bivy at around 5 PM under a prow of rock.
The next morning, January 23rd, brought a pleasant surprised when they discovered that the rime mushroom that had stopped Garibotti and Johnstone's attempt two months before, had fallen off.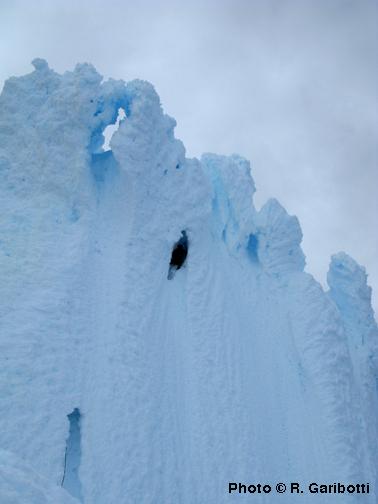 Colin Haley leading the last pitch of the "Ferrari" route on Cerro Torre's west ridge. Haley spent over four hours digging first a half pipe and then a tunnel through the inconsistent rime.
Haley and Garibotti found the upper "Arca" in worse conditions than Garibotti had encountered in 2005, and were forced to clean much ice from the cracks.
Garibotti was forced to place one bolt at a crux pendulum to avoid yet another rime mushroom. Tired from the previous two days and slowed down by the conditions they reached the top of Cerro Torre's north face at 5 PM, and here joined the final pitches of the "Ferrari" route on the west ridge. They climbed two pitches through natural rime tunnels to reach the base of the last pitch, notorious for having turned many climbers around. Haley and Garibotti, both of who had led this final pitch before found it in more difficult condition that they had previously seen. This final pitch is climbed by laboriously digging vertical trenches through the rime, and since no other party had yet attempted it this season, they found the 50-meters of protection-less rime daunting. Haley attempted the pitch in the evening, digging 30 feet of half pipe in one hour before giving up for the day.
Under a full moon they bivied one pitch below the Torre summit.
"Rested" after a long night shivering, Haley attacked the pitch again, digging a tunnel from the top of his half pipe. He spent three hours completing a 20-meter tunnel inside the mushroom, and exited to finish in a naturally formed tunnel. At midday on January 24th they reached the summit of Cerro Torre, completing the first ascent of the much-fantasized Torre Traverse.
After a short rest they descended the "Compressor Route" along Cerro Torre's southeast ridge to reach the glacier below by evening.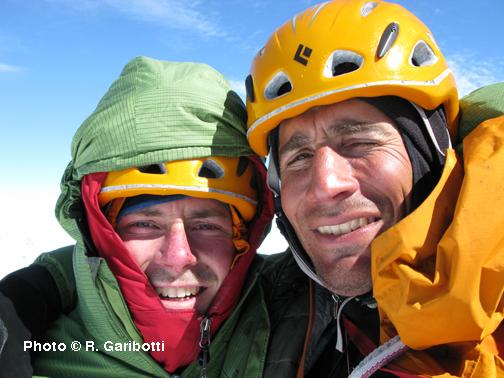 Garibotti and Haley on the top of Cerro Torre, after having completed the first ascent of the Torre Traverse.
For maximum efficiency, Haley and Garibotti divided the leads based on their differing skills, Haley leading the pure ice and rime pitches, and Garibotti leading the rock and rime-covered rock. The follower jumared with a heavy pack, and the leader either climbed with a pack or hauled it depending on the terrain. Because of bad conditions they climbed slower than expected and summited Cerro Torre with no food left. Under ideal weather and conditions, and with the final "Ferrari" pitch already excavated, they feel the traverse could be done significantly faster.
Although success on the Torre Traverse has been elusive because of strategy and weather difficulties Garibotti comments that it involves little extreme climbing, with difficulties never above 5.11 and A1.
Other than the last "Ferrari" pitch there are no really committing leads. Garibotti feels that the future of Patagonia alpinism lies not in link-ups or traverses but perhaps in alpine style repeats of the inmense routes of the 1980s, such as Silvo Karo and Janez Jeglic's Cerro Torre South Face or their Devil's Directissima on the East Face.
Having felt partly responsible for delaying an academic career, Garibotti was relieved upon returning to their bivouac in the Torre valley to hear Haley exclaim, "The Torre Traverse is way better than mineralogy homework!"
A big thanks goes to "il Maestro", to Ermanno Salvaterra, for the idea, for the inspiration, and for continuing, 20 years on, to show the way...
Source: www.kairn.com