Winter Climbing Nanga Parbat | An Unfinished Anecdote
Зима 2014 закончилась. Вместе с очередной попыткой зимнего первовосхождения на Нанга Парбат. В этом году было три команды-претендента.
А сколько их было всего? За все годы?
Рахил Аднан составил таблицу попыток, где указана и достигнутая высота в каждой попытке.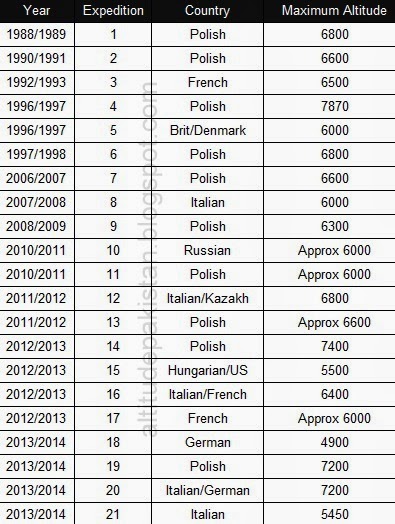 IT has been attempted by the renowned climbers and by less-known adventurers; by the men with extensive experience in Himalayas and by the fresh mountaineers; by large teams, by light expeditions and by solo alpinists. It has been attempted from Rupal side, from Diamir side; by Schell route, via Messner's lines, by Mummery Rib, by Kinshofer route and by unclimbed lines.
The mountain forced some people to quit even before reaching Camp 1, however, one person made it to 7850m. It had been explored by men led by Maciej Berbeka, by Andrzej Zawada and by Krzysztof Wielicki. It had been attempted by Artur Hajzer, Simone Moro, Darek Zaluski and by Denis Urubko. Some attempted it once, others twice or thrice and few even four times. It has been the winter-dream-home of Tomek Mackiewicz and Marek Klonowski since 2010. Despite all the efforts by Poles, Italians, Germans, Brits, Americans, Hungarians, Russians and French, Nanga Parbat stands unclimbed after 26 seasons and 21 expeditions.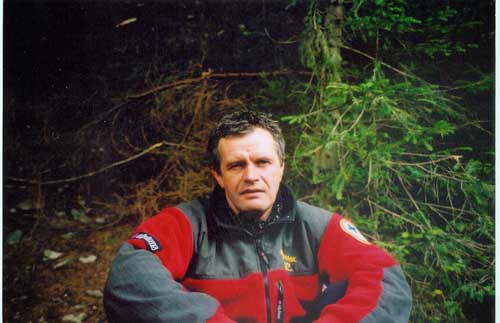 Maciej Berbeka led first winter expedition to Nanga Parbat in 1988/89
The western face of Nanga Parbat receives little sun in winter and is often packed with hard ice. However, the major cause of concern, this season, has been the seracs near 6000m in the middle of Diamir face. Ralf Dujmovits and Daniele Nardi couldn't launch their 'light and rapid' attempts on Messner 1978 and Mummery Rib lines, respectively, due to dangerous conditions.

Unfortunately, 2013 was a terrible year for Polish winter climbing. Maciej Berbeka and Tomasz Kowalski were lost on Broad Peak. Artur Hajzer, the head of Polish Winter Himalaism project (which receives funding from PZA and Polish government), died on GI. Consequently, there wasn't any PZA team on 8000ers, this winter. However, another Polish team - Justice for All - made the fourth consecutive attempt on Nanga Parbat.
Simone Moro also returned to Nanga Parbat. Denis Urubko didn't accompany him because of security concerns. But Simone and German David Gottler blended perfectly. Both Polish and Italian-German teams worked on Schell route. There had been multiple summit attempts, but the bad weather halted their progress well below the top, every time. In final attempt, Tomek Mackiewicz and David Gottler retreated from 7200m.

Next winter
The next winter climbing season is still far away, but the climbers have expressed their intentions to return to the mountain.
Simone Moro hopes returning to Diamir face and reattempt the (unclimbed) line, he and Denis tried in 2011/12. Simone will try to convince Denis Urubko for the expedition. He thinks that, with Denis and David, the team will be in a stronger position to negotiate the challenges of winter Nanga Parbat.
Meanwhile, Janusz Majer has reorganized the Polish Winter Himalaism and announced two projects for summer. The K2 and Nanga Parbat expeditions will do the homework for winter attempts. Hence, the 'official' Polish teams are also expected to attempt Nanga Parbat or K2 (or even both!), next year.
Although, Tomek and Marek haven't talked much about next year but the possibility of a fifth 'Justice for All' Nanga Parbat expedition cannot be ruled out. Winter Nanga Parbat is their dream.
Источник: http://altitudepakistan.blogspot.ru/