Стремительная программа Jing Wang: 7summits + 2 Poles Project!/ 7 вершин + 2 полюса
Source: http://himalayanexperience.com
Jing Wang is attempting to climb all of the 7 summits and go to the 2 pole in a
record time of less than 6 months and 11 days a record that is currently help by Richard Parks.
But in fact Jing is planning to climb 9 summits just to be sure for those who cannot
really decide which summits are the high points of a tectonic plate or of a land mass.
The plan is totally flexible and will depend on logistics, weather and climbing
conditions.
Китаянка Джинг Ванг осуществляет проект "7 вершин плюс 2 полюса" в кратчайшие сроки. Задача: выполнить программу быстрее чем за 6 месяцев и 11 дней - имеено за такой срок ее выполнил нынешний рекордсмен Ричард Паркс. Есть интересный нюанс: Ванг хочет не просто подняться на 7 вершин, а побывать на вершинах всех 9 пиков, входящих во все версии этой программы, т.е и на Эльбрус, и на Монблан, и на Карстенз, и на Косцюшко. Это для того, чтобы удовлетворить сторонников версий высочайших вершин как тектонических плит так и частей суши. План достаточно гибкий, и будет зависеть от материально-технического обеспечения, погода и условий на маршрутах.
But at the moment the plan is to climb in the following order/ Программа запланирована в следующем порядке:
South Pole
Vinson
Aconcagua
Kosciusko
Carstensz
Kilimanjaro
North Pole
Everest
Denali
Elbrus
Mont Blanc
Jing Wang уже дважды побывала на вершине Эвереста, Лхоцзе, Нупцзе, Манаслу, Броуд пике, и Лобуче.

Jing Wangshe has now been to the summit of Everest twice, Lhotse, Nuptse, Manaslu,
Broad Peak and Lobuche Peak .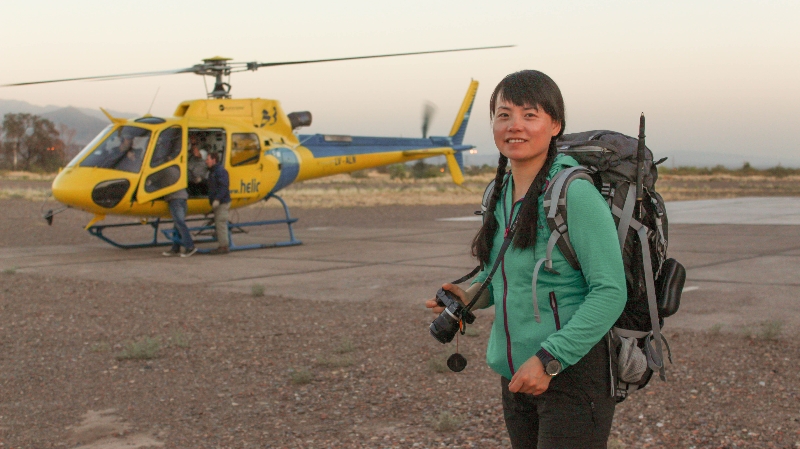 Джинг Ванг перед вылетом в базовый лагерь Аконкагуа. Photo: http://himalayanexperience.com
15 января 2014 Джинг Ванг и Mark Whetu достигли Южного полюса, первой цели проекта.
January, 15, 2014. Jing Wang and Mark Whetu have arrived at the South Pole, the first destination of the 7 + 2 Project.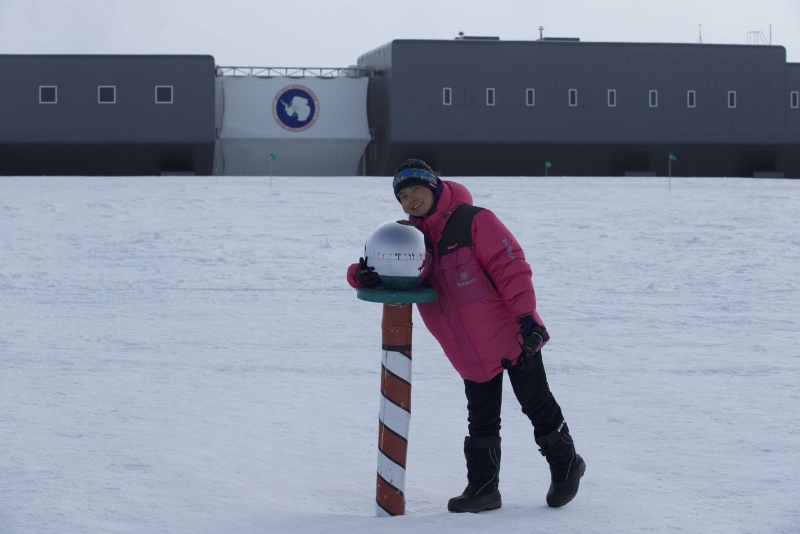 Джинг на Южном полюсе / Jing at the South Pole
22 января 2014 Джинг и Марк поднялись на пик Винсон./ Jing and Mark had just returned to Vinson high camp after summiting the mountain in cold windy conditions
Джинг во время восхождения на Винсон
23 января 2014. Джинг и Марк в Пунта Аренас, готовятся к перелету в Мендозу./ Jing and Mark are now back in Punta Arenas getting ready to fly up to Mendoza to start the next stage on Aconcagua.
28 января 2014 Джинг, Марк и Rodrigo Mujica начали восхождение на Аконкагуа. ПОднялись в С1/ Jing Wang, Rodrigo Mujica and Mark Whetu flew by chopper to the base camp of Aconcagua at 4200m. Today they did a carry to camp 1
31 января 2014 . Джинг и Марк на вершине Аконкагуа./Today Jing and Mark reached the summit of Aconcagua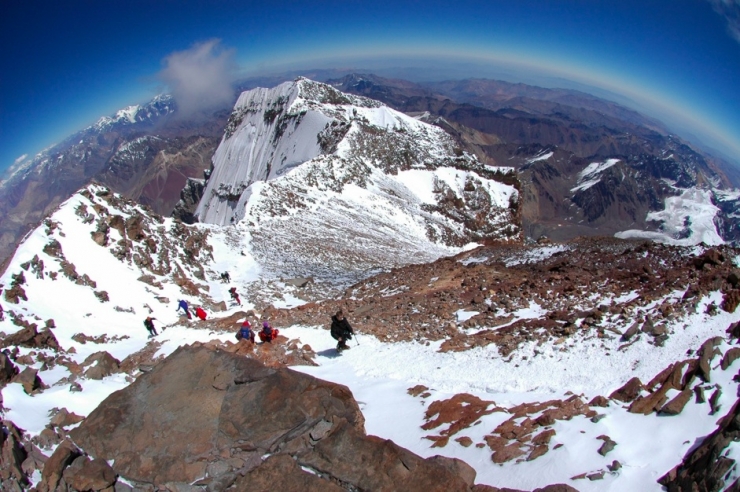 фото с вершины Аконкагуа/ Looking down the route from Aconcagua summit
15 февраля 2014. В предыдущие дни Джинг поднялась на Косцюшко, затем слетала в АФрику и поднялась на Килиманджаро. Дальнейший план: Карстенз./After Aconcagua Jing and Mark flew back to New Zealand where Mark had the opportunity to stay for a few days in order to arrange his Russian Visa. In the meanwhile Jing went to Australia and climbed (trekked) to the summit of Kosciusko. A day later she was parapenting to fill in time before getting connecting flights to Kilimanjaro.
21 февраля 2014 . Джинг и Марк в Индонезии. Вчера пытались сходить на Картенз, но сильный дождь остановил. Пытаются сегодня снова./Jing, Mark and Hiro all met in Jakarta and flew to Nabire where they then transferred to a helicopter for the flight into the Carstensz BC. The weather forecast is for rain, rain and more rain, and apparently this is what they are experiencing. The team attempted to go to the summit yesterday, but were turned around by rain and strong winds. They will try again today.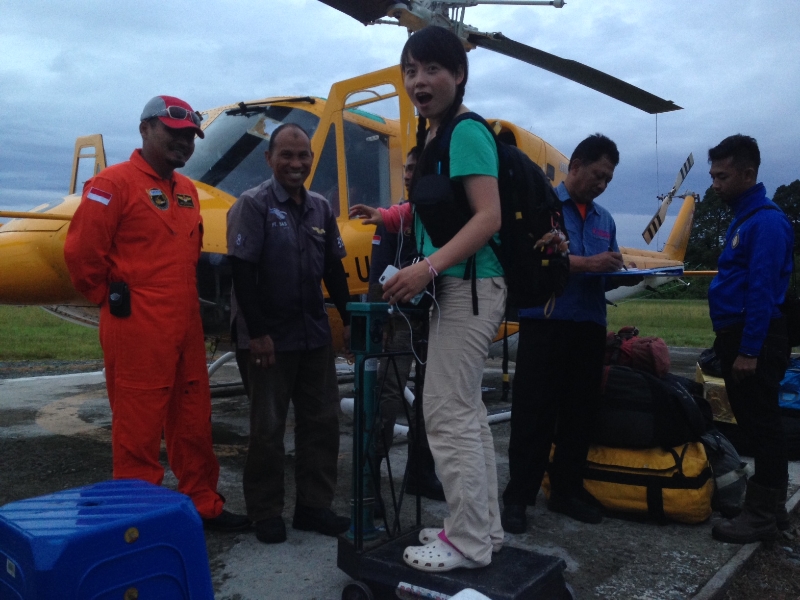 Джинг взвешивается.
24 февраля 2014. Джинг вернулась в Пекин после удачного восхождения на Карстенз в очень плохую погоду.Марк улетел в Лондон. План меняется. Теперь на очереди Эльбрус, затем Монблан. Теперь Джинг срочно нужна российская виза. У нее есть виза на июнь, а нужна на март. У Марка виза есть.
Jing will be returning to Beijing after a very wet and miserable time on Carstensz which I understand she managed to summit in quite bad weather. Our weather forecast supplied by www.meteotest.ch proved to be quite correct and half of the team, guide Ian, Jing and BC staff were able to fly into BC, but unfortunately the second flight with Hiro and Mark was unable to make it to BC because of bad weather. Needless to say this is very disappointing, however Jing and Ian took the opportunity to summit. Again it was a problem to get back out and it was only after two attempts that the helicopter was able to collect Jing again.
we have now been able to change everyone's flights and now Jing is on a flight directly from Jakarta to Beijing, and Mark is on his way to London.
Because she is making such good progress we have decided to bring the project forward a little and will now attempt a winter ascent of Elbrus and Mont Blanc. Both of these summits were scheduled after Denali, but we now have time to attempt these before going to the North Pole at the beginning of April. If Jing is successful, then this is a great bonus, if not we will have to revert to the original plan. But there is one small problem, Jing has a Russian Visa for June, so she needs to return to Beijing in order to get a visa for March. Mark already has his Russian Visa so he will wait for a week in London and Chamonix until the next stage starts
13 марта 2014. (инфо с https://www.facebook.com/ElbrusRace) Джинг готовится к восхождению на Эльбрус. ПОгода отличная!
Jing is preparing to Elbrus climb. The weather is fine!
14 марта 2014 Джинг и Юрий Павлов поднялись на вершину Эльбруса!/ Jing and Yuri Pavlov reached Elbrus top!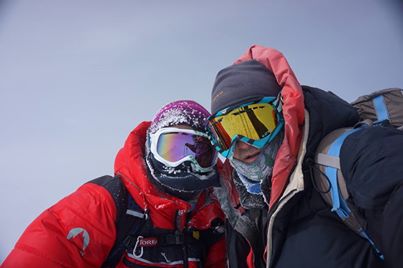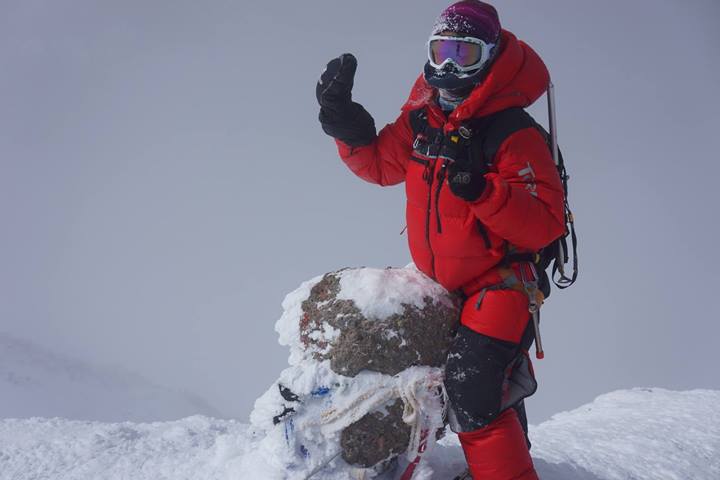 на вершине Эльбруса (фото: https://www.facebook.com/ElbrusRace)
23 мая Джинг Ванг поднялась на вершину Эвереста.
ПОсле 1986 года, когда на Эверест с юга не было совершено ни одного восхождения, такое могло повториться в этом году, т.к. все экспедиции свернули свою деятельность после трагедии 18 апреля.
Но этого не случилось. Несмотря на запреты (которых, кстати, официально и не было! а было лишь нежелание шерпов обслуживать маршрут) две упорные женщины продолжили работу на маршрутах: одна (Клео Вайдлих) на Лхоцзе по классике, а другая - Джинг Ванг - на Эверест по классике.
Из-за отказа шерпов работать на ледопаде (они сняли все установленные ранее лестницы и перила), женщины решили добираться в С2 вертолетом.
41-летняя китянка Джинг Ванг (владелица аутдор-компании с капиталом 700 млн долларов!) продолжает свою программу стремительного покорения Семи вершин. На Эверест она планировала подняться с командой Рассела Брайса. Когда же Брайс экспедицию отозвал, китаянка решила действовать самостоятельно. Наняла 5 шерпов и двух поваров, а также вертолет, который забросил всех в С2. Говорят, было около 20 рейсов, минимум по 2000$ каждый.
И вот, 23 мая Джинг Ванг стояла на вершине Эвереста. Стартовала в 9 утра с Южного Седла. В 6 часов поднялась на вершину.
Спустившись в Намче Базар, пожертвовала более 30000$ на местный госпиталь.
МИнтуризма Непала в раздумьях: засчитывать или не засчитывать девушке гору? С учетом вертолета до С2?
В любом случае, Джинг Ванг уже на пути на Мак Кинли.
May, 23. Jing Wang summited Everest from South Col! (sourse: Desnivel.com)
The Chinese mountainneer, 41 years, the owner of the outdoor company Toread (valued at around 700 million dollars according to Forbes), tries the attempt to complete the 7 summits in less than six months. When her Himalayan Experience expedition was cancelled by Russell Brice, she tried to get permission to climb Everest from the Tibetan side, but it was denied by the authorities of her country. Before surrendering, she hired on five sherpas and two cooks and made fights by the transport helicopter with the whole team from Gorak Shep to C2 to prevent the Khumbu icefall (spoken of about 20 flights, at $2,000 each as a minimum). From there, she launched her summit bid.
Friday, May 23 she announced that she had managed to reach the top after six o'clock, after having started from the South Col at nine o'clock in the morning. After the descent, on Sunday, she went through Namche where donated more than $30,000 for the local hospital. It is not yet clear whether the Ministry of tourism of Nepal will validate her summit. In any case, Jing Wang is already on the way to Alaska to try the Denali.