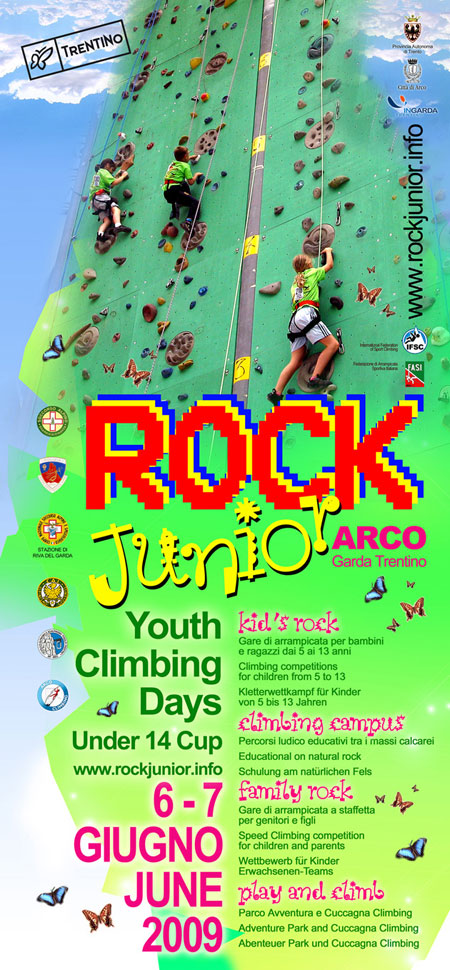 The 8th Rock Junior will take place at Arco (Garda Trentino, Italy) on Saturday 6 and Sunday 7 June 2009. This great European climbing festival for young climbers is organised for the 8th year running by the Rock Master association.
The Rock Junior is a certain guarantee! Once again the Arco Climbing Stadium, the legendary Rock Master wall which in 2011 will host the Climbing World Championships - is already fully booked for the classic youth climbing festival. On Saturday 6 and Sunday 7 June the protagonists of the 8th Rock Junior will be a multicoloured international crowd of children (aged 5 - 13) who together with their families will enjoy the freedom of climbing for two days. I.e. that game of climbing immersed in nature which unites all through this single great passion. This passion is equally divided between the boys and girls because - uniquely - both "halves of the sky" have registered in equal proportions for the Rock Junior 2009.
The theme of the festival is simple: everyone climbs together, parents and children, beginners and young champions alike, on the countless climbing games designed for all. Kid's Rock offers fantastic climbs set specifically for the smallest children, while the Climbing Campus is a true occasion to explore and learn about the rocks and nature around Arco together with the Mountain Rescue Service and Moena Police Force.
Young climbers will delight in the great Play&Climb vertical playground, with the climbing pole and many other delightful games. Family Rock is open to all and is possibly the most beautiful synthesis of the entire event, as parents and their children combine forces to relay race up the wall together. The Under 14 Cup is reserved to young champions representing their European teams: this is a true competition where young athletes and future champions climb with all the verve and imagination that only the purest of passions can generate.
This is what the Rock Junior is all about: a game open to all. Once again the meeting has attracted participants from 18 different countries, from Ecuador to Russia and the USA, Rumania, Austria, Ukraine, Czech Republic, Switzerland, Great Britain, Slovenia, Germany, Hungary, Slovakia and naturally Italy. Taking part is as simple as climbing itself: just give it a try and you'll see for yourself!
ROCK JUNIOR TEAM
The event is organised by the Rock Master Association, with the technical support of the Arco Climbing Association and the FASI. Maximum safety is guaranteed by
Maximum safety is guaranteed by the Mountaineering School Prealpi Trentine, the Guardia di Finanza Mountain Rescue services, the Moena Police Alpine Training
SPONSORS: CAMP-CASSIN, SALEWA, LA SPORTIVA
Info and registration: www.rockjunior.info