30 April 2007 Everest, Kazakh duo: Guys started yesterday from 7900 on 10 p.m. In the noon on 12-40 they reported to Alex Abramov that they're below the second step on the route.
Maxut Zhumayev & Vassily Pivtsov summited Everest today about 6 p.m. local time without oxygen.

30 April 2007 Dhaulagiri, Denis Urubko: SMS at 14-15: Serguey Surmonin felt ill and descended to the BC. I'll start tonight on 10 p.m. The weather's good.
SMS at 7-00 Moscow time: Jorge Egocheaga was evacuated by chopper today. During the descent from the summit he has been caught by avalanche and then he spent the night on the glacier, fell to the crevasse. He needs the immediate treatment in the valley. Inaki and Jorge summited April, 26. They did their summit bid from Camp 2 (6700). Photo: Jorge Egocheaga
29 April 2007 Everest, Kazakh duo: Maxut & Vassily left Camp 1 on 2 a.m. and reach Camp 2 (7900) in 5 hours 40 minutes. Now the're preparing for the summit bid.
29 April 2007 Dhaulagiri, Denis Urubko: SMS at 18-15 Moscow time: all our team left base camp today morning according to the usual schedule, but I'm preparing to the speed ascent. All are OK, greetings to our friends in CSKA.
28 April 2007 Everest, Kazakh duo: Maxut & Vassily went up to Camp 1 (North Col) and tomorrow will go to Camp 2.
27 April 2007 Everest, Kazakh duo: Yesterday Maxut & Vassily descended from the North Col to ABC due to the bad weather
25 April 2007 Everest, Kazakh duo: Maxut & Vassily begin their summit bid from ABC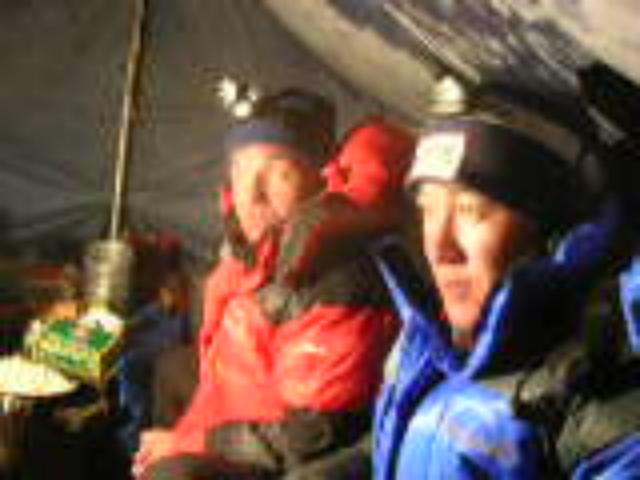 24 April 2007 Aldas Baltutis, the letter from Everest: "There're Maxut and Vassily in their kitchen tent in ABC on the picture. All's OK. The guys are in excellent shape. I'm fine too". Maxut Zhumayev and Vassily Pivtsov are resting in ABC before the summit bid. They want to start April, 25. Lithuanian climber Aldas is preparing for the bid too. It's his second trip to Himalaya, first was last fall, when he tried to climb Ama Dablam with commercial expedition, but the team had to turn back.
Annapurna: Serguey Bogomolov: Yesterday we tried to climb up to Camp 2, but had to stop at 5400 - too deep snow, melted, heavy, very hard to climb.
23 April 2007 Annapurna: yesterday Serguey Bogomolov and Gia Tortladze reached camp 1.
Dhaulagiri: SMS in 12-32, Moscow time: Ciao! We are back to BC after two nights at 6700 and fixing ropes till 7200. All are OK. Greetings to the friends, especially in Almaty :)
21 April 2007 Annapurna: Serguey Bogomolov: We were lifted by chopper to the base camp on April, 19. Wet snow in the evening. Next day we prepared for the work on the route.
20 April 2007 Everest, Kazakh duo: Maxut & Vassily climbed till 7800 today and returned for night to 7600. They are OK
Dhaulagiri, Denis Urubko: SMS at 20-00 Moscow time: All our members are in camp 1. All are OK. Korshunov talks funny and awful mountaineering stories from his life, Sveta met with Sinderella (the name which Den calls Gerlinde Kaltebrunner). Pity, but the Internet through Thuraya doesn't work, it's only eating money... Denis
19 April 2007 Everest, Kazakhs duo: Maxut and Vassily sent SMS at 18-50 to Almaty "In poor visibility and strong wind we had to set the tent under the rocks at 7600 m. (www.mount.kz)
18 April 2007 Himalaya season 2007: Denis Urubko and his team reached Dhaulagiri BC today, after the serious problems with porters in the end of the way. Some porters refused to carry loads in 2 days from BC, others wanted huge extra fee... The team will rest two days now and prepare for the climb. There're already 5 girls in BC - great society!
Cho Oyu Kazakh expedition - guys are expected to be in BC today. They started from Tingri early morning.
Everest: Maxut & Vassily spent night in ABC at 6400 and are going up today. Next SMS, 15-20 local time: "We're at 7200, all OK. Very hot, it's wet snowing.
Annapurna: Serguey Bogomolov has just sent SMS that he and Gia after three days of waiting chopper  have already got it, but it's rainy in the midday, when it came (11-30 a.m.) and too cloudly.... The chopper took them and all their loads and began the flight, but less than 200 vertical meters from Annapurna BC it had to turn back  - there were no visibility.... and brought our climbers to... Pokhara! Bogomolov and Gia are in the sad mood - they did such a hard work on the trek to Lete...
14 April 2007 Serguey Bogomolov's diary: Our way to Annapurna became the real adventure. The morning April, 12 began from the strike: the half of porters refused go further because of hard conditions on the trek. We left the half of our loads. and go ahead with the help of rest 25 porters, but, reaching 3700 by narrow ledge, realised that it was the wrong decision. We had to fix 600 m of ropes with unclear perspective...We turned back to Lete. Now we're calling for heli. 11.04.07 Porters were wright yesterday. Rain and snow are awful. Today we really climbed the rock-ground-grass slope - it's such steep. It's too hard for porters. Today we're 1 km higher than yesterday. Porters are demanding rock and ice  hooks and 150 m of ropes. I have never seen such "trek"
13 April 2007 Nepal, Tibet, Himalaya: Kazakhstan Wild horses: Denis Urubko wrote today, that his team - Svetlana Sharipova, Serguey Samoilov, Serguey Syrmonin, Boris Korshunov and Eugeny Shutov are on the way to Dhaulagiri. (Surmonin and Korshunov are from Russia, Moscow). They left Kathmandu yesterday, spent the night in Beni. Other Kazakhstan expedition - to Cho Oyu - will do to Tibet tomorrow. Its members are: Alexey Raspopov (leader), Serguey Lavrov, Artjom Skopin and Ukrainian Igor Kushnir (their photo available at Russian version of exp. page). Maxut Zhumayev and Vassily Pivtsov are in Everest BC in Tibet.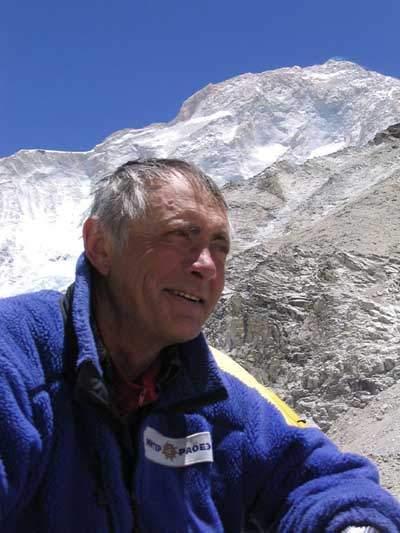 4 April 2007 Ervand Iljinsky, the coach of the National Kazakhstan team, has completed "7 summits" program - he has just returned from Australia, where he climbed Kosciuszko peak. Ervand summited Everest in 1990, together with American-Chineese-Soviet expedition, then climbed Denali, Aconcagua, Kilimanjaro and Vinson peak. He was some times on Elbrus top.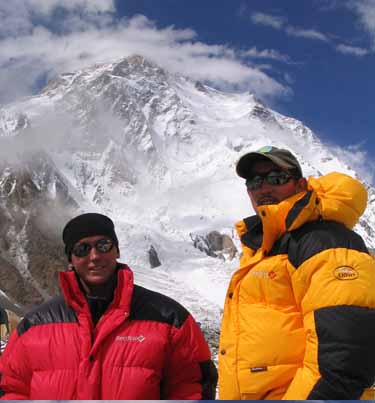 2 April 2007 Kazakhstan Everest Expedition 2007. Maxut Zhumayev won't climb Everest with Marolt brothers, as he planned before - together with his usual climbing mate Vassily Pivtsov they will climb Everest normal route from Tibet as their own project due to support on Astana Motors company. Maxut and Vassily has already climb 10 8000ers in the period 2001-2006. Tomorrow they'll leave Almaty.
30 March 2007 Ukraine National Himal Expedition 2007. Two teams are going to climb two routes (first climbs) - Himal Chuli NE Face (7893 m) and peak Ð3 (Simnang - Himal) via the center of South FAce. Valentin Simonenko - the expedition leader, Mstislav Gorbenko - the coach, Vladimir Mogila - (1 team leader), Yuri Kilichenko, Serguey Pugatchev (2 yeam leader), Maxim Perevalov, Serguey Boublik, Andrey Kinko, Vladimir Roshko, Alexander Lavrinenko, Taras Tsushko, Vladimir Klebansky.
28 March 2007 Serguey Bogomolov diary: Yesterday we reached Everest BC. 10 years ago I was here in Kuzbass Lhotse Expedition. The memory to my friends, who were in that exp, but then died in mountain: Savkov, Bashkirov, Foigt, Uteshev, Zuev...
Today we stayed at the top of Kala Pattar, then quikly descended to Pangboche. Our acclimatization plan in completed.
26 March 2007 Serguey Bogomolov diary: we're close to the very heart of Himalaya... Serguey and Gia decided to acclimatize in Everest region. Now they're in Chukung - near Lhotse South Face. Tow days ago the're near Ama Gablam, remembering how climbed Ama Dablam new route in 1994 (Bashkiriv, Botov, Bogomolov and Golubtsov)
23 March 2007 Dhaulagiri: in the common permit with Kazakhstan climbers Urubko, Samoilov, Sharipova and Shutov there will be also Dmitry Sinev and Alexander Lutokhin (Chernogolovka) and Valery Kozlovsky (Moscow). Dmitry and Alexander climbed Broad peak last spring. After Dhaula they'll climb Annapurna.
21 March , 2007 Peak Blok North Face: Ural team climbed it! In Winter! Detailes - soon.
21 March , 2007 Dhaula becomes the most "fashionable" place of a present spring season in the Himalayas: Gerlinde Kaltenbrunner (Ausrtria) and her friend Lusi Orsulova (Czechia) will climb there, basques Inaki Ochoa and Jorge Egocheaga, Horia Colisabanu, Italians Mario Merelli and Mario Panzeri, American Joby Ogwyn and others... and Kazakhs Denis Urubko, Serguey Samoilov, Svetlana Sharipova and Eugeny Shutov - all from Central Sport Club of Kazakhstan Army - will dilute this western beau monde with Army jokes... Serguey Surmonin and Boris Korshunov (Moscow) will be there also. Let's see - it'll be funny. We're not except some kind of competition in such a great society - a kind of training for next Elbrus Race 2007 :)
18 March , 2007 Serguey Bogomolov today left for Kathmandu. His goal is Annapurna/ THis's his second attempt there, the route now's "German" (NW side, to the left from Bonington route. There're two more Russians in the permit: Emil Mamedov (Moscow) and Dmitry Sinev and Alexander Lutokhin (Chernogolovka)
10 March , 2007 Is our "Piolet d'Or" dead? Press Release of the GHM