Central Tien-Shan winter blue.
Marble Wall peak (6146 m) winter climb, February 2006
Denis Urubko: the story how we trained for Manaslu 2006 climb.
Denis and Serguey Samoilov are leading the team of young alpinists in Kazakhstan. They dream to do seriuos expeditions in Himalaya and Karakorum with the new team, and now they're training for them in Tien Shan and Pamir.

The end of winter the mountaineering team of Central Sport Club of Kazakhstan Army spend on Central Tien-Shan. Six climbers attempted slopes of heightest mount of the country - the Marble Wall peak.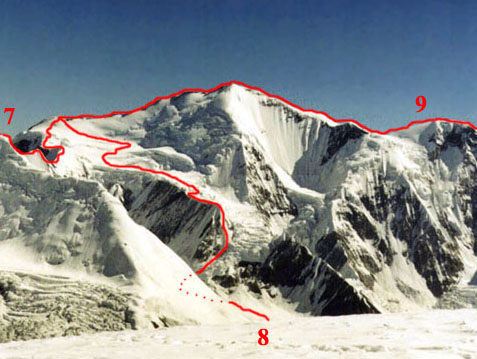 Tien-Shan (Sky mountains) is a border between two grandiouse climate zones -
Takla-Makan desert at the south and cold territories with wet air masses at the north. The difference between them causes huge clouds massives and strong winds between atmosphere's pressure regions. In that reason we are ready for the deep snow and ice covering the mountains. Many climbers suppose Tien-Shan one of most difficult mountains on the planet.

Marble Wall peak (6146 m) is the most northen six-thousand peak in Asia. Its location is very attractive for high-altitude expeditions, especially for young climbers - the efforts in the stratosphere give them the chance to feel altitude specifics.

First explorer of the region was G. Merzbakher, who in 1905, looking for the way to the heart of the mountains country, was stopped by Sary-Jaz gordge. Merzbakher named the beautiful peak "Marble wall" - for its great north-west face rises from 4800 to 5700m.

In 1947 the geographic-geodesic expedition worked in Bayankol valley. Their members managed to reach Fore-summit "Plateau" at the altitude 5800 m and recognise the acceptable route, following which some years later, Kazakhstan Alpine Club team led by famouse V.Shipilov in 1953 successfully sturmed the main summit and became the first who reached the top. The first winter Marble Wall ascent happened in 1968 via the normal route - the leader of expedition was Boris Stoudenin

Nowdays there're nine different routes to this summit:

1. The most easy - by North-East ridge from Chinese pass (4000) through Uzlovaya (4900) and Pogranitchnik (5000) summits; further by the north ridge to Fore-summit (5900) and by long flat ridge (2 km) to the summit. (1947 - but not to Main summit)

2. By the north ridge of Pogranitchnik (5000), and then following like the first route.

3. North ridge of M.Wall and Fore-summit throw the ice-fall to snow plateau on 5000; continiue by upper routes on north ridge. (1953)

4. The North-West rib to snow plateau on 5000; continiue like other routes. (1998)

5. Ice couloir of West face to the ice plateau (5800), following it to the Fore-summit; further to the Main summit like other routes. (2004)

6. Bastion at the right flank of West face to the large plateau (5800); by it to the Fore-summit and to the Main summit like upper routes. (1993)

7. Ridge from Kurlytau-peak (5300) to to the ice plateau (5800), then like other routes.

8. By glacier of South-West slope to Fore-summit, from there to the Main summit by ridge like other routes.

9. South ridge from peak 6300 ("of 8 women-climbers")

Marble Wall's history containes the tragedies and victories. The mount is a good chance for the challenge at altitude and a field for ambitions. Many climbers had got there their future powerful, but for others it became the last shelter.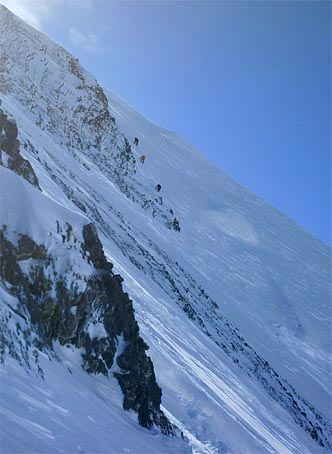 Our way


In winter 2006 out team climbed Marble Wall in the end of February, when the Winter decided to compensate everything that couldn't take in previous months.

Six climbers, including the progressive youth, led by CSCA coach Serguey Samoilov, must avoid the mistakes. Everybody was physically strong but not so expirienced at 6000 m. The goal was to catch as much as possible at the extremely cold season, but to return safe and sound.
Black belt of rocks

It was the best decision to attack Marble Wall in alpine style without the route preparation and beforehand establishing camps. That's why we acclimatized near Almaty - on the peaks about 4000 meters, where we camped and trained some days before the start.

Almost all of us work in Almaty Resque Service (051). Members were: S.Samoilov, E.Shutov, G.Durov, V.Lishenko, A.Sevyrin and me. By 4-weel drive car of ARS we went 400 km to Eastern Kazakhstan. In Bayankol valley, about 12 km from the Marble Wall bottom, our road finished, and we had to walk throgh the extremely deep snow. Our ruckzaks were heavy - food for the week, 2 tents "Mountain 25" TNF, 2 stoves, ropes, ice-crews and rock-pitons, and personal equipment.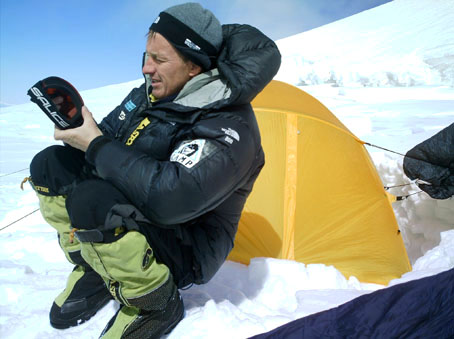 Denis at Camp 3


First night we spent at the front of glacier. It wasn't extremely cold, but enough to get full emazing about winter Tien-Shan.

We choose one of the shortest ways to the summit - by the North-west rib to the snow plateau. In the classification list it is under the number 4. If you have already visited Bayancol region, you're agree: in dry and frost February season this route is safe of avalanches and less difficult than other climbing routes.

Next day we lost in the deep snow on morains. Everybody worked in our power limit, but despite all efforts, the progress was very slow in those white snow plains. Only after three days we left the kingdom of silent snow. The weather still was as good, as possible - as we was able to amaze. Wind, cold - but no fog and snowstorm. On the plateau around 5000 m in evening our sixth reached the bivyak place at the last sine of small winter sun. It felt down so quick, that I didn't belive about it's warm, that touching us.
Horisont was empty and frosen.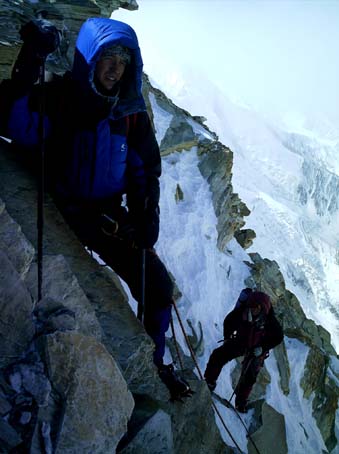 Eugeny and Gena


- What about the weather? - asked Eugeny in the morning from his sleepingbag.

- Wake up, lazy, - ordered Gena. - i's time for heroism. Wind, clowds, snowstorm. Everything what following your dreams. The motives - why you are in this strengh world.

Really, that day we headed up in bad conditions. Sky became gray, flat and visheouse. Altitude increasing - with decreasing of oxygen and our energy. It seemed like attack - by stones and rocks we ascended Fore-peak (5800). Somebody felt headake, somebody was near to frostbite toes. We were very lucky, that in the afternoon weather became not so dangerouse and difficult. In the large snow cave between rocks we set our tents and boiled some hot water. The eyes of my friends began to shine. We were able to joke and dream about sweets of Almaty.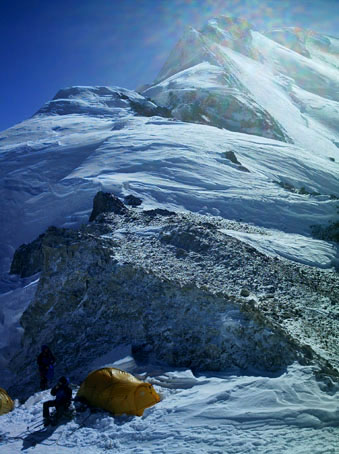 Last Camp


From that point our route followed by snow and rocky waves on the ridge, some of them 50-70 meters high. In summer it seems as easy and pleasure walking. But in winter it was a kind of hard cristall. Our dream's ribs looked as diamond at sunrise. It was scorched by incredible winter light and by high-altitude cold air. We could see peak Pobedy, Khan-Tengry, Shater and many others - the sea of icy tops.

- The last steps, friends, - Sergey helped for youth, - Don't be sad. Hope and trust...

- We're first, - I told. - Follow us.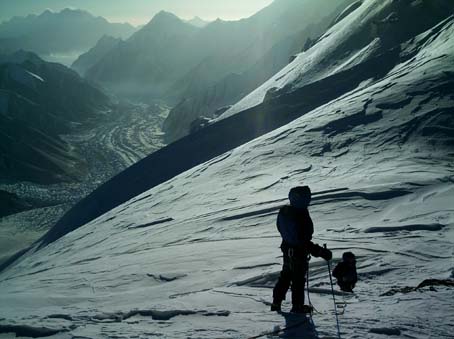 The ridge


Gena, Eugeny and me went ahead. There is the border between Kazakhstan and China, and when I followed it, right side of my body was in one country, left - in other country. Sometimes I saw summer climbers steps. Piece of rope, snowbar... We went throgh the icy wind, and it's difficult to look around. In spite I was able to understand those beauty. It was my chance to be happy - to feel myself as a part of those wild world.

Everybody in our group used La'sportiva boots - model "Nuptse". It's really good for high-altitude and technical work. Only me has "Olimpus". We were hurry, headed up with rope, ice-axes and ski-poles. It wasn't nesesseary, but any additional minute on this steep slopes was dangerouse. After 2.5 hours I discovered that our way's ower - it wasn't possibile to go more up. Only blue was above. We're at Marble Wall summit.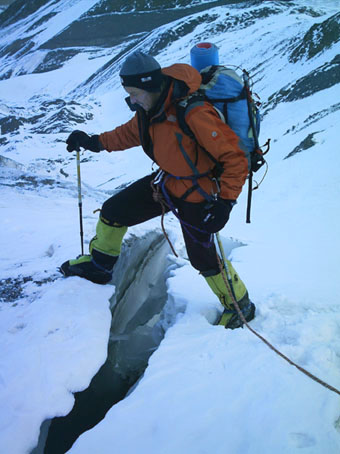 The step


It was my 7-th time there since 1993. Four years ago I summited it also in winter with Simone Moro. He became first and only one foreign mountaineer, who climbed 6146 there in winter. Now I returned with my friends.

The descent by steep and dangerouse slopes was not so poetical. It wasn't the place for mistake, wasn't time for the pause. Despite weakness and fatigue we descended to the mount's base that day. Already on the glacier our team set the camp and felt into the sleepingbags. We're happy and safe. It was the great achievement in those conditions. There's so much oxygen on glacier altitude, that seemed we didn't breath.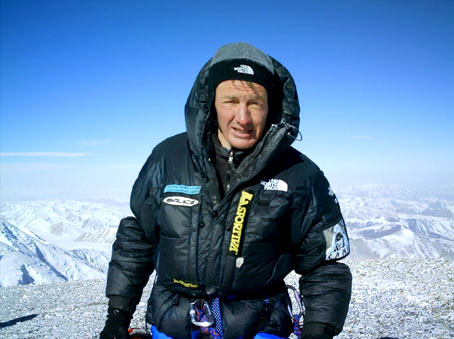 Summit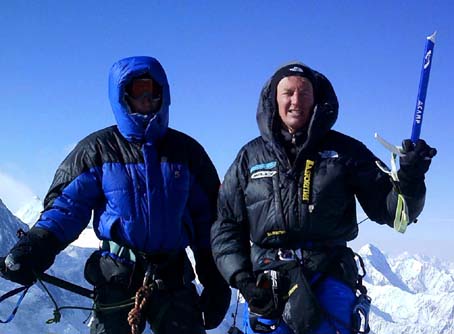 Summit


The warm and friends waited us in Almaty, where spring was coming. Our faces
felt soft breeze. Civilization looks like a dream.

But the froosen sky of Central Tien-Shan is still in my memory. Our Marble Wall expedition became a good example of sport and climbing goal. I hope to repeate it in future. Next winter... two years later... Ten... Welcome to Tien-Shan mountains!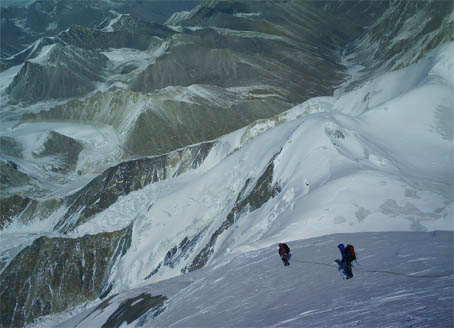 The descent



18.04.2006 Denis Urubko

Cental Sport's Club of Kazakhstan Army, Salice, CAMP, La'sportiva, The North
Face, www.Russianclimb.com