Kwangde Lho (6187 м) winter climb
David Falt and Vassily Pivtsov.
January 2010
Sponsors: Crux, RedFox, nuun, Rab, Outdoordesigns, Clif Bar, Patagonia, Human Edge Tech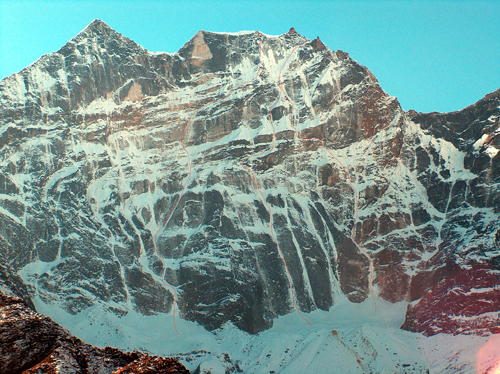 Kwangde North Face , routes from left to right: Japanese route WI6 M5, Breashears-Lowe WI6 M, French (Benoist) route WI5+. Image courtesy of Simone Moro
David Falt

Born in Sweden, started climbing in 1986, bagging 45 plus winter ascents in the Alps up to ED3. David undertook his first Himalayan expedition at 18; two years later he was part of a Swedish team establishing a new route (ED-) on the previously unclimbed Hunza Peak 6270 in alpine style, 1991. David also launched two alpine style attempts on Shani (5885 m). In summer 2009, Falt joined Don Bowie, Bruce Normand, Guy McKinnon and Billy Pierson for an attempt on GIII/GIV; from where David was airlifted after a crevasse fall. (info from ExWeb)


Vassily Pivtsov

The climber from Central Sport Club of Kazakhstan Army. Has already climbed 12 8000-ers. (Lhotse and K2 left)
Expedition chronicle .
Messages from David Falt .
17 January 2010. Guys returned to BC. The weather's bad.
16 January 2010. SMS from David, 15-15 Moscow time: we're positioned right at the start of the climbing at about 4750 m. tomorrow we'll try the starton one of two routes. Sadly the condotions look grim. Head pounding nicely after doing 1100 m today. Now nicely tucked in ohps the summit superlight.
15 January 2010. SMS from David, 16-25 Moscow time: Tomorrow sat we depart for ABC at 4600 m, we'll spend 2 nights at ABC and inspect the start of the Russian route and if needed we'll
fix 260 m of ropes in the start. weather looks bad next 5 days so this time will be spent acclimatizing and understand if the route is possible given the luck of ice.
12 January 2010. A bone dry wall...

We have reached BC and we have also got a good view of the wall. To our dismay the route we were attempting looks bone dry and seems to be in really bad condition. The route which looks possible and could be an alternative is the new Russian winter route Chicory. Weather conditions up here in BC are windy to say the least.
Russian route climbed in January, 2008 by Vladimir Belousov and Alexander Novikov.
Pair's original aim was a new route between Breashears-Lowe (ED2: WI6, 1200m, Breashears-Lowe, December 1982) and the Spanish route, Mandala (1150m, Lorenzo-Munoz, 1985). However, there was no ice at all on this section of the face below the main summit, nor further to the left on the line of Extra Blue Sky (ED2, 1200m, Beaugey-Profit-Rhem-Ruby, 1996, only Profit and Rhem to summit). One possible line they saw might go without aid was the wall beneath the Kwangde Lho-Kwangde Nup col.
Belousov and Novikov started the climb on January 8, carrying two small rucksacks, one sleeping bag for both climbers and a Bibler tent. They took one 8mm rope, a small rack of Camalots, six ice screws and set of Jumars. Starting from a base camp at 4500m, they slanted left across the lower section of Kwangde Nup's north face, climbing a couloir and rock band to reach the northwest spur descending from the summit of Lho. Below the central rock barrier and at much the same point that Mandala comes in from the left (and, it is believed, climbs close to the crest above) they made a horizontal traverse right. The crest above had looked difficult, probably succumbing to hard rock climbing with some aid; to the right lay icy mixed walls that could be climbed free. The two Russians eventually reached the southwest ridge about a hundred vertical meters below the top and made their second bivouac just below the summit. It was -20 degrees C, very windy, and they were unable to pitch the tent. They sat all night rubbing arms and legs to keep away frostbite and the next morning, January 10, reached the summit in clear weather at around 9:30 a.m. The climbing had been mostly 40-50 degree snow and ice, but there had been five difficult pitches. Three of these (M4; WI4; M3) were through the rock band above the narrow couloir on the first day; the fourth was the exit pitch onto the southwest ridge (M3 and 5.7), while the last was on the south side of the mountain just below the second bivouac (M2/M3 and WI3). On the first four the leader led without a sac, the second jumaring while carrying both.
From the summit the pair descended the original route, making several rappels to reach the south ridge (Ishikawa-Iwahashi-Ogawa-Sherpas, 1978), which was hard ice. They descended this carefully, and the rocky ground beyond, to the frozen lake in the Lumding Valley. They walked straight across the middle of this and then down the snow-free valley until they could make the long and arduous climb back north to the Lumding La. Crossing this is notoriously difficult as tracks are vague, but the pair found the flag marking the pass and descended the far side for ca. 600 meters to a spur between two steep valleys. The path down the spur initially was marked but quickly became indistinct, involving sections of steep traversing on grass. About half way down the light faded, and they had to finish it the following day, reaching Pkhanding alongside the Dudh Kosi on the 12th.
Although it is hard to say whether this route has any common ground with Mandala, Chicory (M4 WI4 5.7 80 degrees, 1200m but an estimated climbing distance of 2110m, Belousov-Novikov, 2008) is probably the easiest way to reach the summit ridge on the Hungo face. But for the two Russians it was their first new route in the Greater Ranges. (info by V. Belousov, posted on Alpinist.com)
11 January 2010. No chicken, no pasta, No girls... Season finished!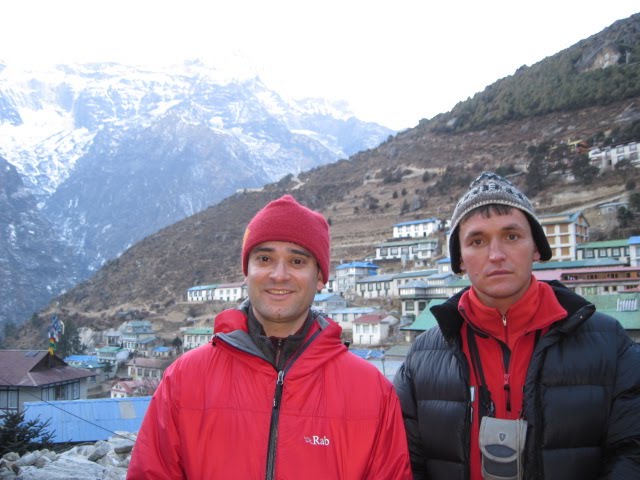 David and Vaso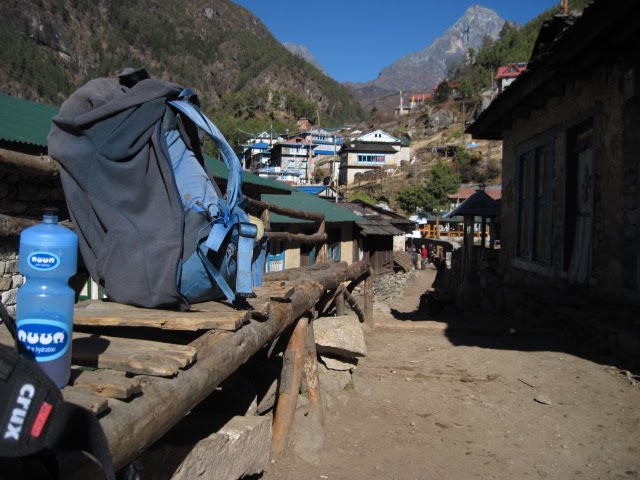 We have now arrived In Namche and to day is relax and catch up with jet lag. We asked for pasta at the lodge but was informed that , Pasta, Chicken and Girls was all finished since the season was finished. The first two would have been nice to get the last offer was more off topic.
We have great weather but windy. The forecast is for the temperature to drop 10 degrees and its allredy cold. And now we are only at 3400 and inside. Well I guess this will be a reality check not only for us but also for our gear.
When most of you had Sunday breakfast we stopped for a zip of nuun spiked water with a fantastic view of Everest. It was a quite cool feeling and what a beautiful scenery. Hiking in has so far been a real walk in the park not including that its been quite cold.
We are heading for BC tomorrow and the dispatches will be shorter. We hop to be off for the summit around the 20th and onwards. But that's a long way a head.
8 January 2010. Today we obtained our permit for kwangde from Nepal Mountainering Association. We have had super support from our agent Cho Oyu Trekking. Its off season here in Nepal but still bussy on the streets of KTM. The weather looks stabel but windy.

Tomorrow we depart KTM for Lukla.
4 January 2010.
We are aiming to do a pure alpine style calendar-winter ascent of Kwangde Lho(6187m) via the North Face.
We will try a new route on the North Face if conditions permit. If conditions looks to thin on the "project" we will try to repeat the legendary Breashears-Lowe route, ED2, WI6, 1200m, from 1982. This route has never had a complete accent since it was first established.
The Kwangde group lies in Nepal's Khumbu region. The North Face is about 1300 meters in Vertical height and has 7 routes that we know of. They are all very technical and we expect steep ice, rock and mixed. The routes established so far are all ED rated with Ice not easier than WI5 and mixed between M5 and M8.

Weather forecasts : Bruce Normand bruce.normand@gmail.com