Jasemba, South Face.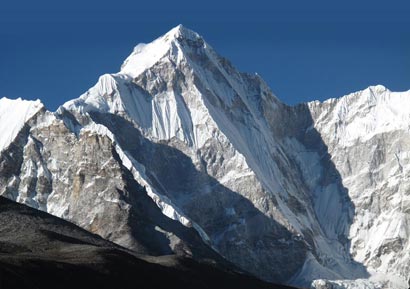 The Swiss climbers Samuel and Simon Anthamatten and Michael Lerjen (all are mountain guides from Zermatt) have completed the alpine-style first ascent of the south face of Jasemba (7350m).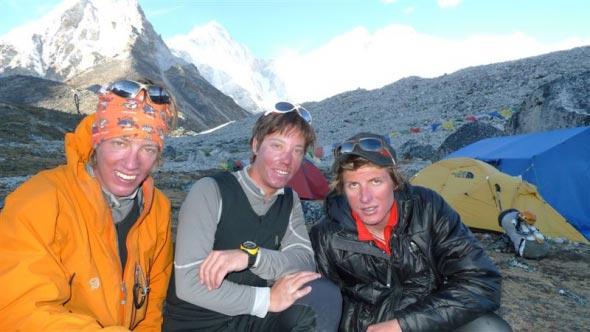 The trio climbed the very steep snow and ice face in a five-day round trip from base camp, October, 26-30. Ёто первое восхождение на эту вершину в альпийском стиле.
Photo from http://www.anthamattens. ch
Jasemba (Pasang Lhamu Chuli or Nangpa Gosum I) straddles the China-Nepal border near Nangpa La and Cho-Oyu. The peak was first climbed in 1986 by a Japanese team. In 2004, a Slovenian party summited by the southeast face and south ridge, and in 2007, Italians Karl Unterkircher and Hans Kammerlander climbed the southwest face to the same ridge. It's a time to climb direct.
Trio started to the S. Face from 5800 Oct, 26.
Although the wall had bands of steep ice and rock, the cruxes were sustained passages of insecure snow. УWhile climbing the ice, we were able to belay very well with our ice screws,Ф Simon Anthamatten said. УBut once you stand in bottomless snow, you can only move forward like a vole, without any useful belay. Our nerves were on edge, because you move on one step and then you fall back two.Ф The team bivouacked at 6,500 meters and 6,900 meters. The following day, a 150-meter rock wall blocked the way to the summit slopes, but once over this it was only a matter of desperately tiring snow trudging to the top.†
The Swiss trio returned to their high bivouac in a crevasse at 6,900 meters, and then rappelled the face the next day: У25 times abseiling on V-threads, stoppers, Camalots, a buried ice axe, and a buried telescope stick (ski pole) segment,Ф Anthamatten said. They returned to base camp that same day.†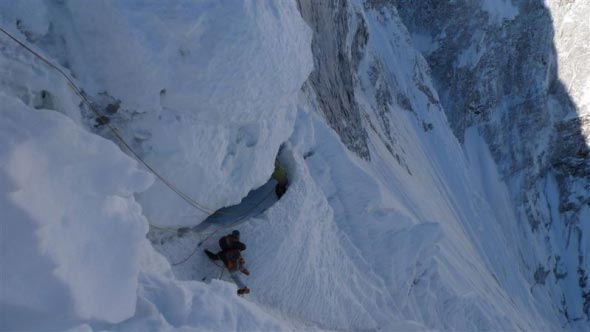 Camp at 6900.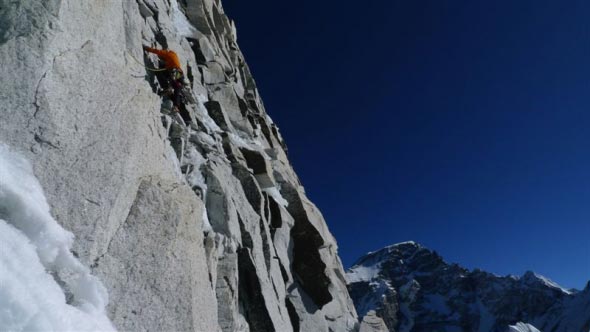 Simon Anthamatten leading steep rock at 7,100m on Day 4.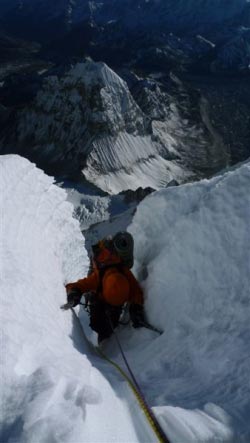 The 3rd day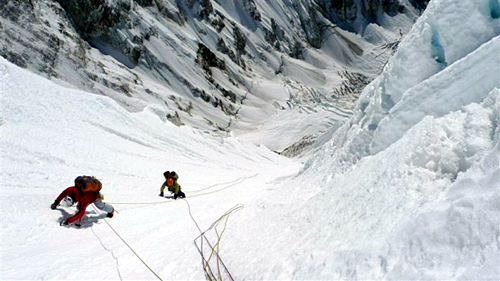 Michael and Samuel at 6600 m
»сточник: www.anthamattens.ch