X INTERNATIONAL ELBRUS RACE
"You can't race any higher in Europe!!!"
Organizers: TOP SPORT TRAVEL and WWW.RUSSIANCLIMB.COM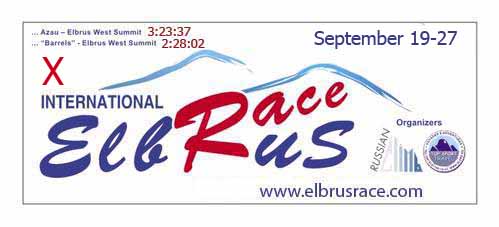 General sponsor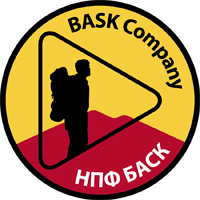 Sep, 21 Today the competition is open.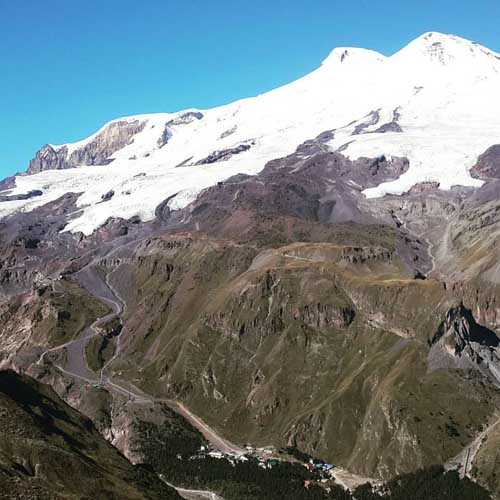 Yesterday the organizers and participants ascended to Cheget (this top is opposite Elbrus), and the whole route - from the bottom to the very shining tops- was like on the palm! Can you imagine, how Andrzej Bargiel could run that route in 3 hrs 23 min 37 sec! How much energy and courage he needed to invest in this result!
Пожелаем участникам сил, здоровья, терпения и, конечно же, удачи!
Помотрите, какие красивые медали ждут победителей:
We wish energy, health, patience and, of course, good luck to the athletes!

Look, what beautiful medals await the winners: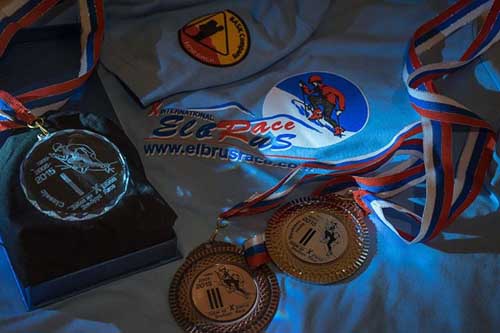 Boukreev's route is added to the program of X Elbrus Race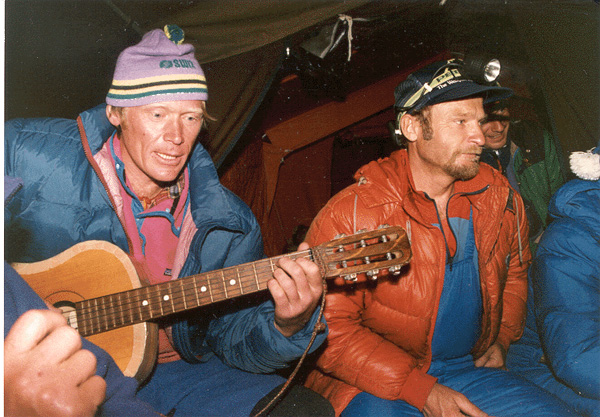 Anatoly Boukreev and Vladimir Balyberdin
10th jubilee of Elbrus Race -X InternationalElbrusRace will be held Sep 19-27, 2015
Event dates (scheduled for the race itself 24ili 25 September) fits within couple days to the "first edition" Elbrus race organized by Vladimir Balyberdin in 1990 during which, exactly 25 years ago, Anatoly Boukreev set the unique record: 1h 47 minutes from Priut 11 to Elbrus East top.
Also, the new adaptation of "Into Thin Air" is coming exactly this September (18 September)...
I thought that it would be great, this year to do one more discilpine, the same as we had in 1990: from Priut 11 to Elbrus East top.
That it would be great to give mordern climbers a chance to compete with the great Climber Anatoly Boukreev.
That it would be great to give Anatoly one more opportunity once again to take part in his beloved high-speed ascent ...

We are waiting for all those who love the mountains in Elbrus region Sep, 19-27

Yours faithfully
Nickolay Shustrov, 1990 Elbrus race participant (with the result 2h12 minutes, 5-th rating)
X International Elbrus Race program : 
| | | |
| --- | --- | --- |
| Date | days | Day's program |
| 19.09.2015 | 1 | Flight arrival to Min Vody. Transfer to Baksan Valley |
| 20.09.2015 | 2 | Acclimatization walking nearby. |
| 21.09.2015 | 3 | Transfer to Azau lift station. The opening of the competition. Going up to refuge "Barrels" ~3710m. |
| 22.09.2015 | 4 | Qualifying speed climb from Barrels hut to the Pastukov rocks, 4800 m. |
| 23.09.2016 | 5 | Relax day. |
| 24.09.2015 | 6 | Classic and Extreme Speed Climbs of Mt. Elbrus West 5642 m. Descent from Barrels to the Valley |
| 25.09.2015 | 7 | Spare day for the Race or Awards Ceremony & farewell party at the evening |
| 26.09.2015 | 8 | Spare day |
| 27.09.2015 | 9 | Transfer to airport. Flight from Min Vody. |
The official site: www.elbrusrace.com