V INTERNATIONAL ELBRUS RACE
September, 7-9, 2009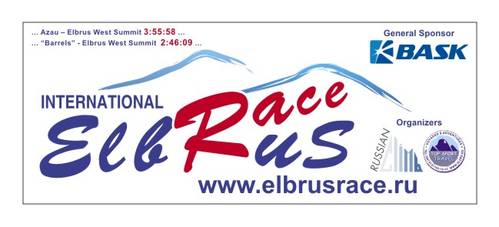 Organizers: TOP SPORT TRAVEL and WWW.RUSSIANCLIMB.COM
General sponsor:

Sponsors:
The Anatoli Boukreev Memorial Fund
FUND's GOALS ARE: To promote mutual understanding and friendship across cultures through a shared love of mountains and mountaineering.
To support the styles of high-altitude training, ascent, and environmental sensitivity that Anatoli exemplified.
Elbrus Race Route
The Elbrus Race path follows the classical Elbrus climbing route: Azau clearing - Bochki - Pastukhov's Rocks - Sedlo - Western Elbrus.

The competition, organized by Russianclimb and Top Sport TRavel, is a continuation of Balyberdin's starts which were held 20 years ago (1990, 1991) on Elbrus. (Look at the stories below). Balyberdin's project had been interrapted after Vladimir's death. And only in 2005 after the strong athletes requests we decided to set the annual Elbrus Race - in the new format: in two classes, Extreme and Classic.
The main property of balyberdin's competitions and International ELBRUS RACE is a competition between like-minded people, the desire to understand what it is, the boundary of human capabilities. As a regular participant in autumn Elbrus Race and also world-known high-altitude mountaineer and ski marathon athlete veteran Boris Korshunov (he's also known as a voluntary guinea in experiments on survival in extreme environments Gazenko Institute, during 30 years) likes to talk about his body:
Denis Urubko, the holder of the record time (3 hours 55 min) ascent from Azau (2400) to the western summit of Elbrus (5642), after reading stories about balyberdin's competitions, wrote: "Oh, yes ... I tried to imagine what time would had Boukreev if he run from Azau ... I think three hours and fifteen minutes. Well, maximum, three-thirty ...
ll have to think about it next year. Yes. We will come, and will try to win. I will do everything to beat my own record"
Vladimir Shopin will be the Chief Marshall of V International ELBRUS RACE. Vladimir was well-known mountaineer and rock-climber in USSR, the member of the first Soviet Himalaya expedition , multiple prize winner of the mountaineering Championships of the USSR (including for the first ascent of Communism peak South Face (81), and Communism peak winter climb)
Reporting on competitions will be filmed by TV "Channel 1". Italian cameraman Emmanuel Mathez wants to record all route by Italian athlete Colli Tibaldi Luca
One of the contenders for victory this year - Czech Marhan Milan. He was born in 1968, lives in Prague. Participation in the race: Memorial J. Psotku, at 2500 m Experience in speed ascents: Matterhorn (Alps) (4 hours from Zermatt), Mont Blanc (5 hours from Chamonix), Aconcagua (7.5 hours from base camp), p. Korjenevskaya (10 hours from base camp), Bhagirathi (6 hours from base camp ) I think he is a great rival. It will be interesting.
And one woman is applicated yet: 19 years old Ukrainian young lady Maria Hitrikova from Dnepropetrovsk. In her 19 she had already climbed Lenin peak, Ama Dablam, Khan Tengri and Korjenevskaya peak.
Brief info
Speed Climbing to Elbrus, 5642 m will be held on September, 09, 2009
Elbrus, the highest peak of Russia and Europe, is a well-known peak of the Caucasus. Its white-snow double-headed peak is beautiful not only as a geographical object, but also as a symbol of the high achievements, grand size, crystal pureness and triumph of its conquerors. Elbrus is located in 12 km from the Main Caucasus Ridge. A high-quality road enables you to get to the foot of the mountain from Mineralnyje Vody Airport, Pjatogorsk and the capital of Kabardino-Balkaria, Nalchik. The regular shape of the volcanic cone and slopes, which are covered with glaciers over 300m high, form a sort of a mountain stadium.
The speed climbing path follows the classical route: Azau clearing - Bochki - Pastukhov's Rocks - Sedlo - Western Elbrus. During the high days of the Soviet climbing school, the alumnae of which still get the world astonished by their high results in climbing, Elbrus speed climbing competitions were held very frequently and were the elimination competitions for those who wanted to take part in serious expeditions to the Himalayas. In the post-Soviet era Elbrus is visited by a great number of groups of climbers and tourists, both independent and supervised by professional guides, but its opportunities as a mountain for serious sports events are used insufficiently. Meanwhile, in the rest of the world the highlands become more and more popular as a place for speed climbing, but with the routes with smaller altitude change, and thousands of sportsmen take part in the competitions (for example, climbing to Nonblank, , Mount Rainer, Ungfrau etc.).
In September 2005 TOP SPORT TRAVEL and Information Server for Climbers WWW.RUSSIANCLIMB.COM decided to revive the tradition, which existed before the 90s, Elbrus speed climbing competitions. The pilot event was successfully held on September, 15 2005. Now these competitions are held annually.
TOP SPORT TRAVEL (WWW.SLOPE.RU) (St-Petersburg) is a company, which has 13 years of successful experience in organizing extreme journeys, mountain expeditions, ascensions in many mountain areas of the world, including dozens of annual Elbrus ascensions, water, horse, ski and other types of expeditions, mountain skiing tours, special tours for children and families. The company is headed by Nicolas Shustov, Master of Sports in mountaineering, a participant of Elbrus speed climbing at the beginning of 90s (his record for the route 'Priut 11 - the Eastern Peak' was 2 h 12 min , the best time was obtained by a mountaineer from Kazakhstan, Anatoliy Bukreev, 1 h 47 min), Camel Trophy -93 participant.
Information Server for Climbers WWW.RUSSIANCLIMB.COM is a special web-site in English and Russian, which is well-known in many countries and publishes everyday news about the main events of the climbing world, expedition reports, biographies of famous mountaineers, stories, historical surveys and an extensive archive of photos of the mountain areas in the whole world. It provides the information support for the majority of the leading climbing projects in the CIS.
The competitions are purposely held in September. According to the multi-year statistics, the weather at that time in Elbrus Region is good and steady, and there should be no be no extensive ice section on the route.
For the majority of people a simple climbing to Elbrus by a classical route is a dream, which is not so easy to come true, because in order to climb this not easy and sometimes severe peak, besides for a good physical training one should acquire strong mountaineering skills. The competition among the strongest sportsmen in the high mountains, fight for the fastest covering the route from the foot of the mountain - Azau clearing (2400 m) - Western Peak (5642 m) is unique and challenging, because nobody in Europe arranges speed climbing competitions with the altitude drop for more than 3000 m. Such fighting will become a great challenge for the participants, as a usual climbing to the peak from Bochki hut, located at 3700m in average takes 7-8 hours, so the competitors have to cover the route from the foot to the peak practically running.
Event program
days

dates

week day

program

accommodation

1

04.09.09

Fri

Marshals arrive to Mineralnye Vody. Transfer to Baksan Valley. Accommodation in the Hotel Elba.

Hotel Elba

2

05.09.09

Sa

Acclimatization program. One can reach murshals at tha hotel at the evening to register for the Race

Hotel Elba

3

06.09.09

Sun

Early transfer to Azau. Preparation of open ceremony aria (near the entrance to old Azau lift station).PAX registration starts since ~10:00. At 11:00 - Open seremony starts. Brifinfg. At 12:30 marshals takes lift up to Barrels and stays in Barrels. Pax could register there during all evening (but not too late please!!!)

Barrels

4

07.09.09

Mon

at 11:00 Qualifying speed climb from refuge Bochki (=Barrels) to the Pastukhov rocks, 4800 m. Barrels.

Barrels

5

08.09.09

Tue

day off . marshuls stay at Barrels to prepare next day start. Pax are free to chouse the location. just for information:  during the Elbrus Race 2008 the marshals had to move the main Race to that day due to bad weather forecast !!!

Barrels

6

09.09.09

We

Speed Climb Mt Elbrus West 5642 m. 

For the PAX starting at "Extream" we organize a transfer from theire location till the starting point (near a new Azau lift station) to come at the place at ~05:45. Starts at 06:00.

"Classic" PAX starts from the Barrels at 07:00, so they should sleep uphill - there is no way to get to the Barels at the early morning!!!

Descent to Baksan Valley. Marshals stay at hotel Elba

Hotel Elba

7

10.09.09

Thu

12:00, Azau, the same place as during opening ceremony. Participants' awarding ceremony. At the evening at 18:00 - the fairwell party (the place will be claimed later)

Attention - we consider as well that day as a spare one, so if the weather would not permit us to start day before we'll use that day for the start - take in consideration the fact, please  when booking your return tickets

Hotel Elba

8

11.09.09

Fri

Transfer out. Flights & trans home.

 
Contacts:
phone +7-812-740 12 10 (Top Sport Travel) Nikolay Shustrov (before the event ).
mobile +7 921 916 21 98 - - all the time !!!
skype: nick.shustrov    (before the event)