VI International Elbrus Race.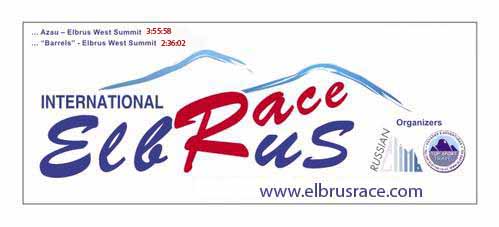 Let's make good news from Caucasus together!
Interview with Israfil Ashurly
- Israfil, we welcome Azerbaijan Mountaineering Federation as VI International Elbrus Race General Partner . You have invested a large sum in the development of our competitions. Azerbaijan athletes are going for the first time to participate in the race to Elbrus. What's interesting to you in such competitions?
- Allow me to welcome organizers and you personally and participants of VI International Elbrus Race. Ellbrus Race is an important event for us. Elbrus speed climbs became the part of Soviet history and becomes a trend of post-Soviet mountaineering. It is the beginning stage of building a strong future national team for us. We will apply to so well familiar method of tests for choosing members.
- Not so long ago you became the president of Federation of alpinism. What is your concept of development of mountaineering in Azerbaijan? How do you prioritizes?

- Most recently, in late April. The question of the concept of relevance. This is something over which I and my colleagues working at the moment. We have have been "locked" in the home mountains over the last twenty years . Except for rare visits abroad. This year we took a new course. Last summer FAA conducted 10 events, both in Azerbaijan and abroad. And that's not all - we have great plans for the autumn and winter. And plans for the next year seem for many of our guys fulfillment of the dreams. But I can only speak about that in the end of this year.
- Which foreign federations you have already started to cooperate with? or plan to start? Do you participate in this year's championships?

- We cooperate actively with UIAA. This year we have applied to join and look forward to the General Assembly in October. The interaction with RMF is very inportant for us, it began in December 2009 on the "Summit of CIS Mountaineering Federations and is continuing successfully. We try to participate in activities conducted by RMF. This summer it was Yerydag 2010, Tsey 2010. We planned also Karavshin 2010, but it was aborted. Hope, such collaboration will grow. We have good relations with our closest neighbors, Georgia, Iran and Turkey, and Ukraine, Latvia, Kazakhstan, Kyrgyzstan, Uzbekistan. I met a lot of friends from different countries when took part in international expeditions.
I am confident that we will acquire new friends during the upcoming competitions.
- When did you know about International Elbrus Race?
- The summer season 2005-2006 I spent on Moskvina glacier (Pamir). There I first listened about International Elbrus Race. And then some of my friends are your active participants. Now's our turn!

- Your Federation's team will run to Elbrus. How do the athletes prepare to the race?
- Guys have just finished the summer season on Tien Shan, Fany mountains and Caucasus. THey'll be at home soon. And will begin to prepare. It'll be our first experience in Elbrus Race, so we don't affraid of mistakes. IT's only beginning. We want to look at ourselves from the side and to understand who we are and what we want to reach. We plan to take part in Elbrus Race twice a year.

- You're high-altitude climber. Do you think that Elbrus Race is a good training before the altitude climbs?
- Elbrus was in the recent past as a "litmus test", the pass to the high mountains. But I passed it in my altitude rating, because a month earlier I climbed Parilapche (6013 m) in Nepal, but then I try to give an annual tribute of acclimatization climb Elbrus before leaving for the high mountains. Speed Race is a pass to a new, major achievements. I hope that soon Azerbaijan high-altitude climbers will include such races as races a part of a training program of its functional capacity to perform complex tasks in the future.
- International Elbrus Race will run 6 time this year. It become more and more popular, become well-known in the world, and more and more foreigners take part in the competitions. Beside of sport, here's a kind of annual meeting, collaborators, friends, colleagues. And Elbrus Race is under the patronage of Kabardino-Balkaria Sport Committee. And locals are interested in the competitions too. What positive effect could such a meeting bring at a time when the most people's attitude to the Caucasus, including Elbrus, is mildly speaking, cautious?
- You addresses a very important topic. Word of the Caucasus to be sound with a positive for us . I really liked your slogan "Let's make some good news from the Caucasus together!" I hope that many of the stereotypes and alertness will be eroded with the arrival of more visitors from different countries. In spite of difficulties, there're always two truths: Caucasus beauty and Caucasus hospitality. BTW, don't remember about our mountains - Shakh dag and Bazar djuzi are also the Caucasus! Welcome!
- More than 100 years there're disputes if mountaineering is sport or not. I think, Elbrus Race is a good reason to postpone such disputes :)
A stopwatch is on, so that is a sport by definition. And at the same time there is a high mountain, is the way to the top. But it's not the mountaineering. This is such a courage, which cwas created by the climbers, and which, of course, makes it possible to satisfy their sporting ambitious.
In fact, each of the climbers is a sportsman in his soul. He is always in a state competition: with colleagues, with his own weakness and laziness, fear, etc. And here, on Mount Elbrus, two lines intersect: on the one hand, the real competition, stopwatch, judges, media, medals.
On the other - cool parties, courage, wine, jokes, specific climbing humour. For example, one participant in the last year, when a TV channel came to shoot a report about the competition, the earnestly explained to the camera (and show!) how important is to cut the fat right to the success of the climb :)
Climbers can talk about the main thing with jokes. Nobody can describe to camera his feelings at the start at 6 a.m. in 30 seconds - when he's going to run up more than 3 km...
And what do you personally think about a real mountaineering competition?
- Alpinism is a sport and philosophy, lifestyle, and the key to harmony with nature. He was so rich and multifaceted, that became a donor for new disciplines which then go into an independent swimming. A good climber is a synthesis of different skills to the work of all types of terrain, at different altitudes, well prepared physically, technically and morally.
Leaving aside the fact that it is difficult to understand and describe, we just have something that can be measured. And if we start to measure, then it is a sport. To compete in mountaineering is good, I think. We need to compete in various disciplines. There is a growing class of athletes showing new records. There is a growing number of people wishing to break these records, and thus move the brink of further ...
I think that the responsibility of organizers of the competition has grown significantly. And the emergence of new competitors and new ambitions is godd, on the one hand, and on the other side it's a "headache". We are talking about the edge. This requires the organizers to be in the form and constantly raise up the bar for the organization of competitions and their appropriate security.
Well, and we also laid up "secret weapon" for the TV this year, will try to show:)

- What climb made the greatest impression on you over the past few years?
- Jannu climb by Valery Babanov and Serguey Kofanov. Cho Oyu climb by Denis Urubko and Boris Dedeshko.
- THank you, Israfil! Good luck for your Federation, your team and personally you! See you soon!
Elena Laletina (www.Russianclimb.com) interviewed Israfil.

Short bio:
Israfil Ashurly is the president of Azerbaijan Alpimism Federation. High-altitude climber. Completed "7 summits" program. (with 7 summits Club). Snow Leopard.
Short bio:
Everest:19.05.2007
Aconcagua: 28.01.2004
Denali: 05.06.2005
Kilimanjaro: 16.01.2001
Elbrus: 07.07.2003
Winson: 15.12.2005
Koscjushko: 11.03.2002
Lenin peak- 2004.
Korjenevskoi peak- 2005.
Communism peak- 2006.
Khan Tengri- 2009
Pobedy peak- 2009