VI International Elbrus Race.
Interview with Artur Hajzer
Artur Hajzer (Poland) visited the tops of six 8000-ers, and three of them - by new routes. Together with E. Kukuczka he made the first winter ascent of Annapurna (March 2, 1987 they reached the top).
This summer he with Robert Zhymchak climbed Nanga Parbat. Marcin Kachkan topped out soon after them. . This is the first part of a large 5-year project Polish Winter Himalayan Climbing 2010-2015.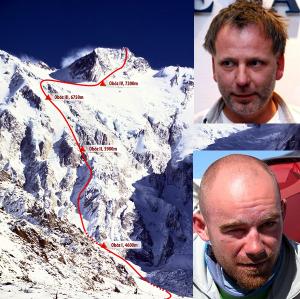 Nanga Parbat in 2010. The route on Nanga Parbat. Artur Hajzer (top) and Robert Zhymchak. Photo www.mounteverest.net
Polish team led by Artur will come to this Elbrus Race. Artur answered a few questions:
- Artur, why Elbrus Race is interesting to you? You've already announced the big Himalayan Project, which includes winter climbs on Eightthousanders. Young Polish climbers will be participating in it. Is the Race part of training for participants of the project?
- No, not really training. Our project is designed for 5 years. The Elbrus Race it is more a way to know more something about group of young people and select them into farther progress. The people are from the different parts of Poland. I do not know them. I will have a chance to meet them during
The Elbrus Race.
Only 3 of the Elbrus team (3 of us) are planed for coming winter expedition: Hajzer, szymczak, Kozub. The others are beginers who has to make a lot of climbs in the future or who will never develope into himalaism direction. Our team consit of promising Himalaya climbers but also of skialpinisme champions, mountain runners etc.
- In Russia now, there're few experienced high altutude climbers, in fact there is no competition for participating in the Himalayan expedition ... And in Poland?
- The same.
- Is high-altitude mountaineering popular in Poland among the youth, isn't it?
- Not really. But many want to be like Denis Urubko - he is a hero for young climbers.
- We read a lot about the old Polish famous climbs in the 70's and 80's - in the Hindu Kush, the Himalayas, Karakoram ... strong climbers, strong team ... What you have now?
- Times have changed. Now, too much Coke in supermarkets ...
- How do you plan to select participants in the project?
- No real selection yet. Now the program involved 30 people - all being interested.
- What qualities must have a winter party Himalayan expeditions?
- While we do not require anything special. Anyone able to begin training to improve their posibilities, skills, learn new things. But the winter expedition requires a great deal: experience at the 8000-ers, excellent technical skills, good results in mountain marathons, nice personality and ethic skills, motivation, durability, endurance.
- And that of the above items can be "tested" on Mount Elbrus?
- Motivation, endurance and personality.
- How do you prepare to Race? There was someone on Elbrus earlier?
- Top secret :)
- Our competition - this is, without doubt, a real sport. The stopwatch at the start, finish ... But it's not competition in mountaineering. It is rather a kind of high-altitude athletics. In them, once again, involved not only the climbers, and with sufficient acclimatization they have a chance to win. What did you think of the possibility of international competition is mountaineering? Technical? High-rise? In Russia long ago some people got the idea of maturing the World Championship in mountaineering (such as those that we had in the USSR). Do you think - it is real or a delusion?
- I have nothing against the World Champ in mountaineering. If there are willing to participate and organize.
- What are the bureaucratic difficulties you face when traveling to the Caucasus or Central Asia - the Tien Shan?
- To have a visa is not a easy job. Voucher is needed as well. We will see how it will work on the way. Normally the immigration soldiers and policemen on the check post do make us problems. we will see. The visa is not a cheap one [we could have a special invitation to have a free charge visa but we did not get it] The biggest problem is the distance - we will go by train 3 days to and 3 days back.
[no money for the flight]
- Which of the high-altitude climbing in recent years has made on your most vivid impression?
- The winter Makalu climb
- Thank you. I wish you success on Elbrus!
About the members of the Polish team can know something by looking at the list of participants at the site of competitions.
Elena Laletina spoke with Arthur,
www.Russianclimb.com

From Wikipedia:
"Artur Hajzer (28 June 1962) is a Polish mountaineer best known for the first winter ascent of Annapurna on February 3, 1987 together with Jerzy Kukuczka.
Artur Hajzer has six main 8000er summits to his name, several via new routes (Manaslu's NE face in 1986, Shisha's east ridge in 1987) and the first winter climb of Annapurna on Feb. 3, 1987. Plus, he also summited Annapurna East (8010m) via a new route up the SE face in 1988. All these climbs were done together with Kukuczka, without O2 or Sherpa support. Artur also attempted Lhotse South Face three times reaching 8200 m in 1985, 8300 m in 1987 and 7200 m (alpine style) in 1989. He is also known as organizer of a "thunderbolt" rescue operation on Everest's West Ridge for Andrzej Marciniak in 1989."