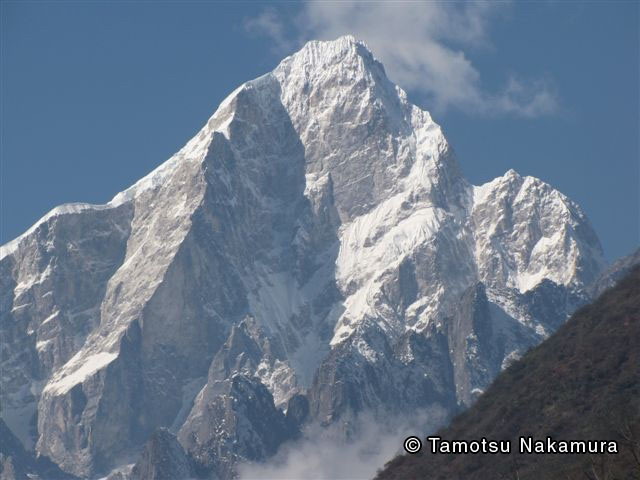 Mountain Hardwear sponsors Tibet expedition led by Alexander Ruchkin
Goal: E-Gongga first climb in alpine style.
Expedition chronicle .
15.05.09 Alexander sent SMS today 12-20: "We are alive and summited"
And some minutes later he sent the letter:
"Dear friends,
Sorry for the long silence, our sat phone didn't work, also above 6000 m, in the direct line of sight, when nothing prevented - nor steep wall of mountains, buildings and other interference. We inform you that all are alive, 12 days without any communication with the world, it was seriously. Duing the recon of approaches because of the severe weather conditions and other reasons ( detailes later) we found the virgin mountain, and changed our plans. We climbed a beautiful mountain 6206m, with a beautiful bastion, unnamed yet.
We send you a photo of the mountain 6206m with the red line (it is our route, and the green line - the decent) The wall had altitude difference about 1km, the length of the route more than on E-Gongga.
We have spent night yesterday on the crest of peak, then run down, and just reached Moxi, for quickly convey the information. More details and more photos will be sent asap.

The mist till 5000-5500m didn't permit us to find E-Gongga during 14 days, and even to look at it... When acclimatizing, we saw the steep bastion of another wall, and we decided to climb it. Also we'd known that Korean team had already climbed E-Gongga West ridge in 2001.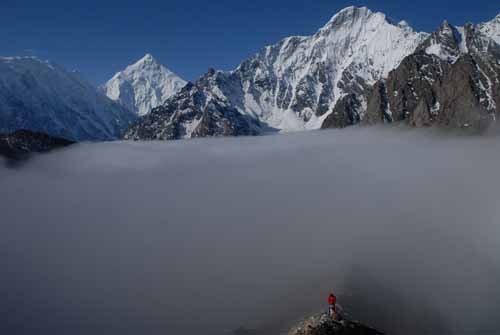 Выход из непогоды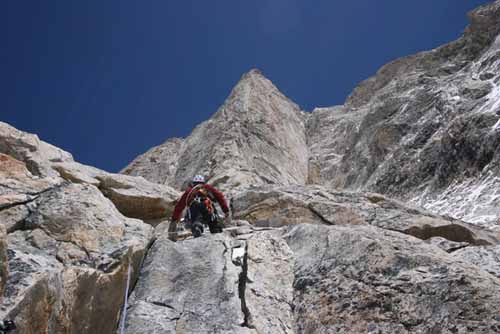 Только начало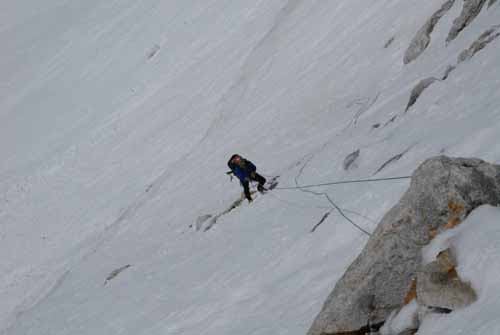 Начало маршрута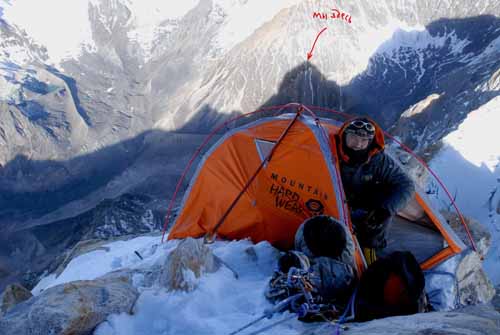 Мы здесь
5.05.09 One more photoalbum from China.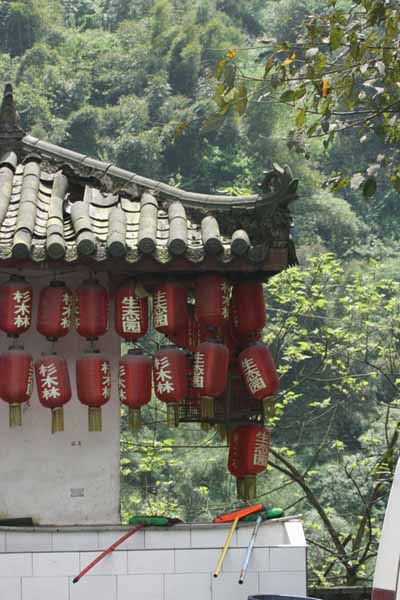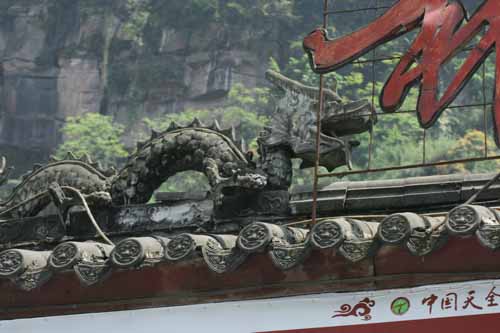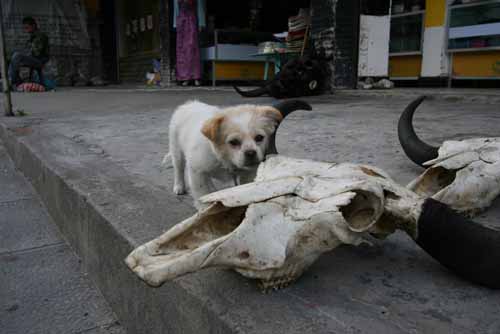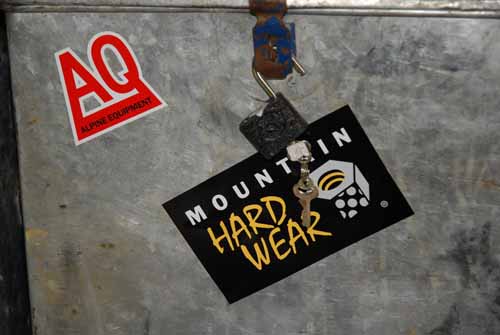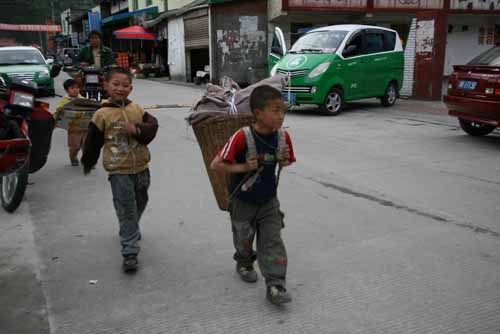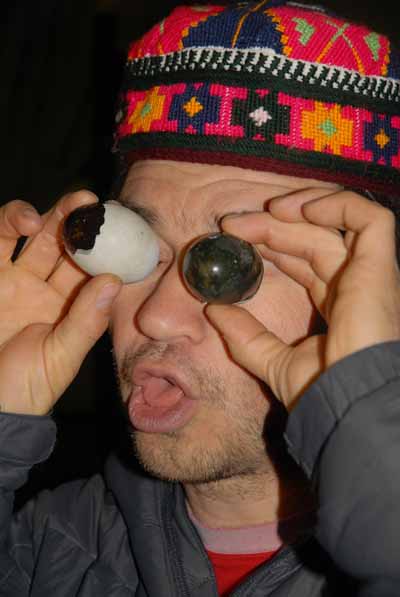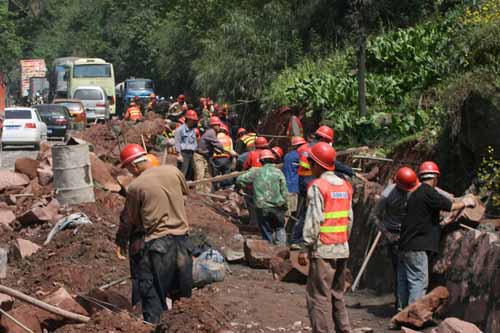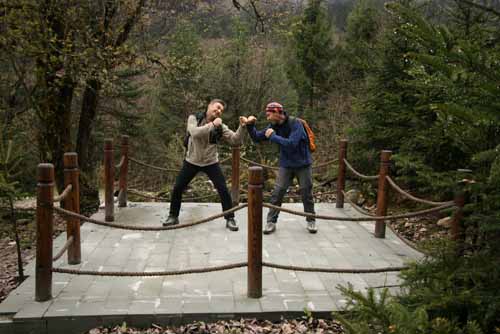 3.05.09 We received messages from Sasha and Misha! They try to overcome technical troubles in China, have bought new modem for Thuraya, but it doesn't play too. Perhaps, the cause is very narrow gorge...
2 мая Hi friends,
All's OK, we're brave, the weather is still rainy. At night between May, 1 and May, 2 we met New Year!
We had ordered new sim carte from Beiging, and received it May, 1. But our sat phone keep silence... We think now that the cause is too narrow gorge... and we'll be abl to connect you when'll climb to higher part.

Our plan is the same still - we're waiting of weather.
There's photo gallery: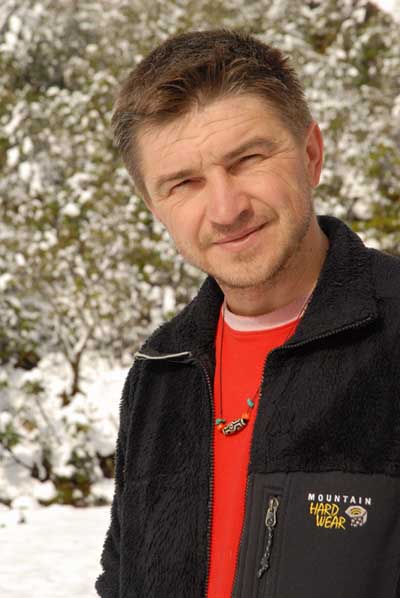 Sasha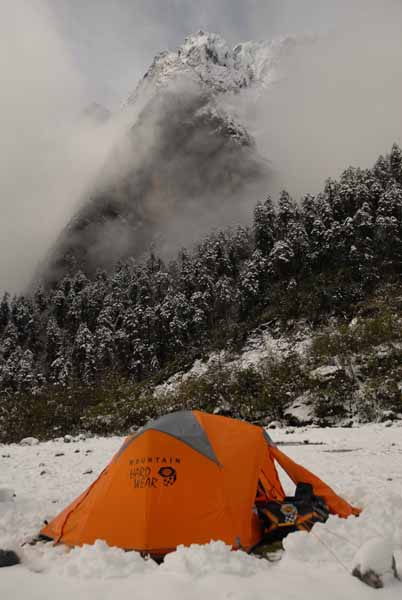 BC after snowfall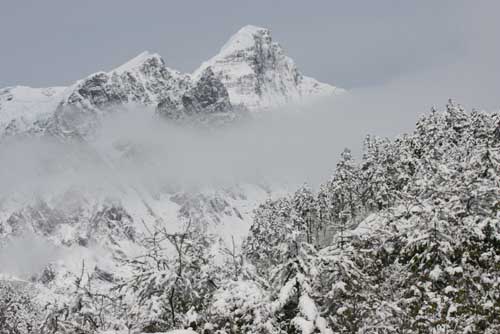 New Year!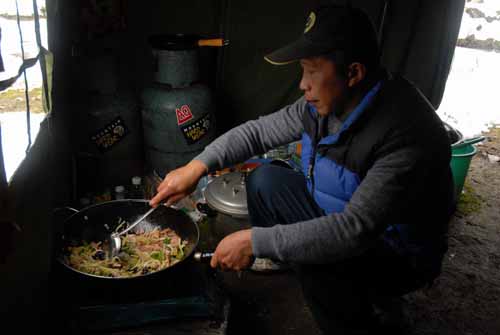 Cook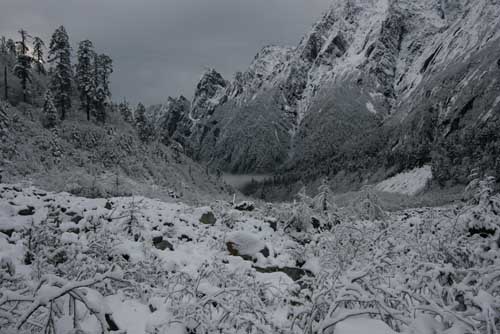 Snowfall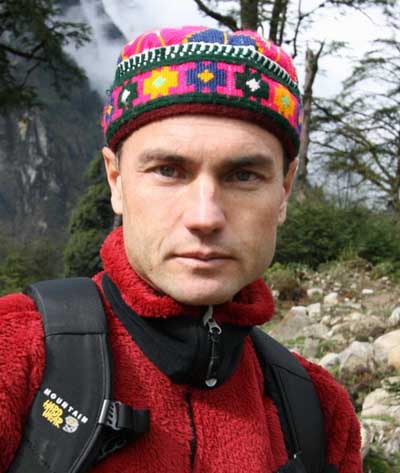 Misha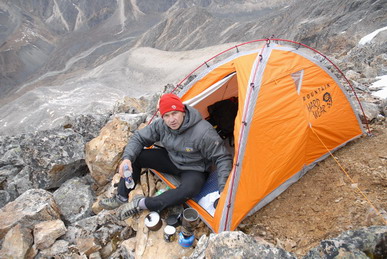 Acclimatization at 5000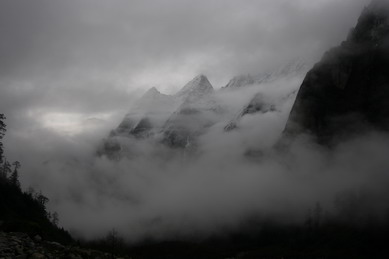 Misty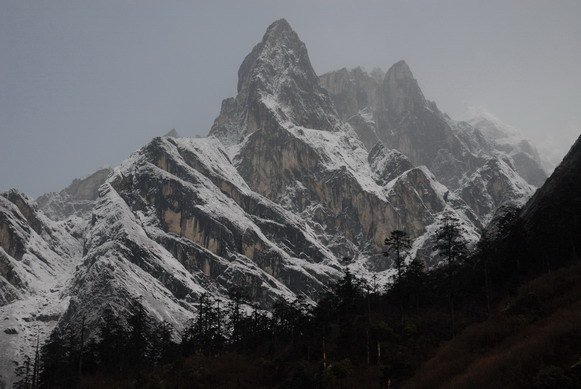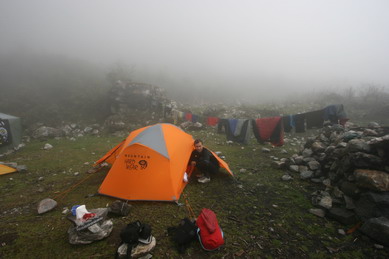 BC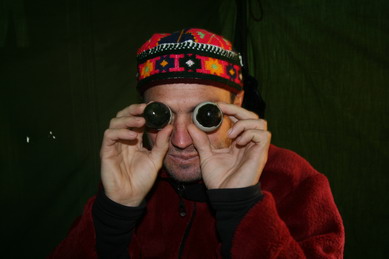 Black eyes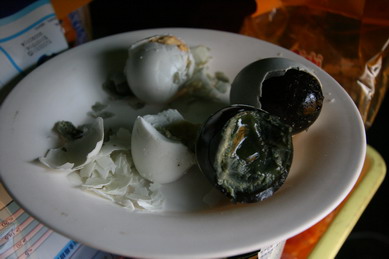 Tasty!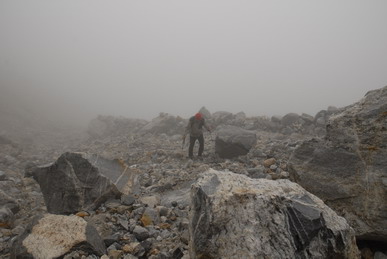 Mist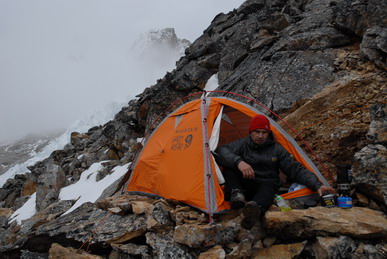 Tent at 5000
1.05. Ruchkin wrote frome Moxi:
There're four of us in mist: Sasha, Misha, our cook and Mar (translator from Chinese to English)
May, 1 we were surpized by the black eggs, prepared by our Chinese friends.
28.04. We have the old map, and hope to ind the way in so mist conditions, where there's about no visibility. We hope to find our object!!! We reached 4200, when the snowfall began.
25.04.09
Hi! All is OK. We have to find the way to the bottom of E-Gongga. Gorges are very narrow. THe rain drizzles 4 th day, and heavy fog. As always, the problem with the satellite. There is a Thuraya, but there're no connection. We've ordered a new Chinese sim-cart for Thuraya- might be, we'll have the regular communication.
We're not territory far from the last village Moxi at an altitude of 1500 m. There's a good road among the steep cliffs in the valley, you can drive about an hour on the twisting, (the road is made good!), And then we went further about the half an hour. There we were waited by the horses, and 3-4 next hours our loads riding on the horses to BC, and we hiked.

22.04 - Our BS we set at 3150 m. The plain plase, which's between the different gorges, where we 'll find the way to the wall.
23.04 The weather is foggy, damp. We decided to walk, and could, if became clear, to see one of the gorges. Once up to 3850, came to the glacier with avalanche make, but the fog has not dissipated, and we have explored nothing.
24.04 We sat in the tent. The rain.
25.04 We decide to go down to Moxi, because there/re not connection. We went down till the road, then met locals, and they drove us by motocycles. We have found Internet. We hope, you receive our letters. April, 30 we'll receive new sim-carte for our sat phone, we hope also that the rain'll stop, and we'll see where we had to climb.
19.04.09 Alexander: "We have arrived Chengdu already".
18.04.09 Alexander and Misha left Moscow. Photo by Anatoly Djuly from Sheremetevo airport.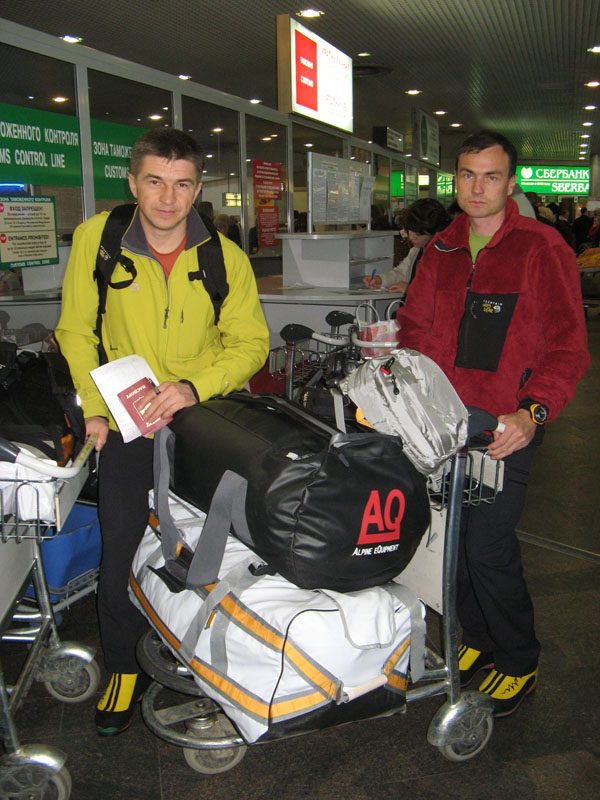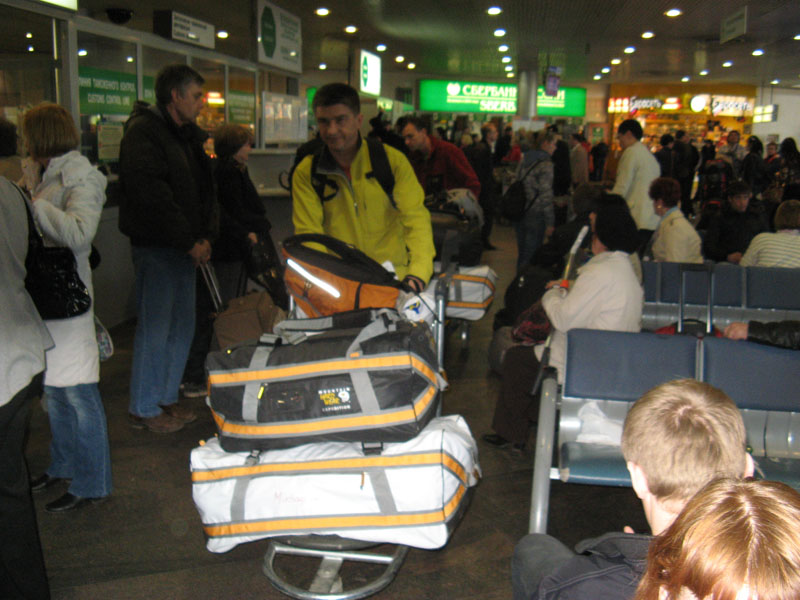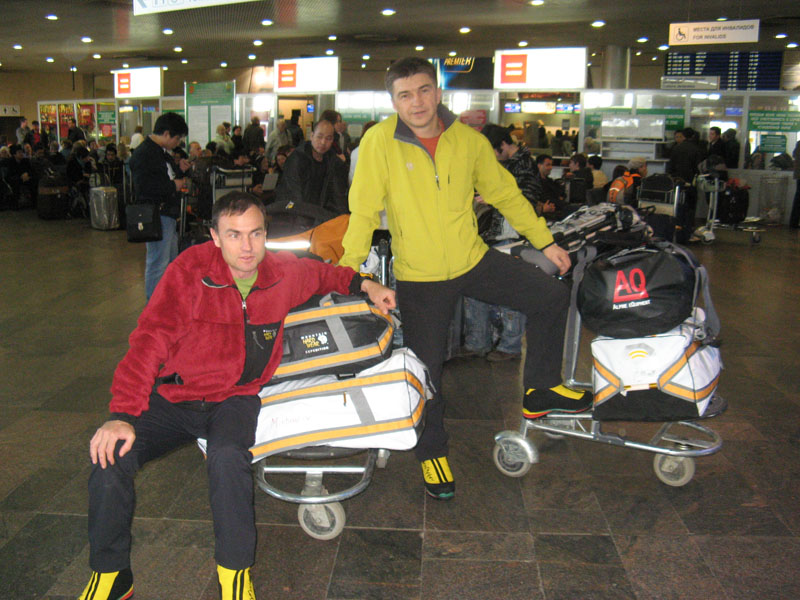 --------------------------------------------------------------------------------------------------
The man in the modern world is seeking for adventures, danger, risk. The majority of the climbers and the expeditions go by the blazed tracks, in the known and well-known mountain areas, climb the beautiful or highest tops or massifs of the world. But far from the trekking and tourists tracks, there are areas where a lot of virgin peaks high from 1000 till 8000 m, all categories for all skill level.
It's a real adventure to reach these novel areas, and those, who've been there, can be called as the pioneer and the Traveller. Remoteness, the big territories where people do not live, uncertainty gives the chance for adventurers even nowadays to find white stains and virgin peaks in unclimbed mountain areas, where human's foot haven't stood yet.
The project goal is to return the real spirit of adventure for mountaineering, to open and to search the remote mountain areas, to make first climbs of virgin peaks in those areas by the small team in Alpine style.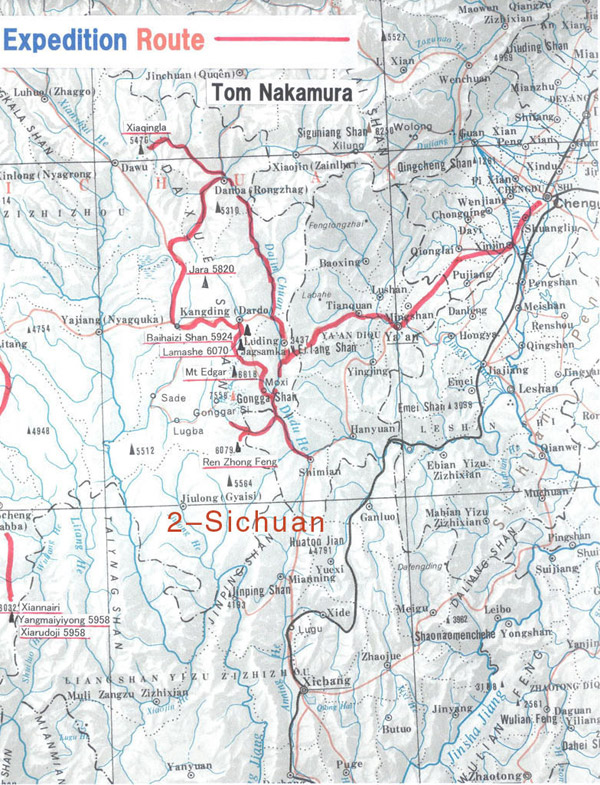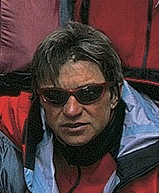 Alexander Ruchkin (45).
More than 300 climbs. And more than 100 climbs of highest grade walls among them.
Married, has son and daughter
Best climbs :
- 1994, 1996,-Ak Su North Face /5217м/, two first climbs
- 2000, 2001-Korona North Face /4680м/, first climb solo
- 1992- Russia, SouthEast Face bastion
- 1998-Petit Dru North Face , first climb
- 1998-Grande Jorass /4208м/ - solo and speed ascent of No Siesta route
- 1997-Trollriggen/1888м/, first climb
- 2000-2001-Latok-III /6950м/,South West Face, attempt
- 2002-Great Sail peak, Baffin Island- first climb
- 2003, 2004 - Jannu North Face /7710м/, first climb
- 2007-Torre del Pain, Chili- Bonington route
- 2007 - Kyzyl Asker SouthEast Face /5842м/ first climb
- 2008-Serro Torre Maestri route/3108м/
High altitude climbs :
- 1991, 1992 - peak Lenin,
- 2002, 2003 - Khan Tengri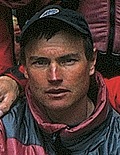 Мikhail Mikhailov, Mountain guide, high-altitude cameraman.
His climbs :
- Communism peak (7495м)
- Lenin peak (7134м)
- Khan Tengri North Face (6995м) 3 times
- Мramornaya Stena (6400м) - Winter climb
- Peak Pobedy (7439м)
- Peak Grudzinsky, West Face
- RGO West ridge
- Kurumdy (first climb)
- Peak Nunsen (winter climb)
- Svobodnaya Korea- (first winer climb)
-Korona (first climb)
- 2003, 2004 - Jannu North Face /7710м/, first climb
- 2007 - Kyzyl Asker SouthEast Face /5842м/ first climb
-------------------------------------------------------------------------

General sponsor Mountain Hardwear www.mountain-hardwear.ru.
gear "AQ"-"Alpine EQupment"
boots "Start1"-"La Sportiva"