Cho Oyu (8201 m), South-East Face
Kazakhs route
First climb in alpine style.
Denis Urubko and Boris Dedeshko (Central Sport club of Kazakhstan Army)
april-may 2009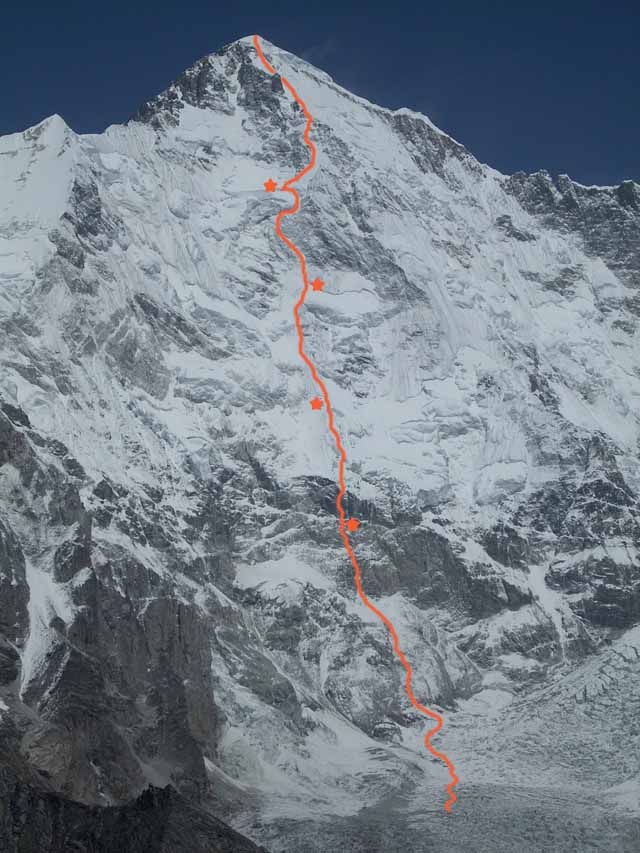 Photo of the South-West Face : Denis Urubko. The route line with bivouacs at 6000, 6600, 7100, 7600. Our line is probably joins winter Polish line at 8000 m. On the descent they camped at 7600, 7100, 6600.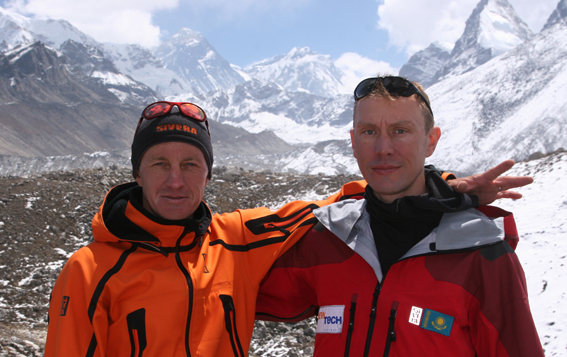 Denis Urubko has to climb only Cho Oyu to complete 14 8000-ers program. It's not a problem to climb it via the normal route, and Denis planned to do the speed ascent last spring. But China's border was closed, and the project was postponed till the fall. In fall the border was still closed, and in March 2009 the situation was the same.
But meanwhile the new project has been already preparing: to climb Cho Oyu from Nepal side via new route on South-East Face. Denis dreams about this route from 2001.
This decision alowed to reach some goals: first, Denis can complete the "14Q" program, and complete with a beautiful new bold line; second, he can continue his idea to climb Kazakhs routes on all 8000ers; and third, Boris Dedeshko can try himself on serious Himalaya first climb.
Expedition sponsors :
NEWTECH, KAZAKHSTAN KAGAZY.
Gear: SIVERA, La SPORTVA, CAMP
Information: RUSSIANCLIMB.COM
Expediion chronicle .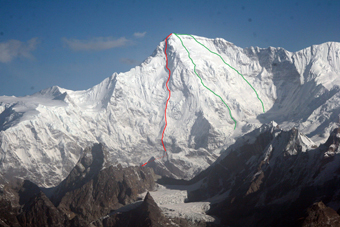 Red line - planned Kazakhs route
(Denis wrote that their line declined not so much fom this planned line above 7600)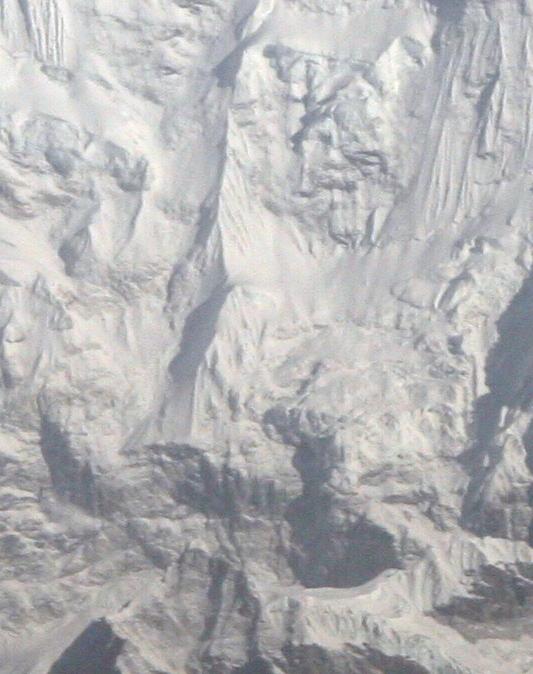 The lower part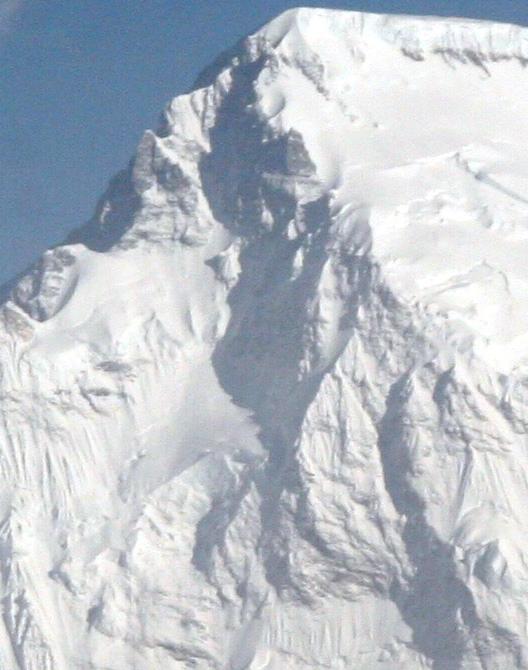 The upper part
20 may Denis wrote from KTM :
Ciao,
We're in Kathmandu, all's OK :)
We're tired hard, yesterday instead 2,5 hours we went down from Namche to Lukla 5 hours. Debrifing is ordered for tomorrow (they saw how we're exausted). But now we're recovering.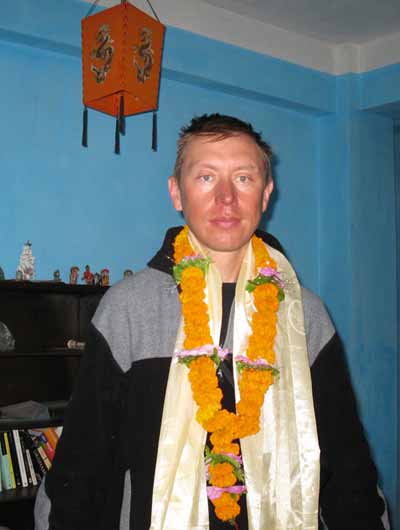 Boris
Nima Nuru Sherpa, the head of Cho Oyu Trekking. He met us in the airport early morning. We're surprised!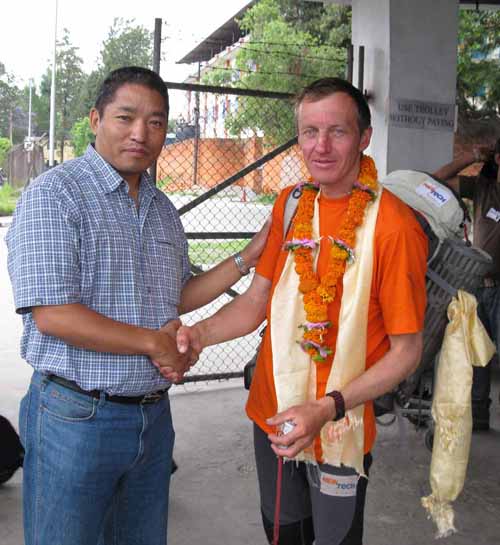 We're thankful to our sponsors - "NEWTECH distribution"and "Kazakhstan Kagazy", and also Baglan Zhunussov, the President of Kazakhstan Mountaineering Federation. Due to their car we could climb the new route in Himalaya.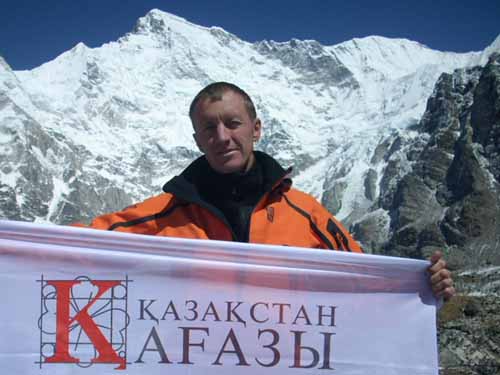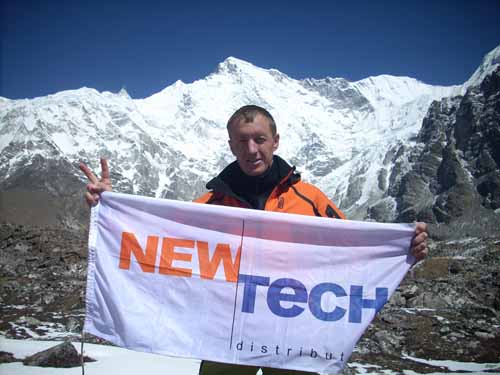 Äåíèñ. 20 ìàÿ
16 May Denis and Boris are in Gokio. Locals came to congratulate them. Tomorrow will be in Namche. Some pictures by Andrew Starkov (from trekking to BC):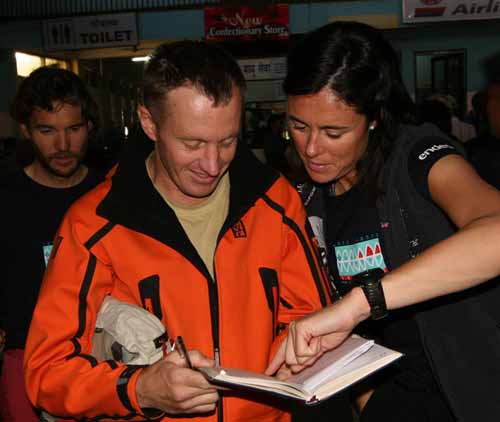 Äåíèñ è Ýäóðíå Ïàñàáàí
Êóìà÷îâûé ïðèâåò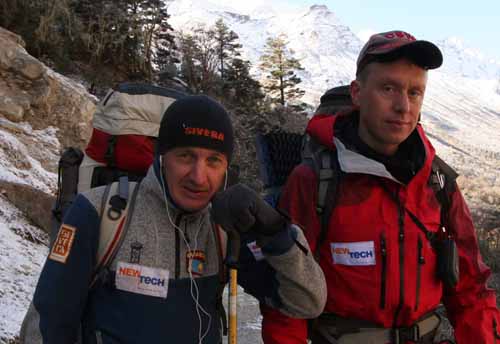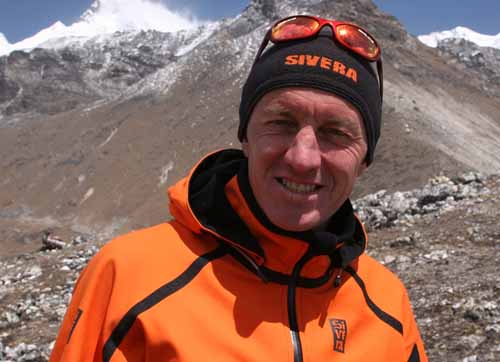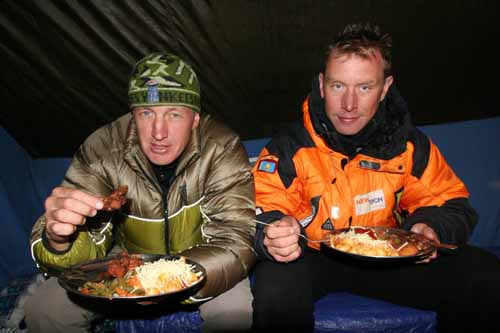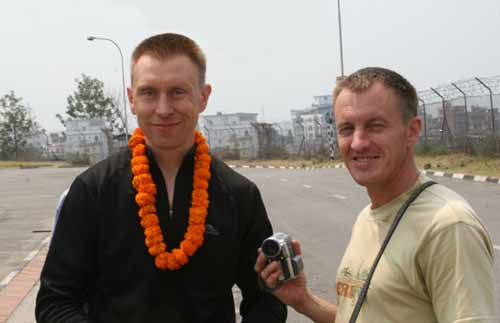 15 May
We congratulate Denis and Boris with great climb, and Denis with 14th 8000er! He is the first CIS and Kazakh climber with all 14 highest peaks.
SMS 2p.m.: Some detailes: we spent the night at 6000, sitting, then the bad weather on the third day, many avalanches, then the sturm from 7600 during 15 hours, then the decsent during 3 days via the ascent route. We didn't eat 2 days.
SMS 12-25 : All's OK. We are in the BC. Healthy in general. We summited May, 11. The line above 7600 declined not so much above 7600.
6 May SMS 7-25 : We're in ÀÂÑ at 5300. Feel well. The weather's better. Tomorrow we'll start to the route. We have gas and food for a week. Greetings to all friends and Himalay expeditions! Wish us good luck! :) Denis and Boris.
5 May SMS May, 5, 2-44 : The weather's not so good, but we have to catch good weather later. So we decided to leave BC tomorrow and to go to the bottom of the wall. We'll begin to climb the route when feel good enough. We won't bring Thuraya, the nearest relation will be in 7-9 days. Greetings to Tramontana! Denis.
4 May SMS May, 3, 23-17 : We've returned to the BC from the village, where we recovered from the illness. Out route on the wall looks very serious, but I decided fight until the last possible. Boris agrees with me. After 5 days later, we'll begin to climb the wall. The main thing is the lucky with the weather on the vertical rock.
27 April 4-16: Hi! It is sunny in BC, and the wind from Tibet. We're recharging batteries, drying clothes. We have found the way to the base of our route. Many fears about the route, but we're in brave mood yet... We'll not bring sat phone with us when will climb... Den.
Photogallery from Andrew Starkov (he's already back to Almaty)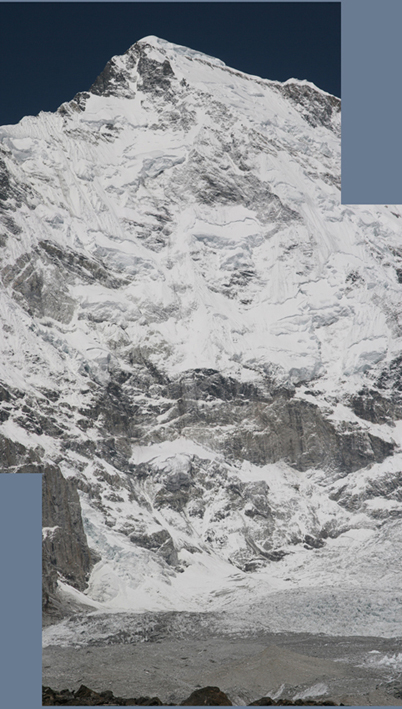 Here it is, South East Face ...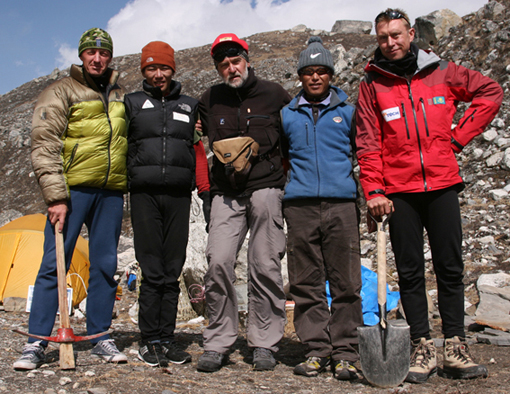 in BC with trekkingers
| | | |
| --- | --- | --- |
| the meeting on the airport with basques team | in Rum Duddle | In Yak Yeti |
| Trekking | Trekking | Trekking |
| Acclimatization | Base CAmp | The route on the background |
| Cho Oyu on the background | Cho Oyu. Morning | |
23 April 8-06: We climb rocks. Eat pineapples :)
22 April Denis called in 9-30 a.m.: We have fun here! Grass (dry yet, after the winter) ... The sun shines. Our mood is brave enough. There's less snow on the wallcompare to the normal conditions (I compare with that seen in previous photos). We have not yet approached to the SW Face, have acclimatized aside, we want to look at the wall carefully before the ascent. Now we'll have 5-6 days to relax. Wait photos from Starkov, please!
21 April Hi! We're in the BC, eating pineapples and fried chicken. After the struggle in the icefalls and the night at 7100 we are in the good mood. Denis.
20 April 6-34 We're at 7100, all's OK. Tomorrow will be in base camp.
19 April , 12-05: Happy Easter( (Ed note: Russian Easter is today )We straggled in the icefalls at 6600, and think that there's a chance to reach 7100 tomorrow. There's the Temple of Eternity around us, the weather's excellent, we feel well. Kiss you, Denis.
18 April 06:44 We couldn't climb above 6300 - too difficult icefalls :( Tomorrow we'll descend to the BC via the same route. The weather's good, and after 2-3 days rest we'll find another way.
17 April 10:26 We ascent very hard, the distance was long, bagpacks were heavy. REached 5700, preparing the water. Greetings to all.
16 April 13-09 We are going via Gjanchung glacier till 7100, will spend there 2 nights - and then descend for the rest 5-6 days, and then :) if all be OK - the push to uncertainty.
16 April 12-19 Tomorrow we'll go to the acclimatization till 7100 via the glacier.
14 April WE're at the bank of Gokoi lake. Starkov will go back tomorrow. He'll send you pictures.
13 April 8-53 We are on the bank of Gokio lake.
13 April 8-34 We spent the night at 5800, we'll be in base tomorrow. THen will rest 2-3 days, and will go th acclimatize. All is according to the plan. Denis.
10 April 12-07 We spend the second night at 5810, listen music. Tomorrow we'll descend to the village. April, 14 we'll be in the base camp.
8 April arrived to Chukung for the acclimatization.
5 April Denis, Boris and Andrew flew to Lukla, and went to Manche Bazaar.
1 April Boris Dedeshko and Andrew Starkov started rom Almaty to Kathmandu. Andrew - photographer and painter, he's going to trekking to the base camp and then to return back.
28 March Denis started from Moscow to Nepal.