Winter Broad peak ascent

Simone Moro. January, 2007
Expedition chronicle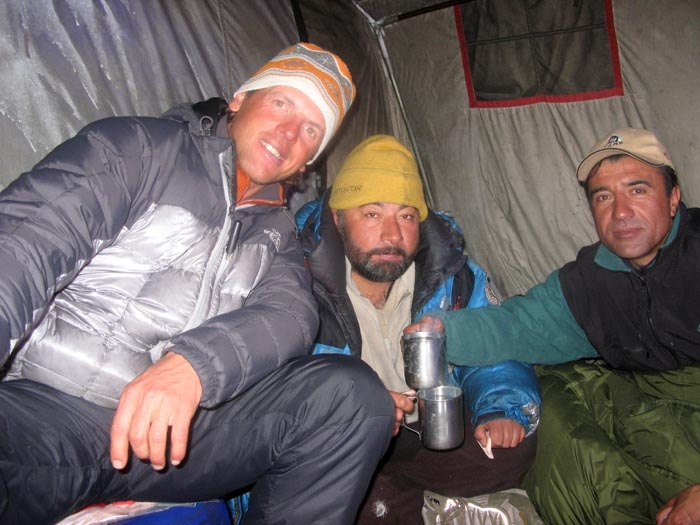 19.02.2007 Since 3 days we have storm here in base camp  and our tents sometimes are near to fly.. We remain always in tent and we go out only to go toilette: and fast:

The weather forecast it looks bad also for the next week. Since 20 days we are fighting with the bad weather. Tomorrow will start from Skardu 16 porter that will arrive here the 25th and they will help us to carry all our equipment back.

We should arrive back in Skardu the 3rd.We still hope and are ready  to do another summit push but weather it seems that don't like it
15.02.2007 Today we started and reached camp 2. It was a hard job, because there was more snow that I thought. I did all the track to camp 2 and a lot of time I had snow till my knees, so that now I feel tired. Tomorrow we will reach camp 3 and see what to do:. The weather will remain the same of today, cloudy, but no snowfall. The next weak the weather forecast speaks about strong jet streams, and with this it is impossible to think about a summit push:.
...........................
04.02.2007 Sunday with bad weather, as predict, full of thousand ways to spend the time. I work at PC, hear Radio24 by internet, books, music, long talks in the kitchen tent with my adventure partners and than a phone call with my wife Barbara involved in Swiss in the ice world cup competition and another call with my daughter Martina. The time run away and the moment to start for the summit push is coming, but I'm not nervous , I'm not in hurry :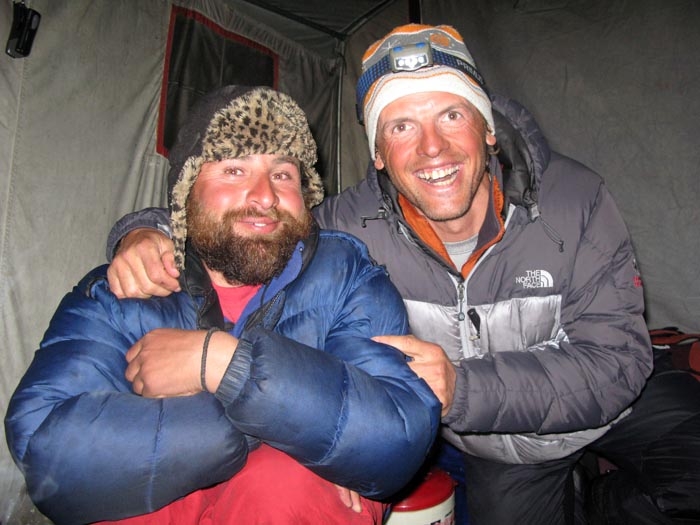 03.02.2007 Photo: Didar and Simone
When you are tired and you are "charging your batteries" to be ready to attempt something big:, also the bad weather become a sweet a nice situation. It help me to stay in my big and comfortable TNF tend hearing radio by satellite, mp3 music, working at PC, thinking, preparing the equipment, resting, charging mental and physical energy. It will be absolutely difficult what I and Shaheen will try next Tuesday and the possibility to succeed are always low and many things could happen and stop our ambitions. The mind and the body however are ready:.
01.02.2007 Ciao!
I'm writing you by satellite from Broad peak base camp. We just arrived here coming from C3. Today we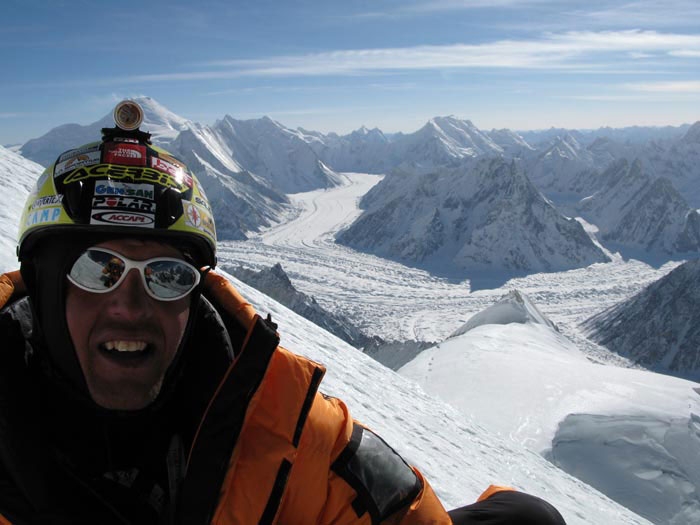 climbed from C2 to C3 with heavy packs and climbing many delicate icy slopes. We find some pieces of old fix rope but most of them are under ice. It is a hard job to take them out and we did only when extremely necessary. Today we had a sunny day but windy and cold.

We reached C3 at 2:20 p.m. and we left all equipment there than we descent to camp 2, we take off the tend and all equipment and put it under heavy stones . We don't want to take risk that the strong wind can destroy our hard work and we prefer to put everything safe.
From tomorrow should start 5 days of bad weather and strong wind and this is the reason why we descent directly here tonight. Now everything is ready and we will wait for the good weather for the summit push.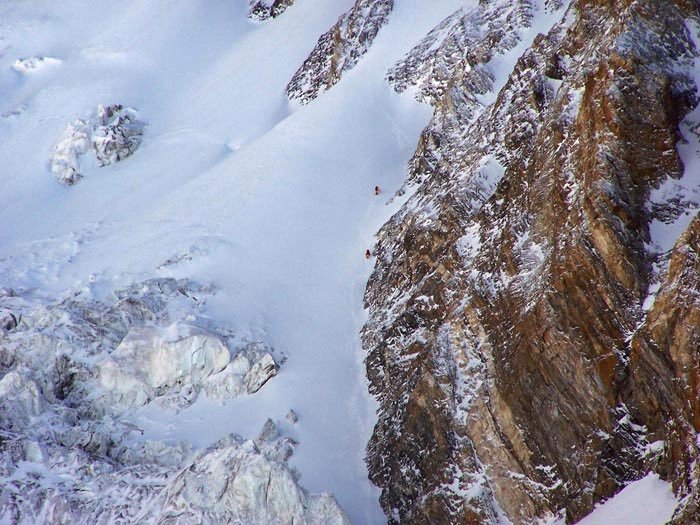 31.01.2007 Simone and Shaheen climbing togehter

This morning we started from BC and after 2 hours and 40 minutes we arrived at C1. We pulled down the tent, took all our equipment and climbed to camp 2. Arrived there we established our camp 2. Tomorrow we will reach camp 3 and sleep there and complete so our acclimatisation. Also today it was a beautiful day and the cold was really supportable.


30.01.2007 Mamma mia!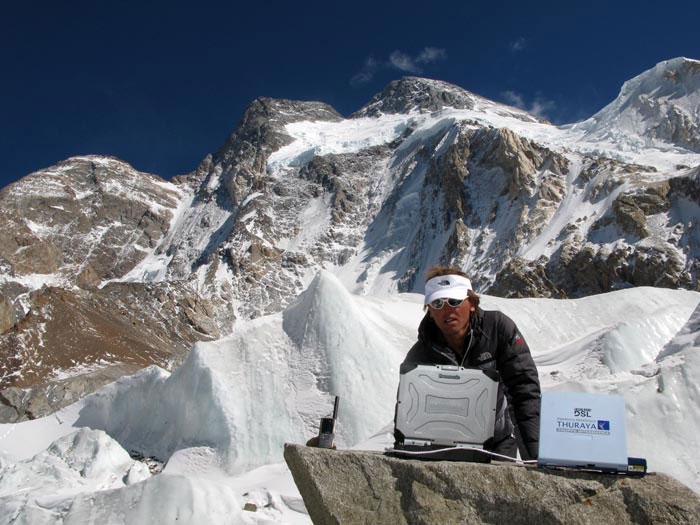 .. how beautiful weather we have today. Blue sky and sun and the temperature around -10° degree. The wind in high altitude doesn't look strong. Wonderful! Today is my first rest day here in BC after my climb to C2 but tomorrow I and Shaheen will go again to the mountain, and use the last 2/3 days of good weather for working on. I fact from late Friday will arrive 4/5 days of bad weather with snowfall and there will be no possibilities to climb in those days. I'm not enough acclimatized to attempt the summit in the next 3 days so the program will be: tomorrow directly to C2, after tomorrow establish C3, sleep there and Friday come back to base camp before the storm came. I hope that the bad weather will not bring too much snow here because in that case:.
29.01.2007 Finally yesterday I had been able to climb till C2 and finish the most technical climb of Broad Peak. Yesterday I did everything alone because I send down Shaheen from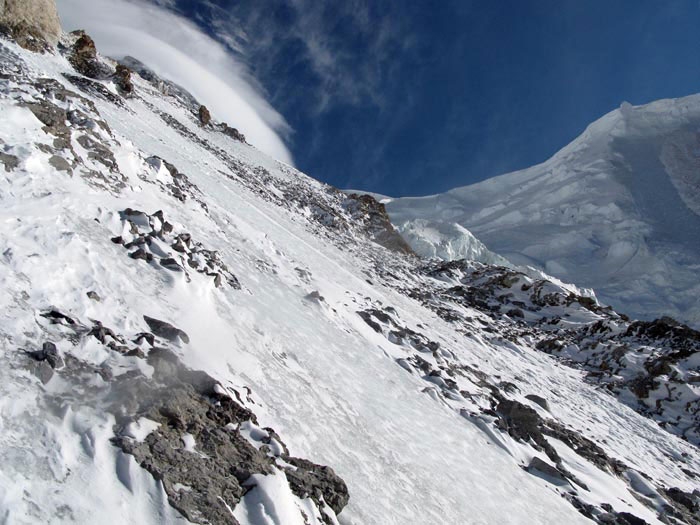 C1 due the extreme cold he suffer during the night (for sure the coldest night we spend here -40° degree). I prefer he get immediately in BC, keep worm and recover, than not to push him to work with me and get risk of frostbite.
But yesterday was a bad day to be alone because I have to climb many green ice slopes and I have not the partner to make me safety with rope. In any case I keep the concentration and I climbed in Piolet Traction. I saw many old fix rope but there was under ice and had been impossible to use. But at 3:00 p.m. I arrived at C2 at 6250 meters. I spent some minutes and spoken with y friends in BC. Than I started the delicate descent and I have done my best to collect some pieces of old fix rope and put them in the most dangerous part. It will be a good help for our future climb and descent. After that hard day I spent another night in C1 and this morning I came to BC. In the trip we will go directly to C2, sleep there and the day after we will establish our last camp. Camp 3.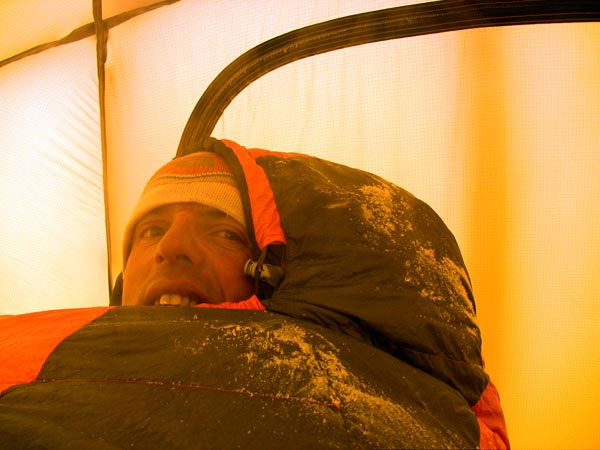 28.01.2007 Yesterday we reached camp 1. There we left our rucksacks and climbed up so as we can see the condition of the route. The route is very icy and there is no snow.
We slept in C1, but it was the coldest night of all the expedition (-45 C). Shaheen slept with his downsuit in the sleeping bag, but this morning he presents sign of hypothermia. For this reason he went back to BC, for drinking and worming up. Today I climbed alone, without rope. Finally at 3 p.m. a reached C2 at 6250 meters and I needed all my experience to be successful in this climb. After some minutes I climb back to C1 where I'm now:. Photo: Simone in the tent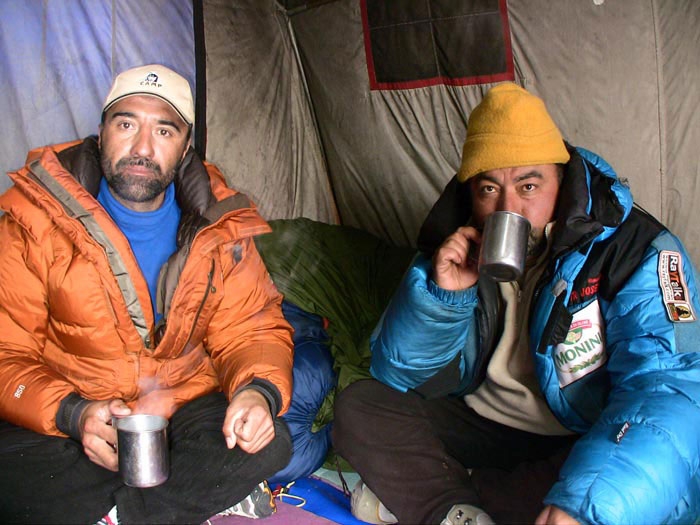 26.01.2007 Photo: Shaheen and Amin
This is our third rest day in base camp. The weather condition are quite good and the temptation to start up is strong: But tomorrow it should be a bad day and I trust in Karl Gabl weather forecast. He advice me to wait one day more and start Sunday because we will have an exceptional 6 day of good weather with low wind. There will be many days and I trust in Gabl. Today we spent another relaxing day avoiding to be nervous. For me it had been a funny opportunity what my Pakistan friends are doing here in base camp, specially in kitchen...
See the film at: http://www.extremehd.net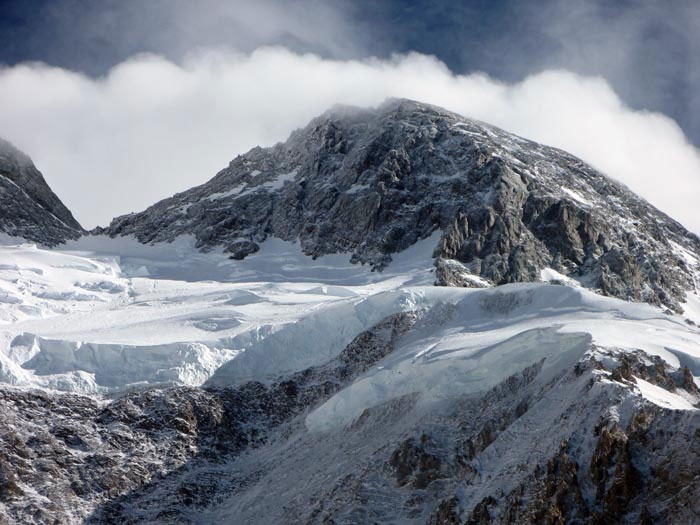 25.01.2007 Today luckily we have sun and in spite of the strong wind in high altitude we get a nice and not so cold day to spend here. Today I also called Karl Gabl in Innsbruck to get the forecast for the next days and it looks that from Sunday we should have a big nice weather window (5-6 days). Our acclimatisation is not complete but for sure we will do our best to use those days to go higher as we can :..
23.01.2007 After 4 days of hard work on the mountain where we stopped at 6000 meters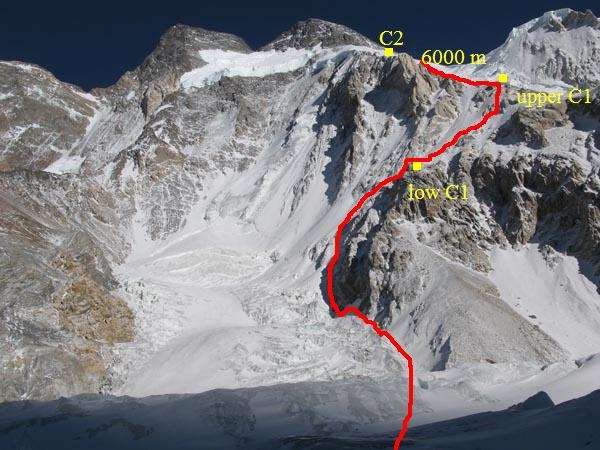 only 250 to Camp 2, we decided to come back to base camp, also because we will have 3 days of bad weather starting from tomorrow. We are tired but satisfied. Yesterday we spent a night at 5800 m (-40° degree) and today we climbed till 6000 but after the wind start to be strong and the clouds coming fast. The climb it is really serious without fix rope and every time the descent took us a lot of power and concentration. Starting from Sunday probably we will have 3-4 days of good weather and for us will be the most delicate part of our climb before attempting the summit of Broad Peak:
22.01.2007 Today was another good day for us. We sent our tent between camp 1 and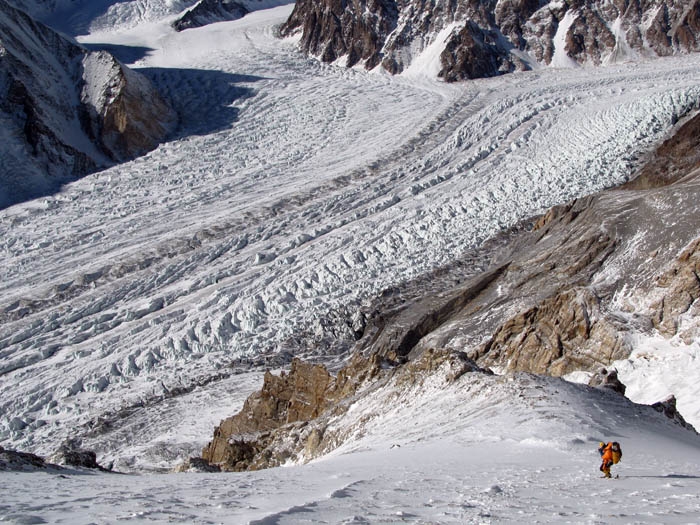 camp 2 and this night we will sleep here. Tomorrow we will try to reach camp 2 and than go back to BC. Tomorrow it will be the last nice weather day and so we will use it to go up. Shaheen and I are Ok, also if here is really cold. Today it was difficult, because some of the steep parts had green ice sections. For our tend we found a nice terrace and from here we have a wonderful view of Baltoro.
Ciao till tomorrow
Fotos:
Descending from C1
Simone at C1
Going to C1
| | |
| --- | --- |
| | |
20.01.2007 Today finally action day!  Exactly  as the forecast of Karl Gabl predicted, we get a sunny day. We started to climb and transport all our equipment on the mountain in order to establish our future high camps.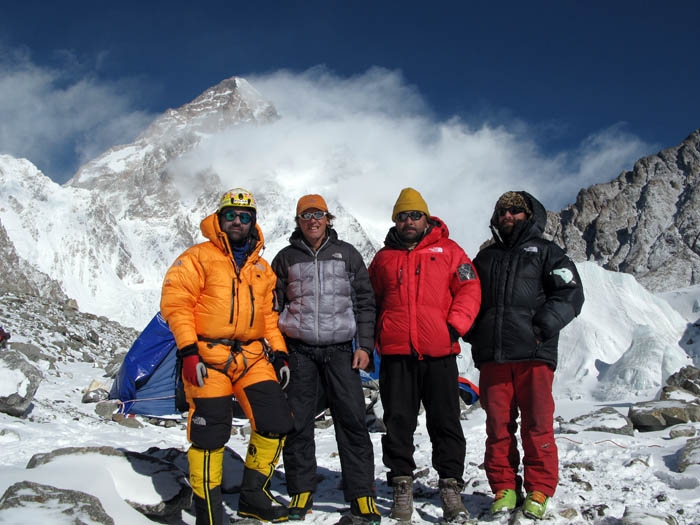 Our packs were heavy  because we had a lot of equipment, mat, stove pot, sleeping bags, tends, climbing equipment and personal equipment.  We started at 10:45 am because we spent some time to prepare all the things and also to enjoy the sun:

At the beginning we made trail in the fresh snow and than we stated to climb on icy slopes. Around 1 hour below C1 we stopped and left our packs, fixing them at 1 ice crew . In fact were 2:00 p.m and we decided to come back to BC before the darkness. NO fix rope we found and used, only alpine style, and also the descent took us time and concentration. In fact the slope are very steep and is forbidden  to slip:

The Temperature this morning was -30 degree and during the day arrived till -19 degree. Tomorrow if the weather will remain good (as predict) we will return on the mountain and continue our effort to transport higher all the equipment. For sure also tomorrow the descent will be delicate and not easy 19.01.2007 Also today as yesterday we get a bad weather day to spend here in base camp. The weather forecast also today had been exact and this morning we had light snow, wind and low visibility. In any case we are in good mod and we have also fantasy to find something to do to spend our time. That's why at -22° degrees I decided to wash my hairs and shave, so I will be ready to start tomorrow and climb fast in case of good weather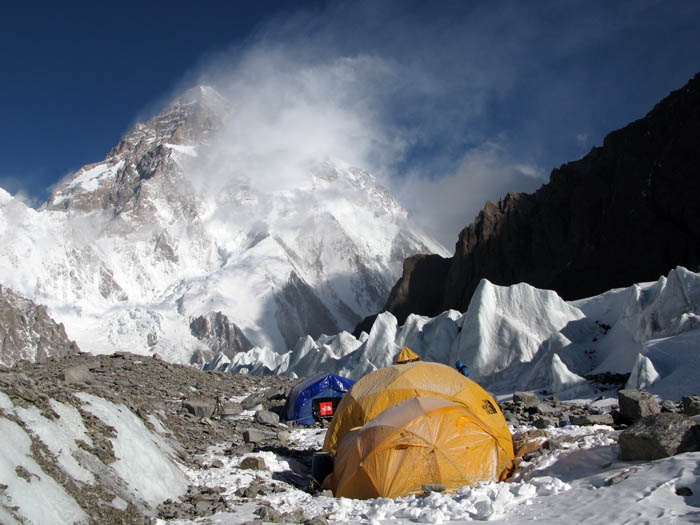 18.01.2007 The bad weather already came back. Exactly as the forecast we had from our "guru" Karl Gabl in Innsbruck, we wake up with strong wind also in base camp and cloudy sky. It should be the same also tomorrow but Saturday (if the weather forecast will be exact) we should have good conditions for 2 days. Today I and Shaheen went again across the Glacier following the route I found yesterday in the glacier and ice towers, and we marked it better with flags and stone towers. Approaching the Broad Peak face we came back to BC due the very strong wind. It had been a way to maintain our physical conditions to be ready to "run" during the blue sky days. All our team is in good shape and in good mood. We are also surprised how well are working or new Canon High Definition videocameras and photograph machine in spite of the extreme cold and hard conditions. If I have to identify the best product we have here, it's for sure the HV10 High Definition videocamera. It never had problems of cold, condensation, battery duration and really it take a supreme quality of mages. I hope it will continue to work so well also with -40-50C degrees.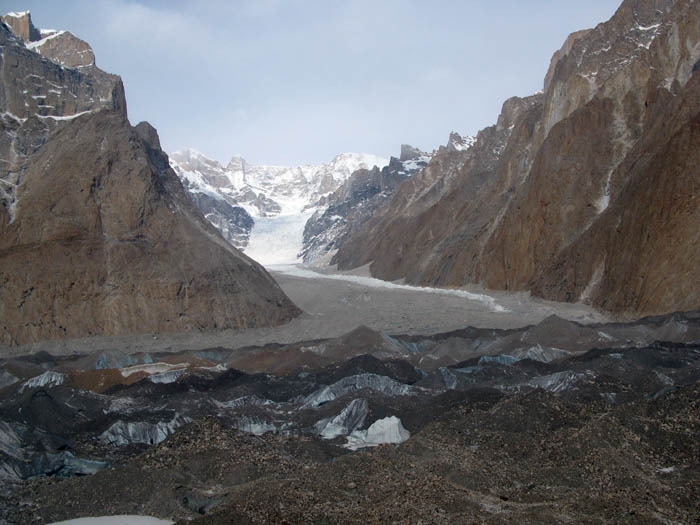 17.01.2007 Finally we get the first day of good weather with blue sky. All around us we have magnificent mountains. Today it had been also the first "action" day. In fact I started at 9 a.m to look for a safe way to cross the glacier we have between us and the mountain, Broad Peak. I spent only 2 hours to find and mark with flags all the way to the base of the face. At lunch time I was back in base camp, very happy for the nice day and the good job. Today I had been alone to work because Shaheen was sick. He was coughing during last night and I advice him to remain here to keep warm. The weather forecast said that the next 2 days will be bad weather but in case it will be wrong we will start to climb along the 1957 Buhl/Diemberger route16.01.2007 Third day in Base camp. The weather is still bad and we can't see the sun. For that reason the temperature is extremely cold also during the day. This morning at 8:30 we get -30° degrees. In the upper part of the mountain the wind is still strong and we can hear the noise here in BC. Yesterday we worked to fix better and arrange some comforts in the kitchen tend and in my tend, from where I'm writing you. Tomorrow I and Shaheen will start for a fast climb till C1 to see how are the condition of the mountain and also to test our physical condition. We will come back for the night because we are not yet fully acclimatized due the helicopter flight who transported us from 2000 meters from Skardu till 5000 in 1 hour...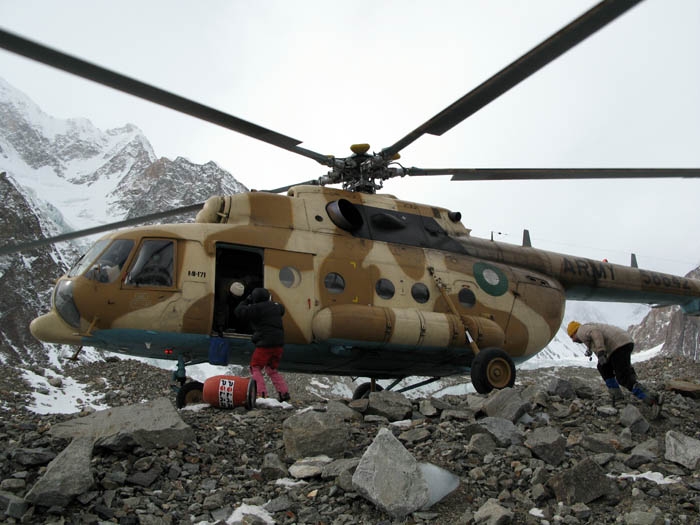 15.01.2007 Finally we arrived at the Base camp!! Yesterday we took the army helicopter and we arrived here at Broad Peak base camp nearly 5000 meters of altitude. We nearly gift up after 10 days waiting in Skardu and honestly we were quite worry about the future of the expedition. But yesterday in a cloudy day we get the surprise. The Helicopter transported all our equipment and us till BC. The temperature yesterday was -25 in the afternoon and -30 in the night. There is very few snow and the conditions of the mountain looks good but we can hear the strong wind in high altitude till basecamp...12.01.2007 Today finally we had 3 helicopter ready to transport us and our luggage to the base camp. One big hely to transport all till to the middle of the way, at Pajiu at 3800 mt and than 2 small helicopter to continue to base camp. In fact I spoke with the Colonel of the military base and he promise me to do their best to resolve my situation and put me in the condition to reach BC and start the climb. But today the enemy had been the bad weather in upper Baltoro. As you know the helicopter fly only with good visibility and over Pajiu was snowing: So we remained all morning, for 5 and half hour near and on the helicopter, with all our luggage (1100 kg) on board, waiting for the good moment and hoping that the weather could change but: no way to get luck. So we will try tomorrow prying that the weather will be better: We can do nothing, only wait and hope: What do you think? It has to finish this bad luck and something will happen and has to happen soon:.11.01.2007 It looks so that tomorrow could be the right day to fly to our mountain, to our base camp. This is the promise that colonel Mueen and Magior Farak did today. In fact we met them again and prepared all our equipment in the helicopter. Today the military have to evacuate a very sick soldier in his advanced position over 6200 meter in the Siachen Glacier close to the border with India. Many of those Pakistan soldier often are suffering for high altitude sickness or serious frostbite. Today it had been the 17 th day spent in Pakistan :. I feel quite ridiculous to have get so many problems and delay but to organize and realize a winter climb in Pakistan is already and for sure a logistic adventure.10.01.2007Again the same report. Also today no flight to base camp due the bad weather and it should be the same also tomorrow. Only Friday and Saturday will change and we should fly to Broad Peak base camp. Now it's 20 days that I had been waiting and a so long time should kill the ambition and the motivation, but is not happened to me.. because winter finish the 21st of March and I'm ready to wait and play my games till that date. The situation here in Skardu is not easy. No water in the houses, no water in the only hotel open in this season (where I'm). In the morning they give ma 10 litres of boiled water to do everything.... Frequently there is a electric black out because everybody in the city use electric heather but there is no enough power for all of them. So I have to charge the batteries of my PC, videocameras, sat phone and so on during the night or in the less critic moments. Today I meet Colonel Mueen who is the commander of the Military base and helicopter troops here and it had been a very important meeting to resolve my situation... we will see 09.01.2007Again here...in Skardu. Since 24 December, date of my departure, I'm in Pakistan getting an incredible number of bad lucks and news every day. Delay of my cargo, delay of the transports, thousand of problems with the helicopter company that took from me a lot of money without giving any service yet. In fact also last night we received a phone call from the helicopter pilot, announcing the cancellation of the flight due a "military operation" in the mountain range... The final result is that I'm still waiting here to fly to base camp and I think that the wait is not finished... Today the bad luck continued also in a different way. I started to get pain on my tooth and I can get any medicine because all my luggage (included all medicine) are since 2 days in the army helicopter base!!!
So, to use the forced free time , I prepared another video for you, realized with the new HD Canon videocameras HV10 and AX1 that already worked at low temperature till -25 degrees and to be very strong also in the situation of hard treatment. The film will show the moments we were preparing all the load to be transported to the helicopter military base and few shots of the city and the area around it. (If you want to see the film, go on NEWS VIDEO and there select the link) So even the bad luck continue to be an unexpected partner of the first part of the expedition I continue to be strongly motivated to go and climb what I planned. The winter will finish the 21 st of March and I can use the remaining 2 and half months08.01.2007Also today we didn't flight. The weather is great, but we have still problems with the helicopter. They don't want to fly with the Russian helicopter MI17 till Broad Peak base camp, but only to Concordia. I did so many phone calls:. At the end we find only one solution: tomorrow we will use 2 helicopter Ecureil for to trips to Borad Peak base camp (Skardu - BC - Skardu BC - Skardu, with 2 helis). This joke will cost 14.000 dollars!!! (obviously prepaid). All our material weights 1200 kilos, 500 from this is kerosene. Today the Thuraya phones didn't work and also my modem for sending e-mails and photos didn't work. There must be some problems with the satellite (sometimes it happens). Bad luck follow from bad luck. So I have enough, I not will became angry one more times, things will go one:.07.01.2007 In fact today the helicopter didn't start because we were preparing our equipment arrived yesterday and also because we had another bad news. The helicopter we arranged and paid, is not allowed to arrive till base camp but only to Concordia, 2-3 hours walk from base camp, but only 60 seconds more fly by helicopter!!! So we can't understand this thing also because in Islamabad we received 100% guarantee that the transport will be done till BC and not in the middle of glacier 3 hour walk before. Now there is so deep snow that is impossible to transport by walk anything: So we are calling since 24 hours everywhere and everybody in the Pakistan army to get the service we paid for.. For sure this is the most unlucky expedition of my life but if I will get equal good luck in the next month05.01.2007
Arrived at Gilgit. Equipment still in Islamabad

Ciaol! I'm in Gilgit and I' writing you from an Internet point where the keyboard is so old that the letters are disappeared and I have to play remembering where they are :-)
Yesterday I arrived here directly from BC and I get a good dinner. I became also a bad news. My cargo is still in the custom in Islamabad and only today they will get out. Tomorrow I will go to
Skardu and also my cargo should arrive there....The day after we will fly to base camp. Inshallah..... 03.01.2007
Last day at Nanga Parbat basecamp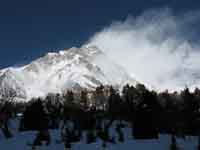 Picture: Nanga Parbat
Last day spent here in wonderful Polish Base Camp at the Rupal side of Nanga Parbat. Also today the weather is wonderful even there is very strong wind on the mountain and this is a bad thing for my polish friends there. Today I did another excursion above 4000 meters to continue my acclimatisation process and be ready as much as I can for my climb. Shain and I will spend the last night here and tomorrow we will go to Gilgit by foot and jeep. The day after by jeep to Skardu waiting for our equipment and cook. Unfortunately also today is holiday in the airport custom in Islamabad and it means that my cargo will stay another day there... shit... 02.01.2007
Still in Nanga BC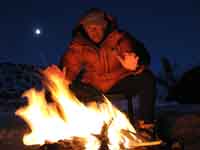 picture:Simone
Wonderful day with blue sky and cold. This morning we get breakfast with -22 degrees, but when the sun came at 9:15 everything changed rapidly. I spent the day taking photos that I will send on my web site in the next days. I also provide some wood for the fire and walked around the camp. Tomorrow we will remain another day here and we also spend another night. Then we will walk down to the village and by jeep we will reach Gilgit. The day after we will drive to Skardu and if we will be lucky we'll fly to Broad Peak Base Camp. 01.01.2007
First acclimatisation trip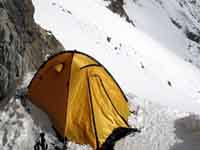 Picture: Polish deposit camp
Here we are for the daily report. I'm using again the PC from my polish friends but I can't send any videos or many photos for obvious reasons. I haven't my own instruments here. Today it had been a good day for me and Shain. In fact we spend our 3rd day here at BC and we went to 4500 meters to the polish deposit camp and back here at BC. We went up in 1 hour and 40 minutes only and back in 35 minutes. We are happy for that and we think that we are doing the right thing to be ready to fly by helicopter the 7th January to Broad Peak Base camp. I will promise that from there I will send you more complete reports with many photos and video. Today I get another good news. My cargo with all the equipment arrived in Islamabad and the 3rd it will be available. Thanks God!! 31.12.2006
Reached Nanga Parbat BC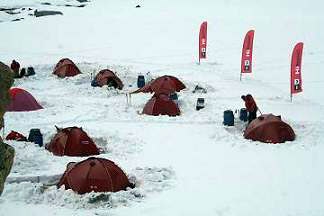 Picture: Nanga Parbat BC
Yesterday at 5 p.m. we arrived at Nanga Parbat base camp on Rupal side. Here I met my Polish friends, that are trying this mountains in winter too. I also brought them the fixropes that the requested my. For me is a possibility to make acclimatisation form my helicopter flight to Broad Peak base camp, that I will make the 7th of January. In the evening temperature goes - 20 degrees, but the polish have a well organised base camp. This night I will celebrate the last day of the year with a part of them, because a group of them is on the mountain. Tomorrow also I and Shain will go up for our acclimatisation. Today probably my cargo will arrive in Islamabad. I hope:..
28.12.2006
Subtitle: One more day waiting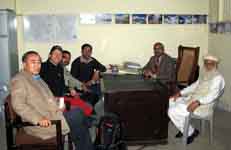 Picture: Meeting at Pakistan Alpine Club
While I'm writing is now the 29th of December. It is 1:41 a.m., I'm sitting on the terrace of my hotel with my satellite modem and I'm writing the report for you. Also this day was full organized with preparation and meetings. Brifing with my Laison Officier, the military captain Ahmad Mirzan, who will assist me on the trek if I need help along the military points in the valley. I also met some people from the Pakistan alpine club, including the president and friend Nazir Sabir and the vice-president Mazur Hussein. Then I prepared my few material that I have had here in my depot from my last expedition a few years ago. In fact tomorrow I will start with my acclimatisation at the base campo from Nanga Parbat at 3800 meters of altitude. There I find my polish friends and about -24 degrees: I have not much clothes:. I must fly with a small plane, than I have 7 hours long transfer by jeep and than one day walking in the snow. It will be difficult to make the update on my homepage, but I will give my best, using the polish equipment and my Thuraya satphone. Today my cargo will start from Italy::
27.12.2006
First news from Pakistan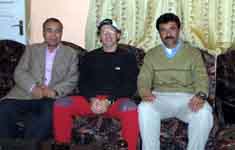 Picture: Ashraf Aman, Simone and Shain
Finaly the first report. I`m still here in Islamabad in Pakistan. Today I get the bad news, that my the cargo I sent the 21st of December from Italy is still there:. Now they told my, that my equipment will arrive the 31st of December, but the 1st  and 2nd January nobody works here in Pakistan, so I will receive all the 3rd. I have now time, so I decided to go with Shain Baig to Nanga Parbat base campo to meet my polish friends and to acclimatise. Yesterday I also met the first Pakistan K2 climber Mr. Ashraf Aman, who climed K2 in 1977. More news in the next days.
Ciao Simone