New Route on Matterhorn South Face.
Father and Son shared a dream.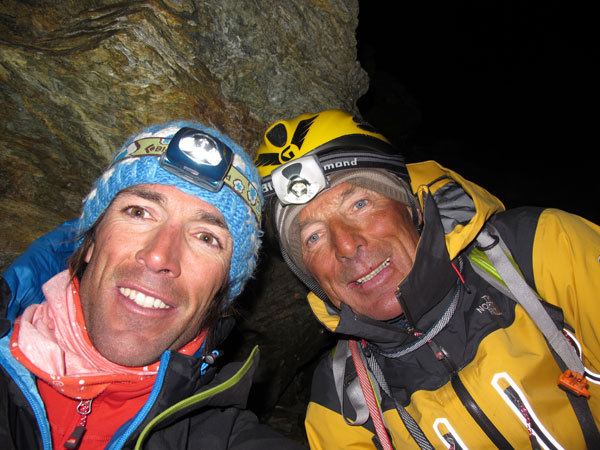 Herve Barmasse, 32, and Marco Barmasse, 61. Photo by Damiano Levati / The North Face.
The new line, Couloir dell'Enjambee, begins on the 1931 south face route, and then continues straight up the face, staying left of the 1983 South Face Dirrettissima. In the last 400 meters, it follows the right side of the steep gully that splits the face, ending on the 4,478-meter peak's broad southwestern shoulder. The two completed the new line after 8 p.m. and then descended to the Carrel Hut, which they reached around 1 a.m.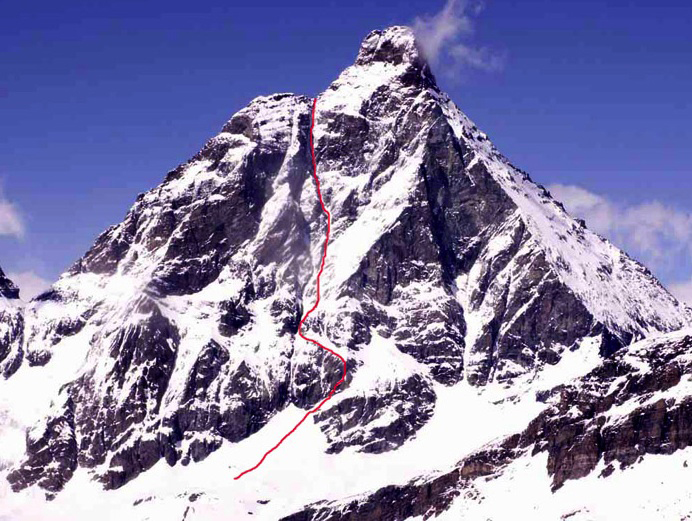 Foto: iBorderline.net/intotherocks

Herve Barmasse, 32, has climbed a number of significant routes on the Matterhorn, where he works as a fourth-generation guide, including the first solo of the Casarotto-Grassi Route and the first solo and first repeat of the South Face Dirrettisima, a route established by his father and two other climbers. In 2008, he completed the first ascent of 6,940-meter Beka Brakkai Chhok in Pakistan with Simone Moro.
1220m in a single day, up a perfect line, via that gully which splits the immense South Face of the Matterhorn in half and which exits 200m beneath the summit. Many had attempted this in the past, Marco Barmasse had dreamt of the line for decades and he'd even attempted it 24 years back. It had been one of the dreams of the late Giancarlo Grassi, one of the most important ice climbers and alpinists not only in Italy. Perhaps it was destiny therefore that the route should come a full circle with a special partnership: that of the father-and-son team comprised of Marco and Herve Barmasse. The two Mountain Guides and ski instructors who tied in to the same ropes to succeed on a difficult, uncertain and also dangerous goal. They shared a dream. Surely this suffices to prove that what they acheived is a great story, not only for alpinism itself?
Interview Herve Barmasse for www. Planetmountain.com
Herve, after your first solo and first repeat in 2007 of the route established by your father Marco with Walter Cazzanelli and Vittorio De Tuoni on the South Face of the Matterhorn, here you go again with a new route up the same face, this time with your father... What's behind all of this?
As an alpinst I grew up beneath the South Face of the Matterhorn. I started by establishing a new route on the "shield", this was then followed by the first solo of the Casarotto Grassi route, the Deffeyes route, the Direttissima and the Spigolo dei Fiori. Now there's this new experience. It was something unique, exciting and difficult due to both the technical difficulties and the conditions of the route: plenty of powder snow and extremely cold. But what is really important for me, that which rendered the ascent unique and unforgettable, is having shared this adventure with my father.
Did you prepare for this route in advance?
Nothing specific, but our hearts were in the right place and everything turned out for the best.
What is the Barmasse father-and-son partnership like? Have you climbed much together in the past?
The Barmasse partnership is a team which comes from the mountains, we belong to the group of Italian Matterhorn mountain guides. We've been doing this for generations and our love for climbing the Gran Becca (this is what we call the Matterhorn here) and the world's other mountains continues to grow and grow. Unlike what you might think my father and I have climbed little together and during those rare occasions I've learnt much more than during many other climbs. It was he who taught me that in the mountains, in addition to being prepared technically, you always need to use you brain, prudence and safety. You need to be able to listen to your own instinct and fears. It was he who helped me understand that without an intense love for the mountains it's not worth becoming a mountain guide or alpinist.
Who's the leader?
A leader? For me it'll always be him, my father, the strongest alpinist and best mountain guide in the world.
Can you describe this route, from a technical point of view...
This route follows a natural line, a deep gully which splits the South Face in two and which finishes 200m beneath the summit. It's 1220m long, my father attempted it 24 years ago and in the meantime it's also been attempted by other teams. It had been described by Giancarlo Grassi in the magazine Lo Scarpone as one of the last great problems in the Alps, it was one of his most beautiful dreams. I won't go into the M grades, also because these often depend on the conditions at the time. I think though that it's a very difficult climb with runout pro - 4 pieces for some of the 60m pitches - rendered all the more difficult by the rock quality which I'd define as being "difficult to interpret" instead of stating "poor". And even though it's a couloir, we hardly came across any ice.
How did you tackle this grand course?
With the usual frame of mind. We were as excited as two beginner alpinists, happy to live out our biggest love on the most beautiful mountain in the world. Seeing that there was so much powder snow we knew we might have to turn back immediately but we didn't really care because after so many years we finally climbed together again, played our cards right to succeed in something new.
What was the hardest moment during the climb?
When your next pro is 15m, 20m beneath you and you're on "friable" rock, clinging to snow covered holds without gloves, with crampons smeared on smooth slabs, you don't ask yourself how hard it might be but how you're going to not fall.
Having your father there was a help?
In those conditions another partner would have forced me to turn back while my father, who knows his son well and the Matterhorn better than anyone else, realised that if we remained calm we'd manage to climb all the sections and reach our goal. His tranquility and experience were the biggest help of all.
What did he say to you during the ascent?
I don't think my father was in an enviable position, climbing a difficult route with his son, on the Matterhorn, at altitude, in not ideal and therefore risky conditions. His incitements and congratulations were always followed by warnings, by appeals for prudence and, at times, the plea to give up and descend.
What did you say to each other after the ascent?
When we reached Capanna Carrel we joked about all that had happened during the climb: the moments of indecision, the three gloves we dropped, our doubts, the unstable snow, the top of the route which was so close but which never seemed to get any closer, my headlamp which tumbled down the gully and which he miraculously managed to catch...
A 1220m high new route, climbed in a single day on a great and difficult face which never offers any certainties. Climbed in this style, what your father achieved seems to be an achievement within an achievement... what do you think? How does his son view the alpinist Marco Barmasse?
After having come to terms with this "first ascent" I now know with certainty that had my father managed to climb that route in 1985 in a single day, it would have represented a real revolution for mixed climbing. I'm saying this because even today what remains is a difficult ascent, from a technical and mental point of view. Without the possibility of ascending and finding pro on the ice, falling was quite simply out of the question. In the light of all this I cannot but congratulate my father for having managed to carry out this climb aged 61.
You spent the night at Capanna Carrel? How did it go? I imagine that it'll be hard to forget.
Before Morpheus appeared we drank a couple of beers, ate some cheese and talked about the Matterhorn and our joint projects. It was peaceful and even if we didn't say anything special we were aware of the fact that this was and is the most beautiful climb we've ever done: the climb by a father and a son. All the rest just acts as the backdrop.
A father and son who share the same love for alpinism and the mountains... What has this meant to you, how has this influenced your choices in life?
I remember that as a young lad I listened curiously to my father talk about his adventures in the mountains and for me his slides were better than any film on TV. I was fascinated by everything that had to do with his vertical life and in the evening when I heard him pack his rucksack for the next climb I always wanted to join him. But I didn't begin climbing immediately. I skied and competed until I was 18 but was forced to abandon this after injuring both knees badly. After this I followed in my father's footsteps and became a ski and snowboard instructor, when I was 22 I became a Mountain Guide and then Mountain Guide Instructor. The long family tradition continues and I'm now a fourth generation Mountain Guide.
Past, present and future... What unites alpinists and what do you hope for the future of alpinism?
Alpinism in 2010 follows the current trends but the last big problems, those of 30 years ago, are still there: Latok 1 and the West Face of Makalu are just two examples. Managing to climb just one of these would mean bringing something new and concrete to modern alpinism. With the excuse of alpine style and fast ascents one often forgets that there are some who preceeded us who achieved things far greater and more difficult than what is being done today.

Source: http://www.Planetmountain.com