Amangeldy Race 2016 in Memory of Anatoly Boukreev.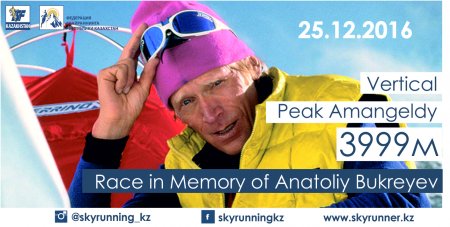 Anatoly Boukreev born January 16, 1958 in Korkino village, Chelyabinsk region, USSR, he was a Soviet and Kazakhstani high-altitude climber, the mountain guide, photographer and writer. He had completed the Snow Leopard program (1985) and become the Honored Master of Sport of the USSR (1989). 
He climbed 11 eight-thousand peaks, completed 18 ascents on 8000-ers. 
Boukreev was awarded by the Order for Personal Courage (1989), Kazakhstan Medal for Courage (1998, posthumously), in 1997 he was awarded by David Soules Award (American Alpine Club), which is given to the climbers who risked their own lives to save people in mountains .
He died December 25, 1997 on Annapurna, Himalaya, Nepal, together with the Kazakhstani cameraman Dmitriy Sobolev, during the winter ascent of Annapurna, in the avalanche. 
Since 1998, the friends of Anatoly Boukreev hold the annual race to the Amangeldy Peak (3,999m) in his honor . 
2016 Race will be held on December 25th sponsored by his international friends Linda Wylie, Elliott Robinson, Simone Moro and Leonid Vyssokov. 
The Custom-made Commemorative Medal for Participation will be awarded to the first 100 finishers of Amangeldy (3,940m) and Alpingrad (3,440m).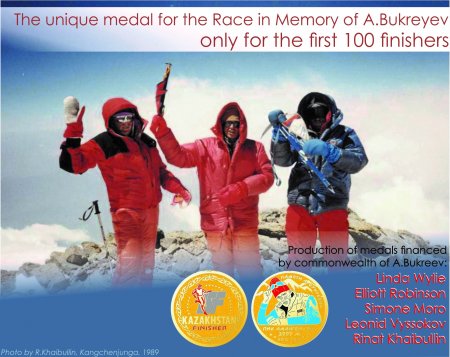 Kazakhstan Skyrunning Championship
Vertical discipline: 8.5km distance, 1,700m total climb.

Date: December 25th, 2016 
Starting place: Shymbulak Mountain Ski Resort (Alatau)

Race route according to Google Earth: Shymbulak Mountain Ski Resort (2,240m) – Malaya Almatinka canyon – Mynzhilki (3,030m) – Alpingrad (3,450m) – Amangeldy (3,940m).

Start: 10:00 a.m. - Shymbulak Mountain Ski Resort 
Check point 1: Memorial (2,550m)
Check point 2: Mynzhilki (3,030m)
Check point 3: Alpingrad (3,440m)
Finish: Amangeldy (3,940m)
Limit of distance-time is 4 hours.
The award ceremony at Shymbulak Mountain Ski Resort at 03:00 p.m.
Race fee is KZT 3,000.
The first three individual finishers in each age group will be awarded a medal and Certificate of Participation. 
All the finishers will be awarded with the Finisher Medal. 

Age groups of participants:
1. Youth Group 1: Men and Women 18 – 29 years
2. Youth Group 2: Men and Women 30 – 39 years
3. Adults Group 1: Men and Women 40 – 49 years
4. Adults Group 2: Men and Women 50 – 59 years
5. Adults Group 3: Men and Women 60 years and over

Amateur Skyrunning Race
Vertical discipline: 7.5km distance, 1,200m elevation gain

Date: December 25th, 2016
Starting place: Shymbulak Mountain Ski Resort (Alatau)

Race route according to Google Earth: Shymbulak Mountain Ski Resort (2,240m) – Malaya Almatinka canyon – Mynzhilki (3,030m) – Alpinegrad (3,450m).

Start: 10:00 a.m. - Shymbulak Mountain Ski Resort 
Check point 1: Memorial (2,550m)
Check point 2: Mynzhilki (3,030m)
Finish: Alpingrad (3,450m)
Limit of distance-time is 3 hours.
The award ceremony at Shymbulak Mountain Ski Resort at 03:00 p.m.
Race fee is KZT 3,000.
The first three individual finishers (among men and women) will be awarded a medal and Certificate of Participation. 
All the finishers will be awarded the Finisher Medal.


All the interested runners aged from 12 years and over are open to participate in amateur race. 


GENERAL PROVISIONS:

Schedule:
- On-line registration of runners starting from 1 November 2016 until 23 December 2016 at www.skyrunner.kz; 
- Race bibs will be distributed starting from 1 December 2016 until 23 December 2016 (06:00 p.m.) at the following address: 58 Navoi Street, Room 86. 
- Additional registration of participants at the starting point on 25 December 2016 from 07:00 a.m. to 9:30 a.m.;
- Opening and briefing at 09:30 a.m. at the starting point; 
- Start: Shymbulak Mountain Ski Resort at 10:00 a.m.;
- Awarding the individual winners, competition closing at 03:00 p.m.


Requirements for participants.
- The competition is open to all persons interested. 
- The runners will be allowed to start with the permission of the Judging Panel. 
- Race bib should be easily visible to the judges at the check point and at the finish. 
- The competition is held in accordance with the Skyrunning Competition Rules of the Republic of Kazakhstan. 
- The event will be a mass start.
- The runners must be equipped according to the mountain weather conditions.
In case of any dispute, the Judging Panel will take the final decision. 
- The runners must cover a distance strictly on the marked route. Any action taken to reduce the distance length will entail participant's disqualification. 


Contact details:

Regina Khaibullina 
Tel: +77011910005
Office phone: +7 (727) 2220036
e-mail: skyrunningkz@gmail.com